New York State on PAUSE is now extended through April 29. Accordingly, all schools and nonessential businesses shall remain closed and permitting activities shall remain suspended for an additional two weeks. A full list of city agency service updates is available here.
As of 5:00 PM on Thursday April 9, at least 16,686 people have died of coronavirus in the US. Of the 466,299 total confirmed cases nationwide, about 162,000 are in New York, according to data from Johns Hopkins University.
The US is set to reach its highest daily number of deaths on or around Sunday, according to models by the prominent Institute for Health Metrics and Evaluation at the University of Washington in Seattle.
It estimated that 60,415 in the US would die of coronavirus by August, assuming social distancing policies continue through May. That projection is down from the 82,000 it predicted earlier this week.
There are 87,725 confirmed cases in New York City and 23,408 confirmed cases in Brooklyn. There have been 4,778 deaths citywide, with 1,341 of those deaths in Brooklyn.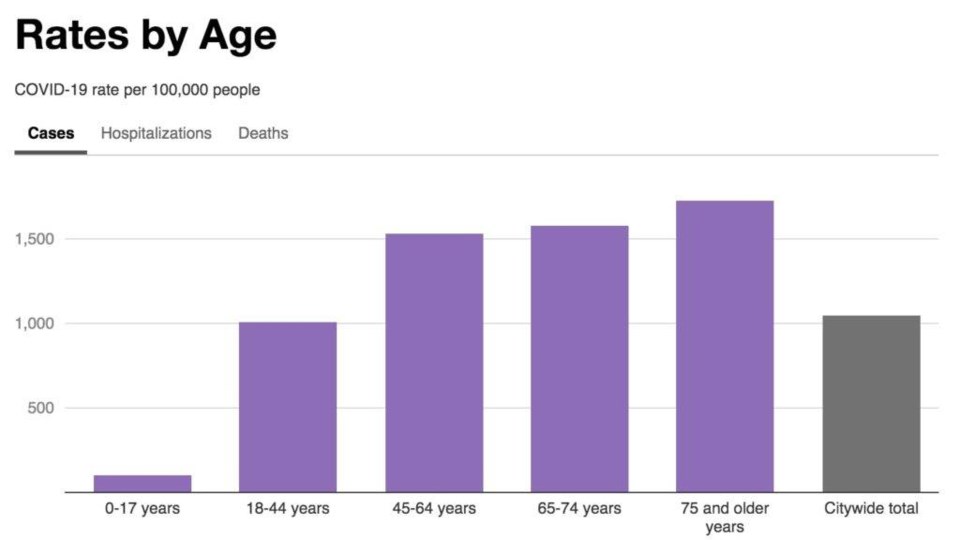 The mayor's office released a report this week that found 63 percent of the total NYC coronavirus cases and deaths were among Blacks and Hispanics. Hispanic/Latino New Yorkers face the highest death rate of 33.5%, while Black (non-Hispanic/Latino) New Yorkers have a fatality rate of 27.5%. You can see a full breakdown of the information by clicking this link.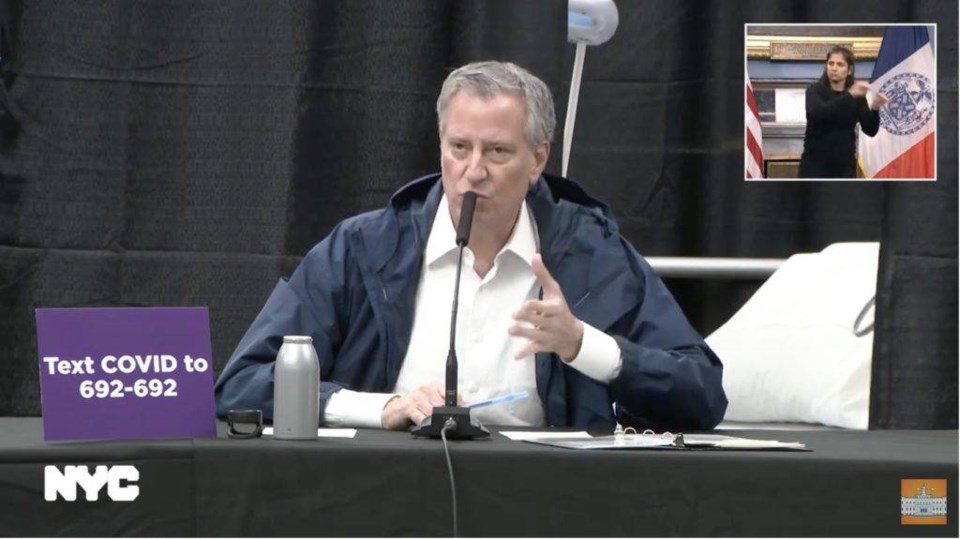 Recent Mayoral press releases
Did you know that you can now use your Supplemental Nutrition Assistance Program (SNAP) benefits to shop online for fresh produce and groceries? Go here to for more information.
Testing
Mayor de Blasio mentioned in his daily briefing on Friday, April 10, that the city was placing an increased focus on testing. The components for 50,000 tests were on their way to New York City, he announced. He said a goal of 10,000 - 100,000 tests daily was the goal: "Really, what we'd like to see is universal capacity, where anybody, anywhere, anytime can get test," said de Blasio at the press conference. "We'd like to emulate the ubiquitous approach that is taken in places like Korea."
One questioner asked whether the mayor had a better idea (a firm date) of when schools would reopen and children could return. De Blasio answered, "Between now and Monday, we'll make a decision about schools and announce it."
Stay Informed: Notify NYC
Over 800,000 New Yorkers have signed up for the City's COVID text notification system, "Notify NYC," to get regular updates on the latest developments with coronavirus in New York City text COVID to 692-692. New Yorkers can text COVIDESP to 692-692 for updates in Spanish. You will receive regular SMS texts with the latest news and developments. If you have any questions on finding medical care call 311.
Texts this week ending 4/10/20:
Find out how you or your organization can receive COVID-19 related assistance.

NYC

.gov/helpnow
Help your city. Volunteer, donate or partner with the City of New York. Visit

NYC

.gov/helpnow to learn how to get involved.

If you're a small business owner in

NYC

affected by COVID-19, visit

nyc

.gov/covid19biz

or call 311 for info on grants, updates & more.

If you or your business can source and/or make products to support City's COVID-19 response work, visit

NYC

.gov/helpnow to get involved.

NYC

is working with manufacturers to create production lines for protective equipment to help combat COVID-19:

https://on.

nyc

.gov/3bZJmdp
Three free meals are available for ALL New Yorkers at more than 400 meal hubs, Monday through Friday: https://schools.

nyc

.gov/freemeals
You are not alone. Domestic & gender-based violence survivors can call

NYC

's 24-hour Hotline 1-800-621-4673 or 911 for emergencies.

Enjoy

NYC

's parks from home! Visit

on.

nyc

.gov/parksathome

for live video tours, meditation, fitness classes, activities for kids & more.
Go here to read the NYC Department of Health Coronavirus fact sheet.
Outlook in Brooklyn
Here's a map comparison between cases last week and this week and how they have grown by zip code across the five boroughs.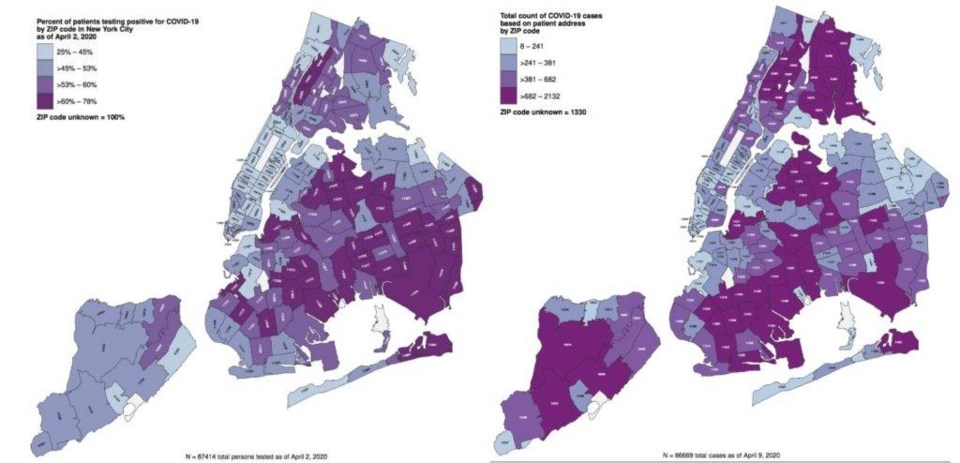 Other news this week included:
Brooklyn Borough President Covid-19: A Rundown and Review
The office of the Brooklyn Borough president has created a helpful guide that includes information on cash aid, unemployment assistance, student loan relief, small business loans, and additional stimulus measures.
NYCHA's journal

has information about how they are responding to COVID-19. Information is available

here

about hardship reductions for NYCHA residents struggling to pay rent.




Brooklyn Perinatal Network, Inc. (BPN) is providing all of its services and resources virtually at this time. Call 718) 643-8258 Monday - Friday 8:30am- 5:30pm.
NYC Parks is closing dog runs as a part of ongoing efforts to maintain social distancing in public spaces. They will also remove any remaining basketball rims and tennis nets and lock up all courts with a gate, including handball courts. Last week, Governor Cuomo announced the closure of all New York City playgrounds. Parks will remain open for the time being.




Governor Cuomo has delayed the April 28 presidential primary and special elections until June 25th.




Governor Cuomo issued an executive order to allow New Yorkers to vote by absentee ballot in the primary.




New York Cares

is currently mobilizing volunteers to respond to COVID-19.




Enjoy parks at home

, on behalf of the Educational Alliance Center for Recovery and Wellness.




You can also enjoy the

Brooklyn Botanic Garden

virtually.
Per the State Department of Education, the Regents exams in June have been cancelled.




The City will also be streamlining the home delivery of meals to seniors and working to support our food pantries, who are critical partners in these efforts. In the interim, you can find a list of key resources at

nyc.gov/GetFood

or by calling 311 and saying "Get Food".




The Summer Youth Employment Program has been suspended for 2020.




All child care centers, with the exception of emergency child services operated or authorized by the New York City Department of Education have been closed.




Free and low-cost childcare options during the COVID-19 crisis are available through

Workers Need Childcare

, for parents and caregivers in NYC's essential workforce.




Temporary toilets and hand washing stations will be made available citywide in 12 locations, by the New York City Department of Social Services. There are currently two Brooklyn locations: under the BQE on Meeker and Sutton and on 61st Street and 10th Avenue.

After a letter we sent to the City asking that a secure web conferencing platform be made available for our community boards,

the City will now offer WebEx free

to all that need a license.
Mental health professionals have signed up to volunteer their services at a FREE hotline. Call (844) 863-9314 for a free appointment.




Worried about having to self-isolate in a dangerous home situation? Co-quarantined with an abuser? Please reach out and contact the National Domestic Violence Hotline. Call 1 (800) 799-7233, TTY 1 (800) 787-3224, or chat online at

thehotline.org

.
The senior center meals program is now 100 percent delivery, rather than grab-and-go. Seniors should call their local senior center for more information if they haven't already received meals.




The application for the Federal Paycheck Protection Program (PPP) opened last Friday for businesses and nonprofits under 500 people. It's first-come, first-served. More information

here

.




New York City needs your medical ventilators, old or new, not in use. Please let us know

here

if you have any. If you have face shields, gloves, gowns, or anything that might help to donate/volunteer, go to

nyc.gov/donate

.
Numerous businesses have reached out about how they can provide support. The City launched this

intake form

and a designated hotline (833-NYC-0040) for local businesses that have resources to offer that can potentially support the COVID-19 emergency response effort.




Fun at Home can be accessed at

nyc.gov/funathome

or texting "Fun" to 97743 to receive the latest updates on resources and activities.

In line with New York City Department of Health and Mental Hygiene recommendations, NYC Health + Hospitals is no longer testing patients for COVID-19 who do not require hospitalization. If you are sick with fever, cough, shortness of breath, or sore throat, you must stay inside and isolate yourself from others. Isolate yourself for at least seven days from when your symptoms started. You must also be without fever during the last three days of your isolation. Please only go to the emergency room if you are severely ill.

The City has created a new, online portal that will allow New Yorkers to self-report COVID-19 data, helping the City to communicate with affected members of the public and assist in the identification of areas that may require an enhanced response. By

going online

or calling 311, New Yorkers can quickly input information about themselves and legal guardians can add information for children or adults in their care. New Yorkers can update their status at any time through the Portal or by calling 311. The Portal is available in 11 languages: Arabic, Bengali, Chinese, English, French, Haitian Creole, Korean, Polish, Russian, Spanish, and Urdu. It is not intended as a mechanism for providing medical advice or treatment, and should not be relied upon as a method to obtain medical care or emergency service. Personal information will be stored securely and only accessible to City employees protecting public health. It will not be accessible by ICE, or used for law enforcement or any other purpose.
The NYPD is enforcing the suspension of religious services and will impose fines and other penalties, including building closure, on those who are not adhering to the guidance.




Banks will waive mortgage payments for 90 days and suspend foreclosures. Eligibility is based on financial hardship. Late payment fees and ATM overdraft fees are also suspended. All student loan interest has been suspended.

Tax Day has been pushed back from Wednesday, April 15th to Wednesday, July 15th. This is an extension for federal tax returns;

we have also called for an extension of state tax returns

. As per Mayor de Blasio, all tax lien sales will be postponed from May until at least August.

You can do your part to secure respect, money, and resources with the 2020 Census.

Please fill out the Census online

and #MakeBrooklynCount.

The Employee Retention Grant for small businesses with four or fewer employees is available and includes space for you to add March and April's revenue. Information and eligibility can be found

here

. Additionally, loans are available for small businesses affected by COVID-19, the application can be accessed

here

. The Small Business Continuity Fund will offer financial assistance to small businesses with fewer than 100 employees who have seen sales decreases of 25% or more will be eligible for loans of up to $75,000, to help retain employees and ensure business continuity.

The US Treasury has released guidelines for the new

Paycheck Protection Program

that awards small businesses with less than 500 employees seeking COVID-19-related relief with forgivable loans toward job retention and certain other expenses.

We have partnered with the Brooklyn Chamber of Commerce to get businesses the relief they deserve amid the pandemic.

Join the Small Business Hotline via the Brooklyn App

.

Per Governor Cuomo, the statewide school shutdown is extended through Wednesday, April 15th, at this time.

New York City public schools

are remote learning. The NYC Department of Education will provide computers and internet access to every student who needs it. Call (718) 935-5100 (press 5). Parents and guardians of students with disabilities can send questions to

specialeducation@schools.nyc.gov

.

School sites are open for grab-and-go meals this week, from 7:30 AM to 1:30 PM, outside of main entrances of every school building. The program is now open to anyone who wants food, no questions asked. Go to

schools.nyc.gov

, or text "FOOD" or "COMIDA" to 877-877 for lists of where meals are being served.

For veterans and their families, the NYC Veterans Alliance has a list of resources on their

website

.

MTA

buses and subways remain open, and the

NYC Ferry

system and Staten Island Ferry will continue to operate. MTA buses are rear-door boarding-only, with exceptions for disabled riders. On local buses, that means no more fare collection. Regular fare policy remains in effect wherever on-board payment boxes or SBS off-board ticket machines continue to be accessible.

Alternate Side Parking (ASP) is suspended through Tuesday, April 14th. Parking meters are still in effect. Rideshares and carpools have been banned by executive order. With the exception of families, there can only be one passenger per vehicle.

The City is recruiting TLC-licensed drivers through

DeliveryTLC

to help with work related to COVID-19, such as delivering food to older adults. This work will be paid $15/hour plus reimbursement for gas and tolls. Drivers will be selected on a first-come, first-serve basis. The initial need for drivers will be small, but they expect it to increase as they expand the programs.

The New York City Department of Buildings is fining and shutting down non-essential construction sites. Essential construction may continue and such construction includes roads, bridges, transit facilities, utilities, hospitals or health care facilities, affordable housing, and homeless shelters. A map of essential and emergency construction sites allowed to continue working can be found

here

.

While all

Brooklyn Public Library

branches are closed until further notice, services and programming are still available online at their website.

A statewide eviction moratorium is currently in effect, including residential and commercial properties as well as foreclosures, according to the Office of Court Administration. The City will work with the State to suspend the Rent Guidelines Board process for the coming year, which will maintain all regulated rents at their current level for 2.3 million tenants in nearly one million stabilized units across the city.

Utilities have been ordered to not shut off service for gas, water, or electricity.

Internet services will not be cut off during this time

.
If you see price gouging, report it to 1 (800) 697-1220, fill out the complaint form on the New York State Attorney General's website, or email askeric@brooklynbp.nyc.gov.
---
*Thank you to the office of Brooklyn Borough President Eric Adams and City Councilmember Laurie Cumbo for contributing much of the updated information in this list. For more updates and resources, you can visit the BP's coronavirus online update here.