This week, we mourned the tragic loss of Dez-Ann Romaine, principal of the Brooklyn Democracy Academy in Brownsville due to coronavirus. A student recalled on Facebook how "She supported us through all our future endeavors, whether it [was] personal or professional."
In the United States, the number of people infected with coronavirus has now surpassed 100,000, including more than 1,000 deaths — more cases than China, Italy or any other country has seen.
New York City now is widely considered the "hot spot" for the virus, with more than 25,000 coronavirus cases and 366 deaths, the highest numbers in the country.
Outlook in Brooklyn
According to NYC Department of Health data, neighborhoods in Central and South Brooklyn have been the hardest hit in Kings County. In the neighborhoods of Borough Park, East Flatbush, Flatbush, Bedford-Stuyvesant, Crown Heights, Williamsburg, Bushwick and Greenpoint more than 51 percent of the patients are testing positive for coronavirus.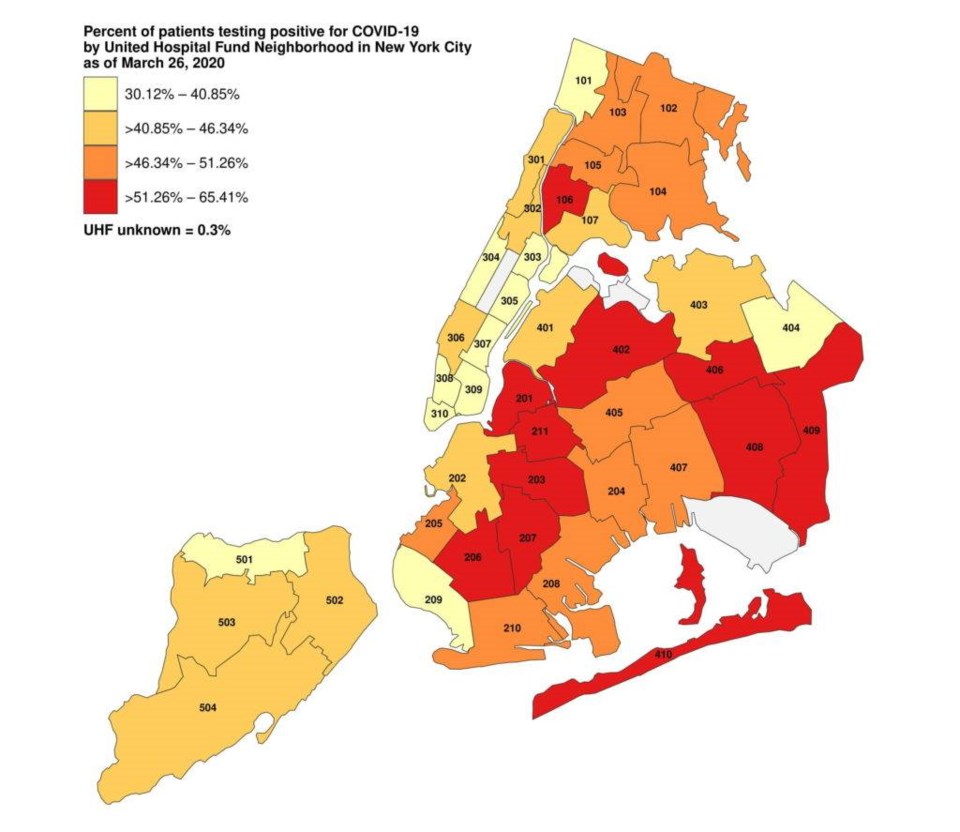 Other Brooklyn neighborhoods:
Sunset Park, Coney Island, Sheepshead Bay, Canarsie, Flatlands, East New York: Between 46.34% and 51.26%;
Downtown Brooklyn, Brooklyn Heights, Park Slope: Between 40.85% and 46.34%; and
Bensonhurst, Bay Ridge: Between 30.12% and 40.85%
Other news this week included:
Covid-19: A Rundown and Review
As of Friday, March 27, 2020, New York City now has more than 25,000 coronavirus cases and has had 366 deaths, according to the latest data from the city's Department of Health and Mental Hygiene.
The Friday numbers show that 50 percent of deaths have been people 75 years of age and older and another 25 percent were people between 65 and 74 years old. Ninety-seven percent of deaths have been cases where the person had an underlying illness, defined as "diabetes, lung disease, cancer, immunodeficiency, heart disease, hypertension, asthma, kidney disease, and GI/Liver Disease."
Of the city's 25,573 coronavirus cases, nearly half were age 18 to 44.Only two percent were under 18 years old.
Of the five boroughs, Queens continues to have the most cases (32 percent), followed by Brooklyn (26 percent), then Manhattan (18 percent).
Federal Recovery Bill
The House and Senate passed on Friday a $2 trillion stimulus bill in response to the coronavirus pandemic. Here is what it would do:
Unemployment benefits increases - the federal government would give unemployed individuals an extra $600 a week on top of state benefits. In addition, the deal calls for a new pandemic unemployment assistance program, which would provide benefits to those who are unemployed or unable to go to work due to COVID-19. This includes the self-employed and gig workers. The $260 billion dollar plan will deliver at least $15 billion directly to New York. Payments of $1,200 for individuals and $2,400 for couples accounts for another $15.5B to New York.
REAL ID deadline postponed - the deadline to obtain a REAL ID will be extended until at least September 2021. REAL IDs are federally mandated identification that will be needed for passengers to board aircrafts.
Small business rescue plan - allocates more than $375 billion to forgivable loans and grants to small businesses and non-profits so they can maintain their existing workforce and help pay other expenses during this crisis, like rent, a mortgage or utilities. New York, with its 2.2 million small businesses and tens-of-thousands of non-profits can expect to see billions of dollars once companies and organizations begin to apply for those funds. NYS small businesses that currently have over 19,000 existing SBA loans will also have relief from the burden of paying those loans with a new policy of the SBA instead paying the principal, interest, and fees for a 6-month period.
Public transit aid - $25 billion dollar allocation for transit, delivering $4.35 billion to New York, $3.8 billion of that exclusively for MTA. These dollars can be used to supplement revenues due to steep declines in ridership and to cover additional costs of coronavirus-related cleaning products and labor.
Other emergency appropriations - this is money for hard-hit airports, expanded benefits to SNAP, funding for child care, of which New York would receive an additional $162 million, nutrition for seniors, nearly $1 billion dollars to help heat homes when income becomes a problem, and $1.5 billion for the National Guard to support to the hardest hit States and territories, like New York where approximately 2,200 members of the National Guard have been activated, amongst other things. New York will see tens-of-millions from this account, as well.
Student loan payments suspended - the Department of Education would suspend payments on student loan borrowers without penalty through September 30th.
While this is helpful on many fronts, it is still excludes undocumented folks, does not sufficiently protect airport workers who lost their jobs, it provides more money to large corporations and not enough to small businesses, and finally, it does not provide enough funds for low income families in need. We will continue to work with our federal colleagues to get more for the most vulnerable among us.
Small Business Resources
If you own or work for a small business impacted by the outbreak: The City will provide relief for small businesses experiencing a reduction in revenue because of COVID-19. Businesses with fewer than 100 employees who have seen sales decreases of 25% or greater will be eligible for zero interest loans of up to $75,000. Businesses with fewer than 5 employees are eligible for a grant to cover 40% of payroll costs for two months to help retain employees. You can apply at www.nyc.gov/covid19biz

Current Orders and Regulations in New York City and State
Banks will waive mortgage payments for 90 days and suspend foreclosures. Eligibility is based on financial hardship. Late payment fees and ATM overdraft fees are also suspended.
The New York City Department of Education is asking for volunteers for the city's Regional Enrichment Center to care for the children of NYC's first responders, health care workers, and transit workers. Fill out the application here.

New York City is mobilizing a surge staffing corps of about 9,000 licensed/retired medical professionals who can respond if increased healthcare system capacity is needed

. If you're a licensed/retired medical professional, sign up here.

All New York City public schools are closed until at least Monday, April 20th, with remote learning beginning Monday, March 23rd. School sites are open for grab-and-go meals this week, from 7:30 AM to 1:30 PM, outside of main entrances of every school building.
Remote learning for students will begin, Monday, March 23rd. The NYC Department of Education will provide computers and internet access to every student who needs it. Call (718) 935-5100 (press 5).
Retail shopping malls, amusement parks, and bowling alleys will close at 8:00 PM today.
All gyms, casinos, theaters, museums, cultural centers, night clubs, and concert venues are closed.
Restaurants, bars, and cafés will only serve food in the form of take-out and delivery.
Non-essential businesses are urged to close by 8:00 PM, excluding groceries, gas stations, medical facilities, and pharmacies.
The US Census Bureau has suspended all 2020 Census field operations until April 1st; please fill out the Census online and #MakeBrooklynCount.
The New York Stock Exchange will temporarily close the trading floor and move to all electronic trading beginning Monday, March 23rd.
All NYC Parks recreation and nature centers are closed to the public until further notice. Comfort stations in parks will remain open and regularly cleaned throughout New York City.
New York City's first drive-thru testing site opens in Staten Island, by appointment only. Call (888) 364-3065.
Governor Cuomo has required non-exempt essential service businesses staying open to permits only 25 percent of a company's workforce in person at any given time.
Governor Cuomo signed the guarantee paid leave bill into law for New Yorkers under mandatory or precautionary quarantine. This order excludes essential services such as pharmacies, medical facilities, supermarkets, and the shipping industry.
President Trump signed a $100 billion relief bill into law to ensure free testing for every American, regardless of health insurance.
Telehealth services will be covered for those on Medicare. Call (800) 633-4227 or your doctor for more information. Medicare now covers telehealth services without federal approval. If you need health with medical services, call 311.
The MTA remains open. The Staten Island Ferry will continue to operate.
Alternate Side Parking (ASP) is suspended through March 24th. Parking meters are still in effect.
The federal government has sent a hospital ship to dock in New York Harbor, the USNS Comfort, which has about 1,000 rooms.
The New York City Department of Sanitation has closed all Special Waste Drop-Off sites until further notice.
Rideshares and car pools have been banned by executive order. With the exception of families, there can only be one passenger per vehicle.
Parents and guardians of students with disabilities should send any questions to specialeducation@schools.nyc.gov.
The City will be opening an initial 100 centers to provide for the care and instruction of City workers' children.
The Brooklyn District Attorney's Office will stop prosecuting low-level offenses "that do not jeopardize public safety."
The US Treasury has announced that Americans have until July 15th to file their 2019 returns for up to $1 million in income. I have called on New York State to do the same.
A halt on all public gatherings of 50 or more persons is in effect.
Interest payments on federal student loans have been suspended.
Sussman Education is offering FREE distance learning programs if you do not have access to their paid services: Study Island, Study Island for Home, and EdOption Academy.
Edmentum Online Learning has a number of FREE services that support remote learning.
Teq has offered their professional development platform for FREE; educators can sign up for this service on their website.
All Brooklyn Public Library branches are closed until Tuesday, March 31st, visit their website for virtual storytimes and cultural programming.
All senior centers are closed except for grab-and-go meal pickup.
All hospitals will be ordered to cancel their elective surgeries.
A statewide eviction moratorium is currently in effect, including residential and commercial properties as well as foreclosures, according to the Office of Court Administration.
All in-person visits to City jails have been suspended.
Utilities have been ordered to not shut off service for gas, water, or electricity.
If you see price gouging, report it to 1 (800) 697-1220, fill out the complaint form on the New York State Attorney General's website, or email askeric@brooklynbp.nyc.gov.
All Brooklyn community boards and police precincts have postponed/cancelled their meetings.
Visit the New York City Department of Small Business Services for information on relief available for businesses with fewer than 100 employees.
Finally, if you are feeling sick, please wait three to four days before contacting a doctor. Use telemedicine services BEFORE going to the doctor's office, urgent care, or the ER. Thanks to our advocacy and Governor Cuomo's leadership, co-pays for telemedicine consultations have been eliminated due to COVID-19. For urgent care telemedicine, utilize NewYork-Presbyterian, Mount Sinai, or NYU Langone. For mental health telemedicine, reach out to Columbia Doctors. For diabetes telemedicine, reach out to NYC Health + Hospitals. If you know of other NYC services, email askeric@brooklynbp.nyc.gov.
---
*Thank you to the office of Brooklyn Borough President Eric Adams and City Councilmember Laurie Cumbo for contributing much of the updated information in this list. For more updates and resources, you can visit the BP's coronavirus online update here.