More than two Americans are dying each minute from COVID-19, and there is no sign of that extremely alarming number declining in the near future as the country heads into its coldest months.
On Thursday, at least 2,857 died from the virus ad there were 216,548 new cases of COVID-19 reported in United States, the highest single day infection rate since the start of the pandemic. It brings the total number of people who have been infected in the country to more than 14,217,100.
By Friday the United States had surpassed 276,773 deaths.
Over the past two weeks, the weekly average of positive cases has increased by 8% to 180,327 cases per day as the virus to continues to ravage the country and break new records in case numbers and hospitalizations.
Health care systems "are verging on the edge of breaking," Dr. Michael Osterholm, a member of President-elect Joseph R. Biden Jr.'s Covid-19 advisory council, said in a podcast this month.
It is predicted that the hospital systems in a number of states will be overloaded by Christmas Day. That has already happened in some hospitals in Texas, New Mexico, Missouri and Florida and in a number of other states.
The U.S. has recorded more cases than any other country and with the virus at unseen heights states are implementing new lockdown measures to try and control the surge before widespread vaccination is achieved. Experts have said the country could reach more than 400,000 coronavirus deaths before February.
Britain became the first Western country to approve a COVID-19 vaccine this week, approving the Pfizer vaccine that is reported as being 95% effective against the virus. The country will start administering the vaccine as soon as Tuesday.
Head of the Food and Drug Administration Dr. Stephen M. Hahn said he was hopeful the FDA would approve a vaccine this month. Dr. Anthony Fauci said the U.S. had not approved the vaccine at the same speed as Britain because it had a different regulatory process.
Despite the vaccine not being authorized for emergency use, states across the country have until 8 p.m. tonight to order their first doses. The vaccine must be keep at extremely cold temperatures making it difficult to store.
The CDC said health care workers would be immunized first, along with residents and staff of nursing homes.
President-elect Joe Biden has said when he takes office he would call on Americans to wear masks — a proven virus preventative — for the first 100 days of his presidency.
After a rush to reopen, Europe is seeing a second wave hit hard and countries have implemented strict lockdowns to bring the virus under control.
The global death toll from the virus is 1,510,313 and in the United States more than 276,773 people have died.

National: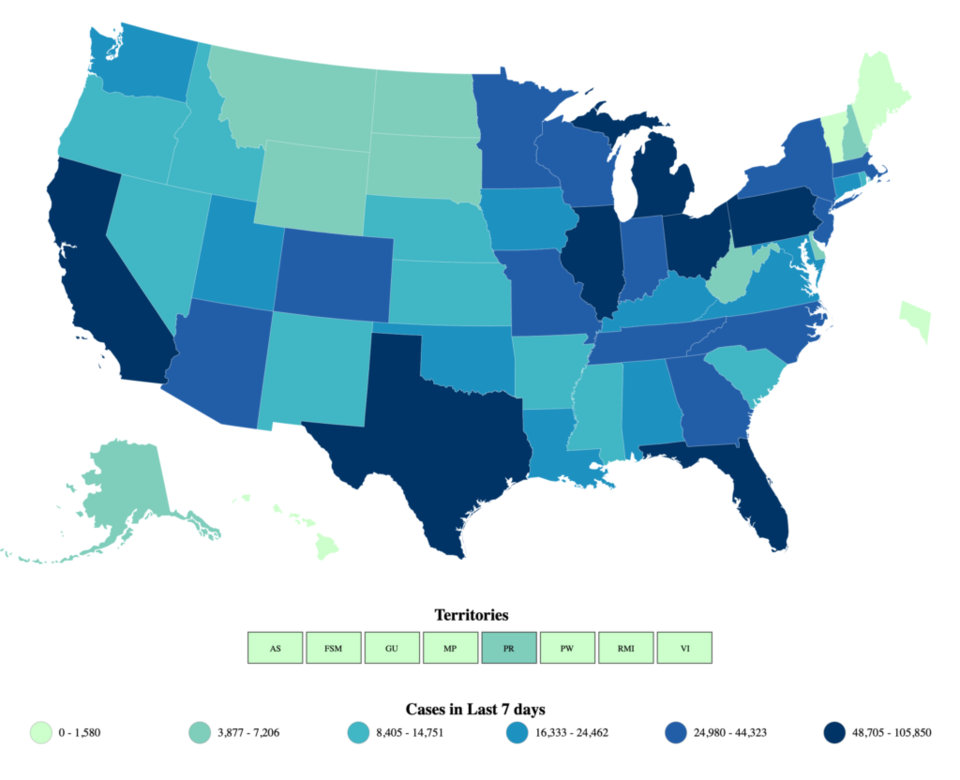 Total cases as of December 4, 2020:
On Thursday, infections in the U.S. were at 216,548, as the country continues to shatter national and global records, highlighting the virus shows no signs of slowing down. On average, 180,327 people have been infected each day this week.
As of Friday, more than 14,217,100 have been infected with the coronavirus nationwide and at least 276,773 have died.
Despite the fact a vaccine is well on its way, expected to be approved this month, scientists and public health experts said this week this winter will be one of the hardest and most catastrophic in the country's public health history.
There are more than 100,000 hospitalized across the country as ICUs and hospital wards buckle under the strain of the virus, according to the Covid Tracking Project, something that is only expected to get worse.
Over the past week, deaths have climbed to almost 3,000 per day reaching heights not seen since May and expected to surpass earlier records.
Pfizer and Moderna have applied for emergency use authorization from the FDA for their vaccines that have both been reported having an effectiveness of more than 90%.
Pandemic induced state and city budgets cuts are severely affecting communities across the country, as many leaders call on the federal government for aid. Republican Senator Mitch McConnell and Democratic Senator Nancy Pelosi are reportedly working on a second coronavirus relief package to distribute to American citizens before President Trump's term is over
Large scale food and housing insecurity has taken hold across much of the country. There is a national eviction moratorium in place until December 31, to protect people nationwide from homelessness. But there are still a number of reports of evictions taking place across the country, despite their illegality.
NYC:
As of Friday December 4, there have been 321,053 confirmed COVID-19 cases in New York City, and 24,305 deaths.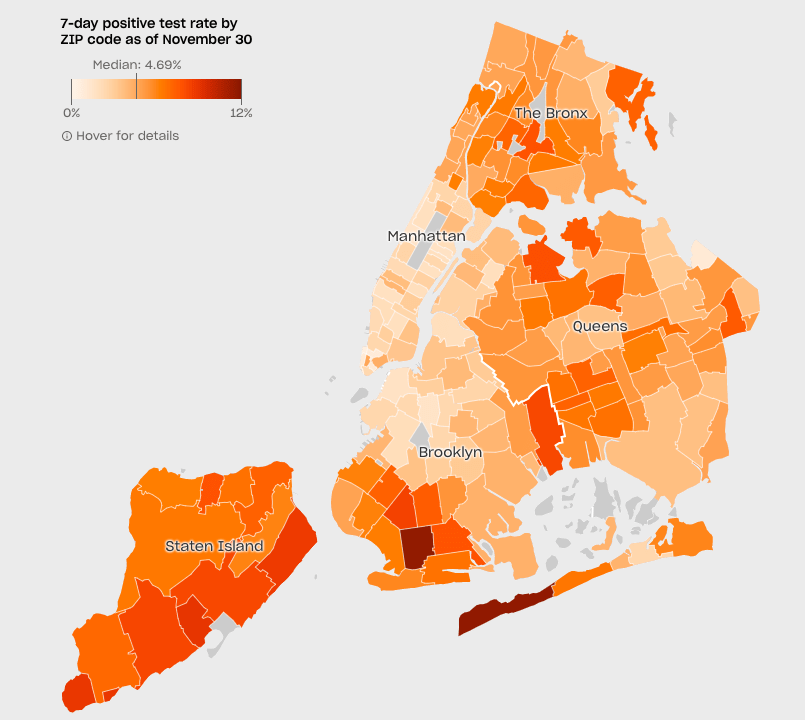 In the state that those numbers are 678,869 cases and 34,775, according to a New York Times database.
The 7-day positivity average is 5.43% and over the last 7 days there has been 11,502 new cases, according to city data.
New York State has ordered 170,000 doses of the COVID-19 vaccine, which is due to arrive Dec. 15. Expectations are it will be authorized before the end of the month and the state's most vulnerable residents will be immunized soon after that date.
As cases increase and positivity rates rise across the city, leaders are urging New Yorkers to avoid gatherings, wear masks and be vigilant in taking measures to avoid the virus. Despite the high number of cases, indoor dining at restaurants and gyms are remaining open for now.
There is a high level of debate around whether to keep indoor dining and gyms open to the public as cases proven to spread indoors. However, closing indoor dining in the city's coldest months could mean the end for many restaurants — adding to a growing list of those unable to survive the pandemic.
This week, the Supreme Court ruled Governor Andrew Cuomo's red zone restrictions on religious gatherings were unconstitutional, marking a sea change in the court and affecting the governor's future abilities to restrict religious gatherings.
Although there are no longer any red zones in NYC, extra restrictions remain in place in certain neighborhoods coded yellow or orange across the city and state where cases are spiking. To read what restrictions are in place in each zone, click here.
The NYC Health Department released these guidelines:
All New Yorkers should continue to follow the Core 4: wear a face covering, practice proper hand hygiene, maintain safe physical distance from others, and stay home if you are sick.
Get tested! All New Yorkers should get tested whether or not they have symptoms. Tests are free. Find a testing site near you.
Worship safely: Avoid large gatherings, especially indoors. If your house of worship has reopened, wear a face covering, don't share chalices or utensils and avoid close contact with others including hand shaking and hugging — wave instead. If you're singing, you must stay at least 12 feet apart from others.
As we begin a return to activities like dining outand shopping, it is essential that we continue to take steps to prevent transmission of COVID-19.
State Health Commissioner Dr. Howard Zucker recently said there was still a lot we don't know about long-term effects of the virus, including the experiences of "long-haulers" reported recently in the New York Times. It seems the virus can have frightening long-term effects, including damage to the heart and inflammation.
Governor's Update:
On Thursday, Governor Andrew Cuomo said hospitalizations due to COVID continued to increase throughout the state.
The total number of hospital beds in New York is about 53,000 and currently 35,000 of those beds were occupied by patients, about 4,000 of whom are COVID patients, he said.
For context, at the height of the pandemic in the spring, we had about 19,000 people hospitalized with COVID.
"The next stage of the battle with COVID is going to be vaccine distribution and vaccine acceptance. The vaccine is the light at the end of the tunnel," he said.
"We just have to get there, and we have to get there with as little loss of life as possible. We must do our best to keep the virus from spreading any further. Wear a mask, avoid gatherings and social distance and wash your hands."
The statewide positivity rate ticked up to 4.84% on Wednesday and there were 9,855 positive cases from 203,440 tests reported. The positivity rate in the micro-cluster focus areas was 5.91%. Excluding these areas, it was 4.49%.
Cuomo said Thursday he would expand eligibility for New York State's COVID Rent Relief Program and reopen the application window. "This Executive Order will expand the program's eligibility so more rent relief can be provided to New Yorkers and additional details will be available in the coming days," he said.
Come January 1, tens of thousands of New Yorkers will be at risk of eviction.
In a huge roundabout turn, Mayor Bill de Blasio will reopen elementary schools Monday, after abruptly closing them last week after the city passed 3% positivity over a 7-day average.
He said the city would also phase out the hybrid learning approach to prioritize getting kids back into classrooms. Only students enrolled in hybrid learning will be eligible to return to classrooms — just over 330,000 students — and for schools unable to increase classroom capacity for hybrid learners to return 5 days a week, the city has asked they prioritize the most needy of students. That includes students with disabilities, who are homeless or are learning English.
"Reopening our buildings is paramount to our city's recovery from COVID-19," said Mayor Bill de Blasio. "That's why we are doubling down on the safety and health measures that work to make in-person learning a reality for so many of our students."
On Wednesday, de Blasio said hundreds of schools will be ready to open Monday and a substantial number will be ready to go to five days right away.
"Some schools will get to five days a week across the board, some schools will have to do some kind of mix where the most needy kids get five days a week, the others get as many as possible," he said. "We think we're going to have most of that information in the course of next week."
Evidence that indoor dining and other indoor activities are high-risk is mounting and the chances of restaurants reopening beyond 25% capacity, or even being allowed indoor dining at all, are looking grim.
There are hundreds of convenient testing sites across the city, as well as mobile testing units visiting different locations throughout the five boroughs — you can find your nearest testing site here.
The City has a database of resources for New Yorkers who need assistance with employment, access to food, rent and housing, school and education and more. You can access it here.
Watch the Mayor's latest full update here:
Go here to read the NYC Department of Health Coronavirus fact sheet.
NYC BOC Absentee Ballot: To access an absentee ballot application click here.
Job Opportunities: To access NYC Health and Hospitals job postings click here.
Project Cupid: For more information on virtual Marriage License programs, click here.
Outlook in Brooklyn: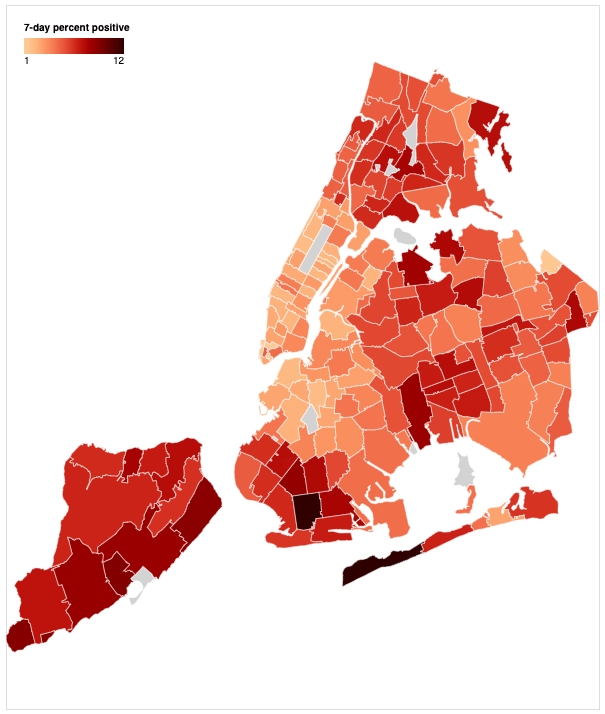 As of Friday, December 4 there have been 91,647 confirmed cases in Brooklyn. In the borough there have been 7,512 deaths.
Black and Brown communities continue to be disproportionately affected by the virus, in both infection and fatality rates.

While age was a major factor in who died from the virus, neighborhoods with high concentrations of black and Latino people, as well as low-income residents, suffered the highest death rates, the New York Times reported.
Restrictions in Southern Brooklyn have been eased, with only a small area of Southern Brooklyn coded yellow in the state's color zoning map. To see if you are in a COVID-19 color coded zone, check here.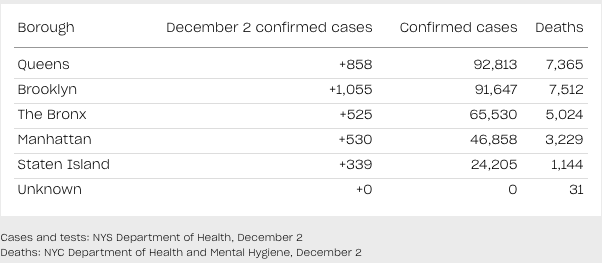 In a recent report, Public Advocate Jumaane Williams recommended the swift and orderly closure of non-essential indoor businesses such as gyms, nail and hair salons, and houses of worship, in addition to shutting down indoor dining.
In order to support those small businesses amid closure, he called for the federal government to provide the level of local relief necessary — in particular with a new federal administration taking office in the coming months. He also said the city should be ready and prepared for school closures to combat the second wave.
Other news in Brooklyn included:
Brooklyn Borough President COVID-19: A Rundown and Review
Brooklyn BP Eric Adams is asking all Brooklynites to remain vigilant in fighting the virus with, "determination, common purpose, and love — for our families, friends, communities, and our city."
His office has composed a list of resources for those in Brooklyn seeking help and assistance through the pandemic.
Updates And Important Information:
EDUCATION
HEALTH
Governor Cuomo released details on the metrics regarding COVID-19 micro-clusters.
Red Zone — Micro-Cluster: A "Red Zone" focus area is put in place to contain spread from a specific, defined geographic area.
Orange Zone — Warning/Buffer: An Orange Zone area either is put in place primarily in densely populated urban areas as a tight buffer zone around a Red Zone micro-cluster ("Orange Buffer Zone") area OR is implemented independently as a focus area based on the below metrics ("Orange Warning Zone"). The purpose of an Orange Buffer Zone is to 1) restrict activity to prevent further spread from Red Zone area; 2) provide a defined geographic area where metrics can be monitored daily to ensure COVID is not spreading beyond the Red Zone.
Yellow Zone — Precautionary/Buffer: A "Yellow Zone" area either is put in place as a broader buffer area to ensure COVID outbreak is not spreading into the broader community ("Yellow Buffer Zone") OR is implemented independently based on the below metrics ("Yellow Precautionary Zone"). The purpose of a Yellow Buffer Zone is to 1) restrict some activity to help prevent further spread from Red and/or Orange Warning Zone area; 2) provide a larger defined geographic area where metrics can be monitored daily to ensure COVID is not spreading beyond the Red Zone or Orange Warning Zone.
For more details click here.
The Mayor's Office released an interactive map of closure zones in parts of Brooklyn and Queens due to a spike in COVID-19 cases. The map allows businesses and residents to look up what zone they're in and what closures impact them. To view the map, click here.
Free tele-support group services are available with Lighthouse Guild Family Service Network. For young adults with vision loss, click here. For adults with vision loss, click here. For all questions, call (212) 769-7833.
COVID-19 testing has been made available to all New Yorkers. COVID-19 testing sites are available in your area with new ones being added on an ongoing basis. To find the one nearest you, visit the state website [New York State Department of Health (NYSDOH) website], the City's website [New York City's COVID-19 Information Portal], or type "COVID testing near me" in Google Maps.
Crisis Text Line has support resources and counselors available for free 24/7 for frontline and essential workers. Text NYFRONTLINE to 741-741 to be connected, or visit crisistextline.org.
Mayor de Blasio announced an emergency financial relief program for survivors of domestic and gender-based violence to provide funding for immediate safety, economic, and housing needs currently exacerbated by the COVID-19 pandemic. Helpful resources that are currently available include the agency website, the "NYC HOPE" resource directory, and the Resources for Survivors During COVID-19
Worried about having to self-isolate in a dangerous home situation? Co-quarantined with an abuser? Please reach out and contact the National Domestic Violence Hotline. Call 1 (800) 799-7233, TTY 1 (800) 787-3224, or chat online at org.
If you need mental health support, the New York Emotional Support Hotline is (844) 863-9314.
The New York Peace Institute has online resourcesto mitigate stress with tools such as meditation.
Use telemedicine services BEFORE going to the doctor's office, urgent care, or the ER. Call (800) 633-4227 or your doctor for more information if you are on Medicaid. Whether you utilize Medicaid, private insurance, or are a self-payer, options are offered across many specialty areas. Urgent care telemedicine is available with New York-Presbyterian, Mount Sinai, or NYU Langone. Mental health telemedicine is available with Columbia Doctors. Diabetes telemedicine help is available with NYC Health + Hospitals. If you know other services, email askeric@brooklynbp.nyc.gov.
FINANCIAL SUPPORT
FOOD PANTRY/FOOD ASSISTANCE
The New York City Department of Buildings (DOB) released indoor dining guidelines that can be found by clicking here.
The Mayor's Office released guidance to heat outdoor dining spaces for restaurants participating in the Open Restaurants program.
Electric radiant heaters will be allowed for sidewalk and roadway seating setups. For full guidance from the New York City Department of Buildings (DOB), click here.
Natural gas radiant heaters will be allowed on the sidewalk only. For full guidance from DOB, click here. Natural gas radiant heaters must also comply with the Fire Code.
Portable heaters fueled by propane will also only be allowed on the sidewalk. Propane heating will be regulated by the New York City Fire Department (FDNY), with requirements for safe handling, use and storage. For full guidance from the FDNY, click here.
All students who would have received a free or reduced-price meal at school are now eligible for additional food assistance through Pandemic Electronic Benefits Transfer (P-EBT). This includes undocumented students, students whose private schools participate in the National School Lunch Program, and students in districts that implement the Community Eligibility Provision (CEP). New York City families will receive an additional $5.70 for every day school has been closed to purchase foods available through the Supplemental Nutrition Assistance Program (SNAP).
School sites are open for grab-and-go meals from 9:00 AM to 12:00 PM, outside of main entrances of every school building. The program is now open to anyone who wants food, no questions asked. Go to nyc.gov, or text "FOOD" or "COMIDA" to 877-877 for lists of where meals are being served. Breakfast and lunch will be distributed from 3:00 PM to 5:00 PM in select schools at over 200 locations as the program moves toward an after-school schedule.
The City has streamlined the home delivery of meals to seniors and is working to support our food pantries, which are critical partners in these efforts. In the interim, you can find a list of key resources at gov/GetFoodor by calling 311 and saying "Get Food."
Hunter College New York City Food Policy Center has partnered with Share Meals, Hunger Free America, BetaNYC, and Plentiful to compile a listing and guide on food resources available to New Yorkers.
GENERAL
The Civic Engagement Commission officially launched its poll interpretation website, which details their poll site interpretation program, lists all voting sites where CEC interpreters will be assisting voters, and has a "Know Your Rights" section. Visit the site by going to gov/wearevoters.
NYC Parks has resumed permitting its athletic fields across the city for outdoor youth sports. Supportive of children's physical and mental health, lower- and moderate-risk youth play on permitted fields has also resumed. They will continue to allow sports activity of low-to-moderate-risk on courts and fields across the city on a first-come, first-served basis, in accordance with the State's reopening guidelines for sports and recreation.
Mayor de Blasio announced COVID-19 traveler registration checkpoints into New York City to ensure compliance with New York State quarantine requirements. Travelers who have visited 41 designated states or territories with high COVID-19 transmission rates are required to complete the New York State Department of Health traveler formand quarantine for a period of 14 days upon entering New York City.
The New York State Department of Motor Vehicles (DMV) will only offer services in person by reservation for limited transactions that cannot be done online or by mail or drop box. You can make reservations at ny.gov/reservation.
Visit NYCfor information on groups and individuals working on mutual aid in their communities, as well as if you need help or can help.
Free and low-cost childcare options during the COVID-19 crisis are available through Workers Need Childcare, for parents and caregivers in New York City's essential workforce.
For veterans and their families, the NYC Veterans Alliance has a list of resources on their website.
HOUSING
Utilities have been ordered to not shut off service for gas, water, or electricity. Internet services will not be cut off during this time.
For New Yorkers requiring quarantine or isolation, NYC Health + Hospitals is offering free hotel rooms for up to 14 days if there is a need for a place to isolate. Call (844) NYC-4NYC (844-692-4692) and press "0".
National Grid customers should be aware of a phone scam demanding immediate bill payment and threatening service disconnection. Learn ways to protect yourself and your family here.
TRANSPORTATION
The MTA launched a new interactive beta digital map to allow riders to plan their trips and see real time alerts. To view the map click here.
There is currently no subway service from 1:00 AM to 5:00 AM to allow for cleaning and disinfecting of trains and stations. The "MTA Overnight" pageprovides details on the service changes.
For City alerts in English, text COVID to 692-692.
For City alerts in Spanish, text COVIDESP to 692-692.