On Thursday, the United States recorded its eighth million coronavirus case and by Friday it had surpassed 218,266 deaths.
The pandemic has continued to spread across the country as cases rise across the Midwest, and surges occur in Texas, Florida, California, and elsewhere.
Also on Thursday, the second scheduled presidential debate was cancelled after President Trump contracted coronavirus, but refused to participate in a virtual debate. Instead, both presidential candidates held separate town halls.
In New York, in order to stem rising case numbers in certain hotspot areas Governor Andrew Cuomo and Mayor Bill de Blasio have placed new restrictions on certain neighborhoods. Those restrictions have been met with backlash from Orthodox Jewish and other religious leaders.
Borough Park saw nighttime protests where masks were burned, a local journalist was assaulted and Cuomo and de Blasio were urged to back down over restricting religious gatherings, schools and local businesses.
This week, a letter condemning the politicization of the Centers for Disease Control and Prevention in its fight against the coronavirus got its 1,000th signature — all from current and former CDC epidemic intelligence officers. Also, drug company Pfizer said it would not seek emergency authorization for its coronavirus vaccine until late November.

As of Friday, the global death toll from the virus is 1,100,635 and in the United States more than 218,266 people have died.
National:
Total cases as of October 16, 2020:
NYC:
As of Friday October 16, 2020, there have been more than 484,000 confirmed cases of the coronavirus in New York, including more than 257,000 in New York City.
More than 33,337 people with COVID-19 have died in the state, not including the deaths of people with probable cases. In New York City, that number is 23,915.
New York City is now in its final phase of reopening, with schools and indoor both having recently reopened with a number of precautions in place. This week, the City Council voted to permanently install outdoor dining on city streets.
A large increase in positive coronavirus tests in several ZIP codes across the city has lead Governor Andrew Cuomo and Mayor Bill de Blasio to reinstate restrictions on gatherings in certain neighborhoods across the city and state. The zones are color coded depending on the rates of the virus, with red zones facing the most restrictions, then orange, and yellow. Cuomo launched the Cluster Action Initiative to prevent COVID-19 spreading in hotspot areas.
To read what restrictions are in place in each zone, click here.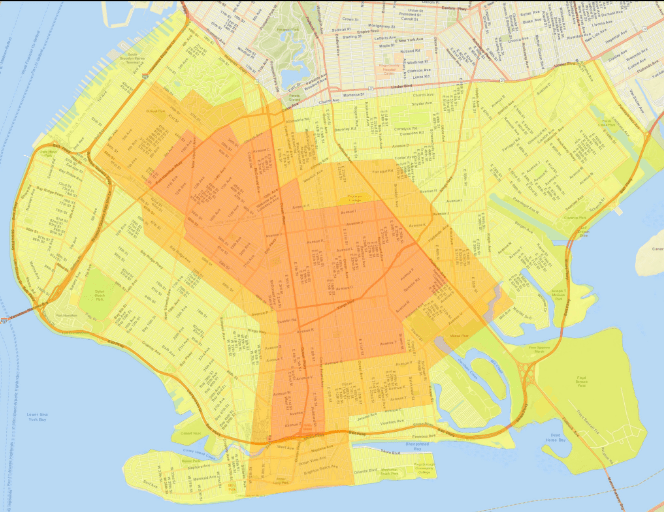 The NYC Health Department released these guidelines:
State Health Commissioner Dr. Howard Zucker said this week there was still a lot we don't know about long-term effects of the virus, including the experiences of "long-haulers" reported recently in the New York Times. It seems the virus can have frightening long-term effects, including damage to the heart and inflammation.
Governor's Update:
Governor Cuomo announced the state would withhold funds for localities and schools in COVID-19 cluster zones that failed to enforce public health laws. The New York State Department of Health sent a letter warning local governments in cluster zones that they would lose state funding if they failed to enforce state limits on gatherings and the closure of schools.
The letter was sent to New York City, Orange County, Rockland County, the Town of Ramapo and the Village of Spring Valley.
Cuomo also announced DOH would send a letter warning public and private schools in cluster zones they would lose state funding if they did not comply with state requirements on closure and testing.
He said there were violations where yeshivas were operating and religious gatherings were happening that exceeded the guidelines. He said this was especially a problem in Brooklyn and Orange and Rockland Counties.
"If the local government does not effectively enforce the law, we will withhold funds. We're also sending a letter to all schools in the red zones saying to them that they must be closed. If they violate the Section 16 order, we will withhold funding from the schools. This is a last and final warning."
On Friday, he said New York's numbers remained steady, despite the handful of clusters it was experiencing. Positivity rates for test results in red zones was 4.84% on Thursday, unchanged from the day before, he said. The red zone focus areas were home to 2.8% of state's population, yet had 15.6 percent of all positive cases, he said.
"We are addressing these clusters through our targeted approach to ensure that they don't become community spread," Governor Cuomo said.
"As we go through the fall and into the winter and cases continue to rise across the country, it's going to take the work of all New Yorkers to maintain our progress."
He urged New Yorkers to keep up hand washing, mask wearing and social distancing.
On Thursday, Governor Cuomo sent a letter with National Governors Association Vice Chair Asa Hutchinson to President Trump asking him to discuss the role states will play in vaccine distribution.
Cuomo said many questions remained, including on the delineation of federal and state responsibilities, funding, supply chain management and the vaccine allocation process.
Cuomo also announced Thursday the State would send 200,000 rapid test kits to New York City schools in "Yellow Zones."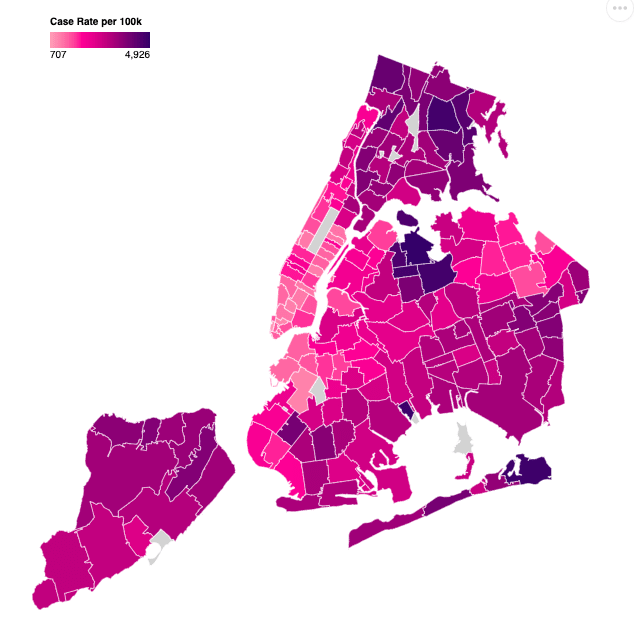 On Thursday, Mayor Bill de Blasio said there was a plateauing of test results in New York City and he felt the increased testing efforts had helped in the COVID cluster areas in Brooklyn and Queens.
"We can stop it in these areas of Brooklyn and Queens and therefore protect the whole city," de Blasio said. On Thursday the citywide COVID-19 positivity rate was 1.2%.
There are hundreds of convenient testing sites across the city, as well as mobile testing units visiting different locations throughout the five boroughs — you can find your nearest testing site here.
The City has a database of resources for New Yorkers who need assistance with employment, access to food, rent and housing, school and education and more. You can access it here.
Watch the Mayor's latest full update here:
Go here to read the NYC Department of Health Coronavirus fact sheet.
Outlook in Brooklyn: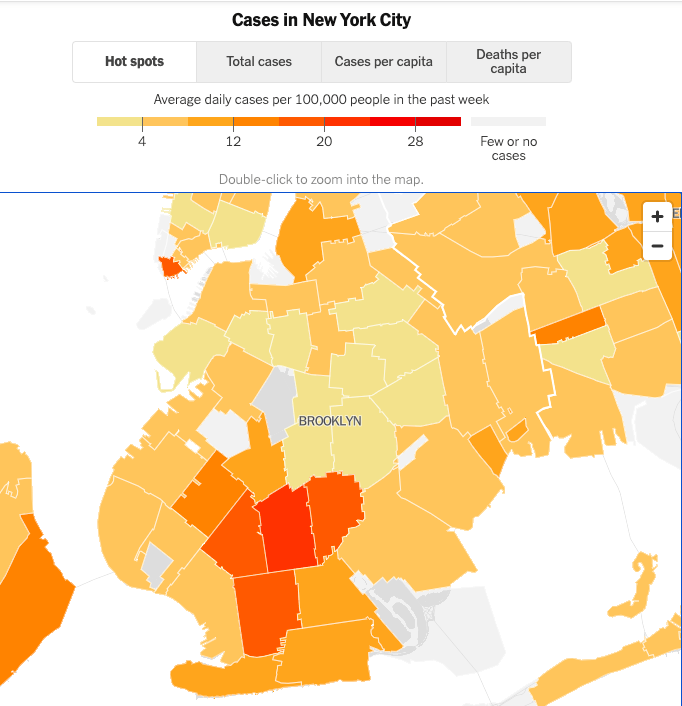 As of Thursday October 16, 70,569 people in Brooklyn have tested positive for COVID-19 and 5,719 have died.
Black and Brown communities continue to be disproportionately affected by the virus, in both infection and fatality rates.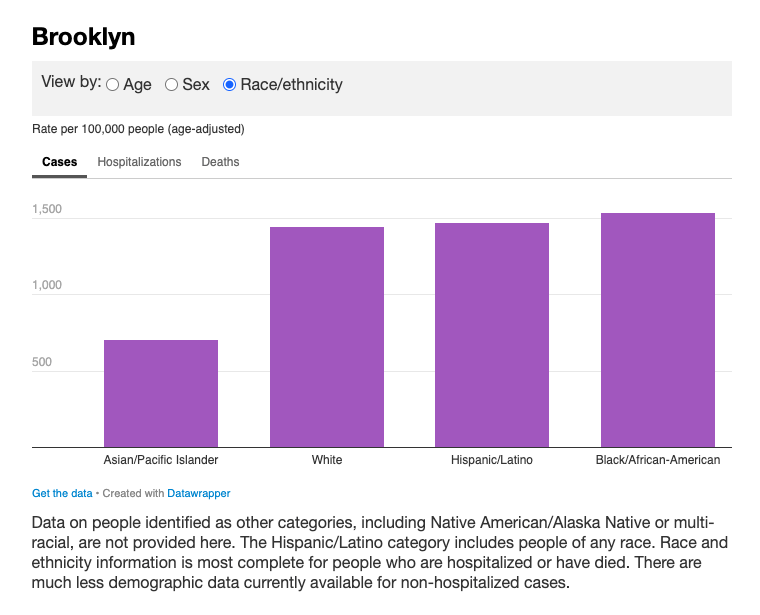 The majority of Southern Brooklyn has been coded either as falling in a red, yellow or orange zone. Neighborhoods are facing different levels of restrictions on schooling, dining out, religious gathering and business openings depending on the zone they are in. The Brooklyn neighborhoods of concern in cluster areas include: Midwood, Borough Park, Bensonhurst/Mapleton, Gerritsen Beach/Homecrest/ Sheepshead Bay and Flatlands/Midwood.
To see if you are in a COVID-19 color coded zone, check here.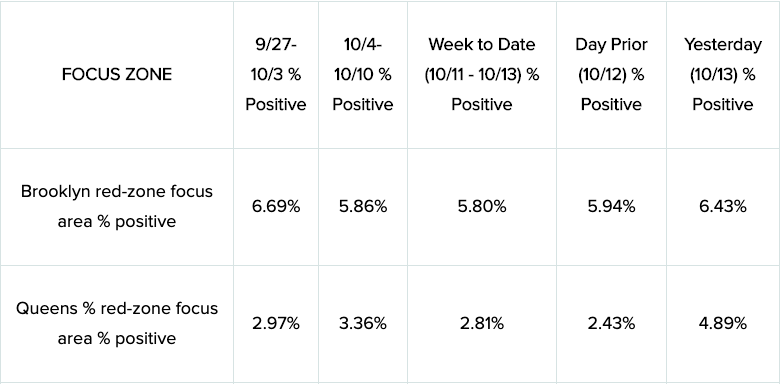 Other news in Brooklyn included:
Brooklyn Borough President COVID-19: A Rundown and Review
Brooklyn BP Eric Adams is asking all Brooklynites to remain vigilant in fighting the virus with, "determination, common purpose, and love — for our families, friends, communities, and our city."
His office has composed a list of resources for those in Brooklyn seeking help and assistance through the pandemic.
Updates And Important Information:
Education
Health
Financial Support
Food Pantry/Food Assistance
General
Housing
Transportation
*Thank you to the office of Brooklyn Borough President Eric Adams for contributing much of the updated information in this list. For more updates and resources, you can visit the BP's coronavirus online update here.