On Tuesday, more than one hundred demonstrators rallied and marched through Downtown Brooklyn calling for rent cancellation as part of a national day of action against evictions and government inaction on housing relief.
Protesters congregated outside the Housing Court at 141 Livingston Street, where they held up signs reading, "Housing is a human right" while chanting, "Because of Cuomo, the rent is too damn high."
The protest is one of many that has swept across the city demanding rent cancellation, eviction bans and government action, after the COVID-19 pandemic left many New Yorkers unemployed and in danger of being evicted.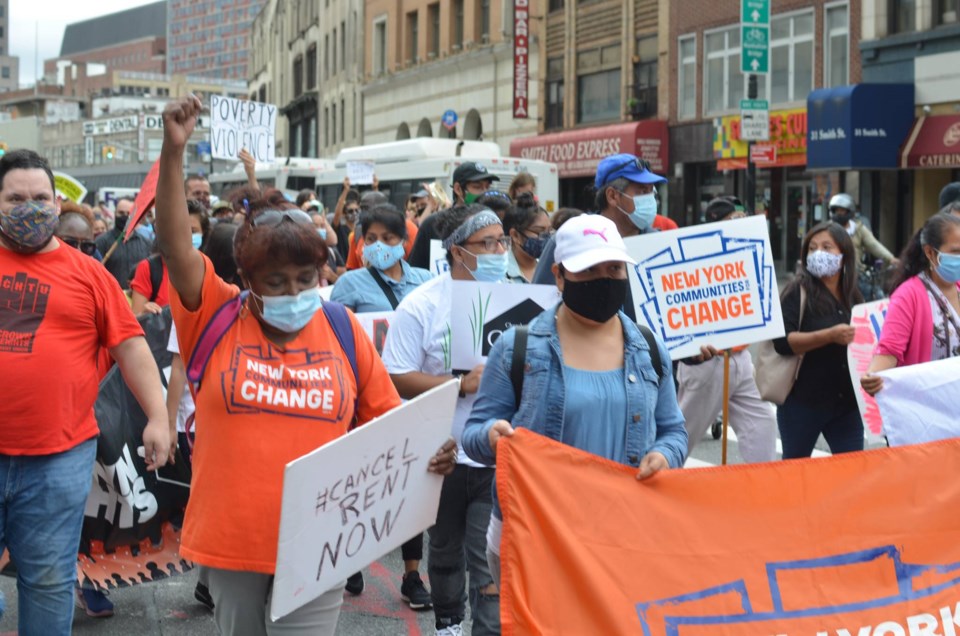 Jamell Henderson at New York Communities for Change, which organized the protest, made it clear the blame should be put directly on city and state officials.
"We're here when we should be safely in our homes," Henderson said. "We have to fight and demand that state leadership stop playing games with people's lives."
The protesters marched through the streets to the office of the Eviction Marshall chanting, "No landlords, no cops. All evictions gotta stop."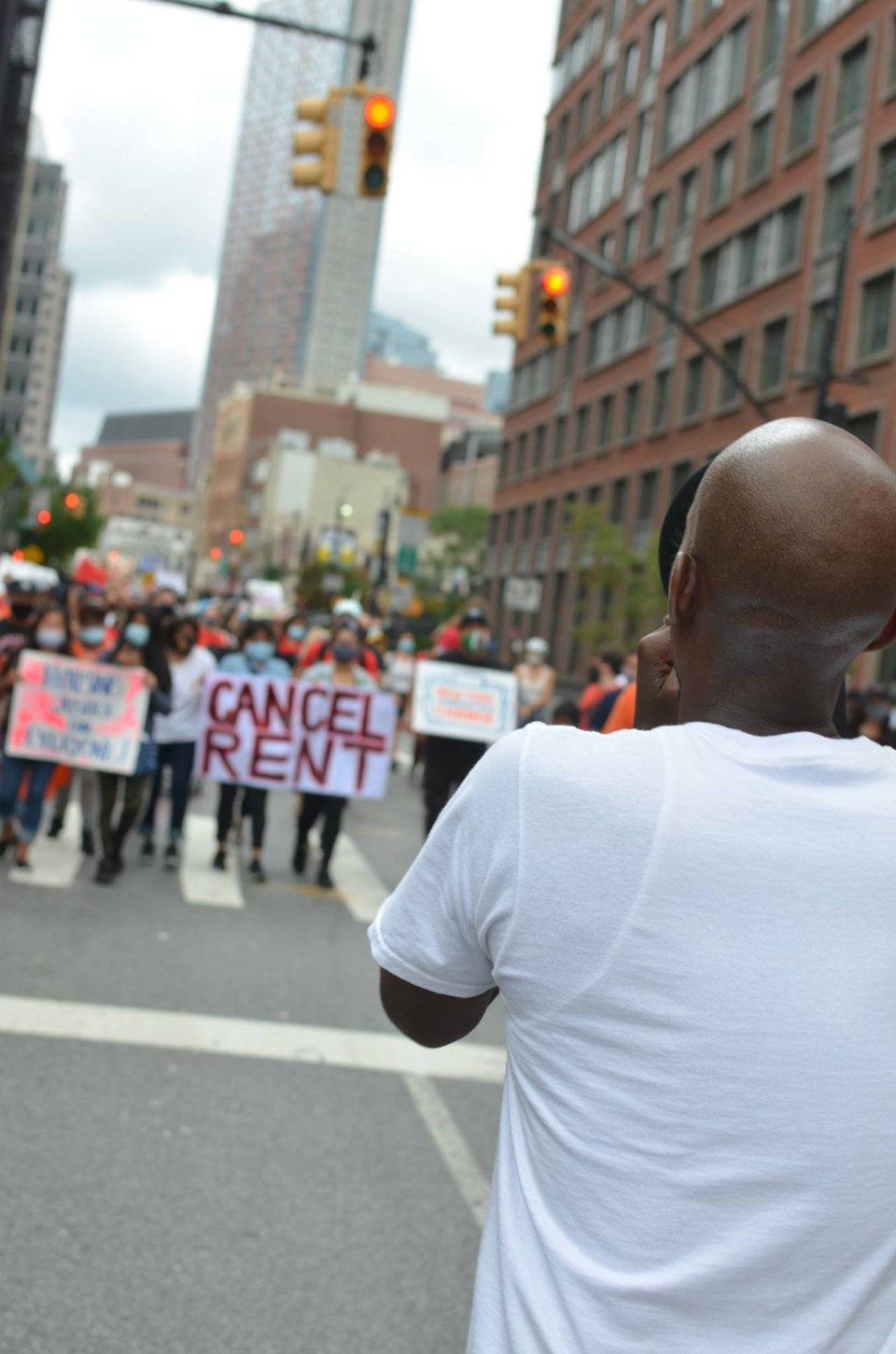 Michael Hollingsworth of Crown Heights said he was protesting because the pandemic had put people in an impossible position in regards to paying the rent.
"There are tons of people in Central Brooklyn and throughout the entire State now either unemployed or have had their hours reduced, and then you just can't afford to pay the rent," Hollingsworth said.
"We're put in this weird position where with lost income, we've got to choose between paying the rent for cold medicine...until we get the rent cancelled and the mortgages cancelled, I'll keep coming out for everyone."
The protest showed the interconnectedness of movements, with Black Lives Matter Brooklyn President and candidate for City Council Anthony Beckford saying Black Americans were more likely to face evictions and the protests needed more, "boots on the ground."
"I am a single Black father of an eight-year-old, and when this system comes and takes children, it comes against me," Beckford said.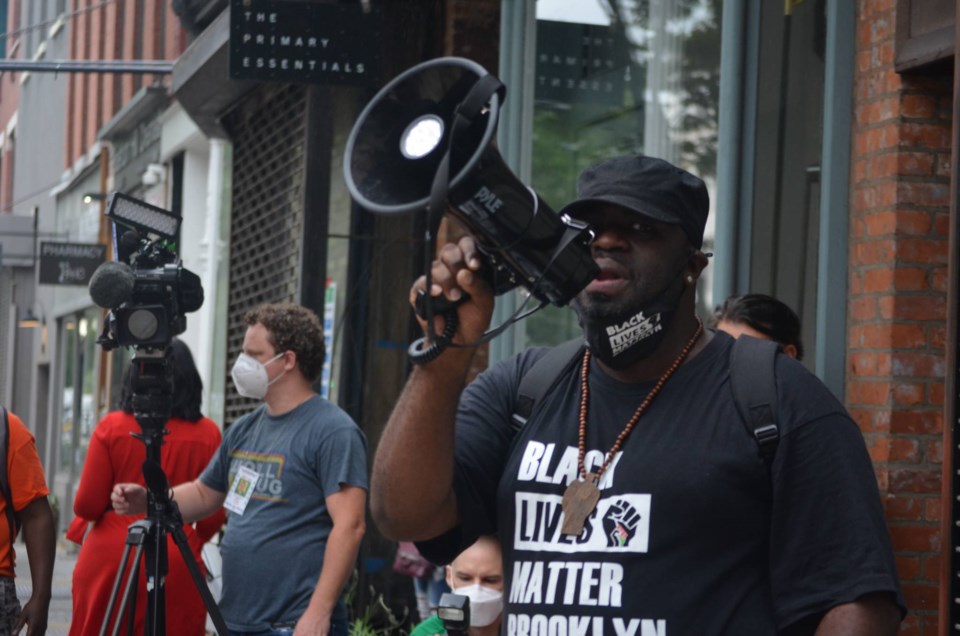 Calls for an extension of a statewide moratorium on evictions is intensifying, as hundreds of thousands of New Yorkers are at risk of losing their homes when the current moratorium expires in October.
On Tuesday, The Legal Aid Society wrote a letter addressed to State Senate Majority Leader Andrea Stewart-Cousins and Assembly Speaker Carl Heastie asking the moratorium be extended indefinitely.
"If we allow evictions to take place at the cusp of a second wave--and right before the flu season and cold weather--we will be flooding homeless shelters, subways, and streets at the very moment where we need to keep people housed to mitigate the spread of the virus and avoidable deaths," the letter read.
Later on Tuesday, the Center for Disease Control and Prevention issued a nationwide halt on residential evictions until December 31, 2020, to stop the spread of COVID-19. The Legal Aid Society said the announcement was a welcome surprise, but the regulation did not cover unregulated apartments, leaving tens of thousands of New Yorkers at risk. The Legal Aid Society Staff Attorney Ellen Davidson said: "The Legal Aid Society reaffirms the need for Governor Cuomo and leaders of the Legislature to immediately enact a full-fledged moratorium to cover all tenants statewide before it is too late."