The NYC Department of Education will begin serving kosher meals at six "Grab and Go" locations across Brooklyn, announced the De Blasio administration on Monday, a month after the city commenced its free meals program for all New Yorkers on April 3.
Breakfast, lunch and dinner is served for daily pickup at 435 public schools throughout the city. As of now, more than 4.5 million meals already have been served, including meatless varieties for vegetarians and halal meals for Muslims.
The decision follows a scathing letter by the City Council's Jewish Caucus to Mayor Bill de Blasio about the city's failure to include people with special dietary restrictions, stating that by "offering free meals to everyone besides kosher-keeping New Yorkers, the City is sending a strong and deeply offensive message about its priorities."
Council member Chaim Deutsch of District 48 wrote: "Several weeks ago, you laudable instituted Grab and Go for all, including students, families, and adults. Halal and vegetarian options are also offered. However, New Yorkers who observe kosher dietary restrictions are unable to receive free meals."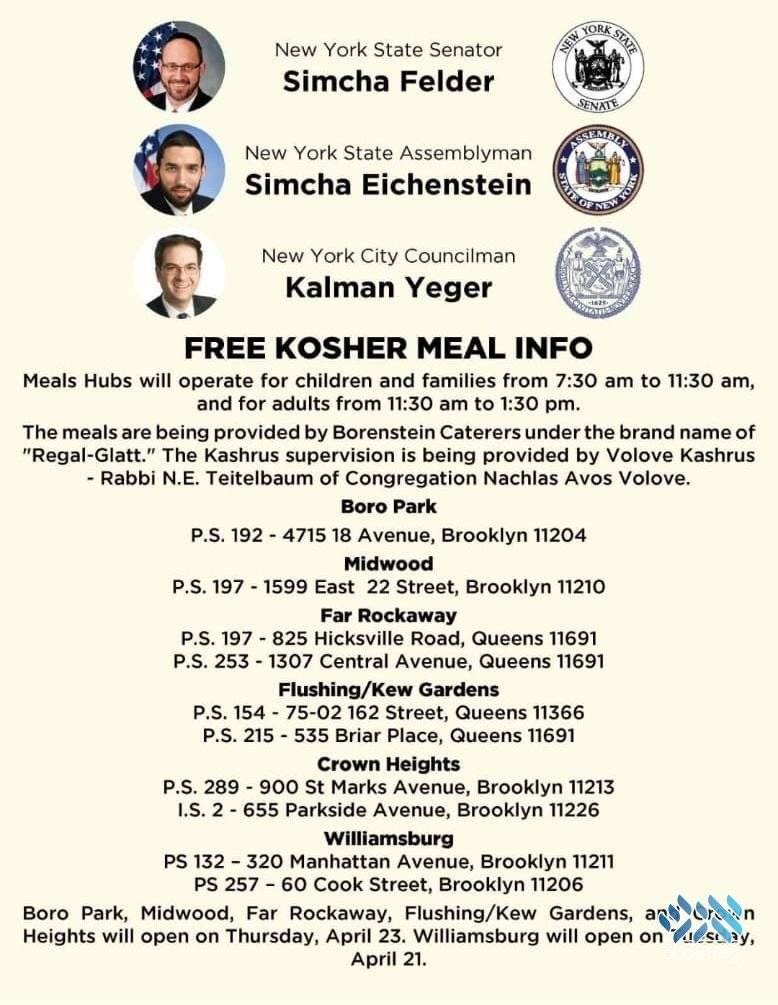 Brooklyn locations with large pockets of Jewish residents-- including two in Williamsburg, at PS 132 on Manhattan Avenue and PS 257 on Cook Street-- began serving kosher meals on April 21. The rest of the sites rolled out prepared kosher food on Thursday, April 23, which included two sites in Crown Heights, and one each in Borough Park and Midwood.
Meal pickup for the Crown Heights community will begin on Thursday April 23rd at two locations:
P.S. 289 — 900 St. Marks Ave, Brooklyn 11213 and I.S. 2 — 655 Parkside Ave, Brooklyn 11226. Meals will be available for children and families from 7:30-11:30 AM and 11:30-1:30 PM for adults.
"I believe this is a good first step, but we need to ensure every borough's food needs are addressed," said Brooklyn City Councilmember Mark Treyger, a member of the Jewish caucus.
The grab-and-go food sites previously had been open to students and their families only, but opened to all adults last Friday. Breakfast, lunch and dinner can be picked up at the same time.
Adults with children can continue to pick up the free meals from 7:30 a.m. to 11:30 a.m. Adults without children are being offered the free meals from 11:30 a.m. to 1:30 p.m.