As the number of new coronavirus cases in New York City continues to fall, some of Brooklyn's shuttered hotels are preparing to once again welcome guests.
But a hotel stay in the age of coronavirus likely will be drastically different from what travelers are accustomed to: One industry expert predicts that common amenities, such as breakfast buffets, room service, saunas and spas may not be so common going forward, and that many of New York City's roughly 700 hotels won't reopen at all.
About 250 hotels across the city have closed temporarily in response to the coronavirus pandemic, according to Vijay Dandapani, CEO of the Hotel Association of New York City. Four and five-star accommodations, including the William Vale, 1 Hotel Brooklyn Bridge, The Hoxton and the Tillary Hotel in Brooklyn, are the most likely to have closed entirely, while a higher number of economy hotels have remained open by partnering with the city to offer rooms for the homeless as well as local and out-of-town healthcare workers in need of places to quarantine.
At least one upscale hotel in Brooklyn has joined its cheaper counterparts in catering to healthcare workers. The Wythe Hotel's Le Crocodile restaurant now churns out daily meals for the staff of Woodhull Hospital in Bushwick; while 30 rooms at the Wythe have been repurposed as quarantine units for medical workers from Sunset Park's NYU-Langone Hospital.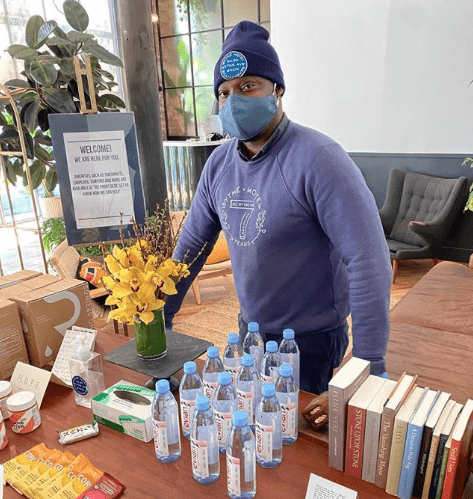 Even with such pivots, the city's occupancy rate is just a fraction of what it was this time last year. Only 41 percent of New York City's hotel rooms were occupied in late April, a decline of nearly 53 percent from the April 2019 rate, according to hotel data firm STR. Those figures do not include rooms that have been pulled from the market due to the pandemic.
"We're looking at a really dire, bleak scenario for the hotel industry here in New York for all of 2020, and arguably for the first half of 2021,"
"We're looking at a really dire, bleak scenario for the hotel industry here in New York for all of 2020, and arguably for the first half of 2021," Dadapani said. "I think you're going to see anywhere from 10, 15, even 20 percent of hotels just completely going out of business or being repurposed for some other use."
The hotels that remain after the initial wave of the pandemic subsides will have to ramp up cleaning regimens and try to minimize social contact between guests and staff to prevent the spread of disease, Dadapani said, even after the state eases up on its lockdown restrictions.
Dadapani expects that contact-free check-ins allowing guests to go straight to their rooms and use their smartphones as room keys will become the norm. And hoteliers will need to reconfigure lobbies and common areas to eliminate "chokepoints" where guests might be forced to crowd together.
But no amount of safety precautions can restore New York's hotel industry as long as the city's most popular attractions remain closed, and as long as travelers are afraid to get on a plane.
"Leisure is not going to come back in a hurry because Broadway is not going to re-open for some time," Dadapani said. "And that's true of the Metropolitan Opera, it's certainly true of the museums, it's certainly true of wedding and events spaces."
The business sector isn't looking much better. The New York Times reported that business travel is down by 92 percent, and major tech companies have announced an end to all non-essential travel for employees until further notice.
The city's unofficial hotel operators have also seen a steep decline in business. Just 28 percent of Brooklyn's Airbnb rentals were occupied as of April 8, compared to about 70 percent at the same point last year.
In Dadapani's view, staying in an Airbnb during the pandemic is especially risky for travelers, as hosts aren't subject to the same regulations as hotel operators and cleanliness varies widely among the lodgings.
"A hotel is certainly safer than a home rental, because that depends on the individual home owner to take the proper sanitizing procedures, whereas at hotels there are system-wide protocols in place," he said.
Shuttered attractions, a ban on business travel and widespread anxiety over the deadly virus putting a damper on the economy have all been devastating factors for Brooklyn's hotels, but the businesses' most immediate threat may be their upcoming property tax bill, according to Dadapani.
The taxes are due July 1 and are based on the hotels' revenue from 2019 — which was almost certainly far higher than this year's.
"In 2020, occupancy in most Brooklyn hotels, if they're open, is about 15 to 20 percent," Dadapani said. "Instead of 100 bucks, you're getting 15 to 20 bucks. And then your real property tax bill is this enormous amount that is going to be impossible to pay. So I think the city really needs to give relief on that front."