At the outset of the pandemic Mercado Global, a Brooklyn nonprofit empowering rural Guatemalan women to become entrepreneurs, pivoted to donating masks to communities in need.
And this month, the team, based out of Sunset Park, just surpassed a monumental 115,000 masks donated around New York, the United States and Latin America -- all made by 750 rural Guatemalan women artisans.
"We had a moral imperative to start making as many masks as possible," Ruth Álvarez-DeGolia, the founder of Mercado Global, said.
Looking good, doing good
The nonprofit headquartered out of Industry City designs collections that highlight indigenous weaving techniques and connects rural Guatemalan artisans with profitable international brands like Levi's, Free People and Stitch Fix.
It also provides business education, leadership programs and equipment to its artisans, and helps women create community businesses to support themselves and their families.
"We are changing the status quo for women, communities and the industry," the website reads.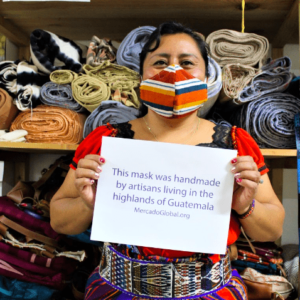 Marta Julia Cojín Coroxon, the cutting and patternmaking coordinator and designer in Guatemala, said Mercado Global is unique in its focus on women empowerment. Her role as patternmaking coordinator is typically a male-dominated position, she said.
"To be able to provide this to women -- the opportunity to earn money and support their families, it is a really huge thing that Mercado Global is accomplishing," Cojín Coroxon said.
Many of the communities Mercado Global works with are heavily reliant on tourism. During the pandemic, tourism has been halted and internal travel has stopped as well. For entire neighborhoods, this means food insecurity and job-loss, Carrie Klemencic, Mercado Global's development and marketing manager, said.
"One of our artisans is the only one in her neighborhood who has a job so she is planting potatoes and sharing them with neighbors," Klemencic said. "Since she is making masks, she gives them to people in her community."
Álvarez-DeGolia, a local who lives in Boerum Hill, said globalization, in the hands of the right people, could have a positive impact and provide a substantial income for Indigenous women in the Highlands of Guatemala.
"By connecting indigenous women and communities to global markets, it has helped their families leap-frog out of poverty and empowers their daughters," Álvarez-DeGolia.
The pivot to mask-making
In early March, Álvarez-DeGolia's team in Guatemala received a shipment of 70,000 yards of denim from Levi's for an upcoming collaboration. Álvarez-DeGolia asked Levi's if they could use the fabric for masks they could donate.
"When they said yes, we made as many as we could," Álvarez-DeGolia said.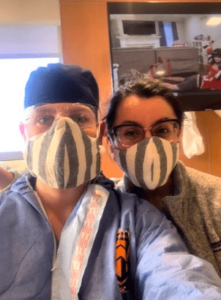 Álvarez-DeGolia onboarded 100 new artisans to make masks and took her sales team off of commerce and had them coordinating shipments of donated handmade masks. This first round of masks went to hospitals, retirement homes, postal workers, public housing authority residents, and at-risk communities in Mexico and Brazil.
In the months following, Mercado Global donated handmade masks to migrant farmworkers in California, migrant communities in Texas and New York City, Black Lives Matter in Brooklyn, and Indigenous communities in Guatemala, the home of Mercado Global artisans.
Guatemala's response to the pandemic made it increasingly difficult to produce masks.
"The hardest thing was when there was the government-mandated curfew and we had to get all of our work done in time to make it home," Cojín Coroxon said. "We were all running around because you'd be fined if you were out past 3 p.m."
Carrie Klemencic, Mercado Global's development and marketing manager, said the pandemic made it hard for all 750 artisans to communicate and teach each other the mask patterns.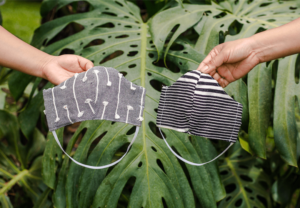 "The majority of people we work with don't have internet in their homes or smartphones, so there was a lot of creative problem-solving involved," Klemencic said.
In order to keep making donated masks and employ their artisans, Mercado Global started the Masks Where They're Needed Most campaign. In this initiative, the non-profit will donate one mask for every mask sold and the shopper can choose where their donated mask will go to.
"The day we launched that initiative, we sold out of all the masks we had," Álvarez-DeGolia said.
Not to worry, though. They'll be making more.