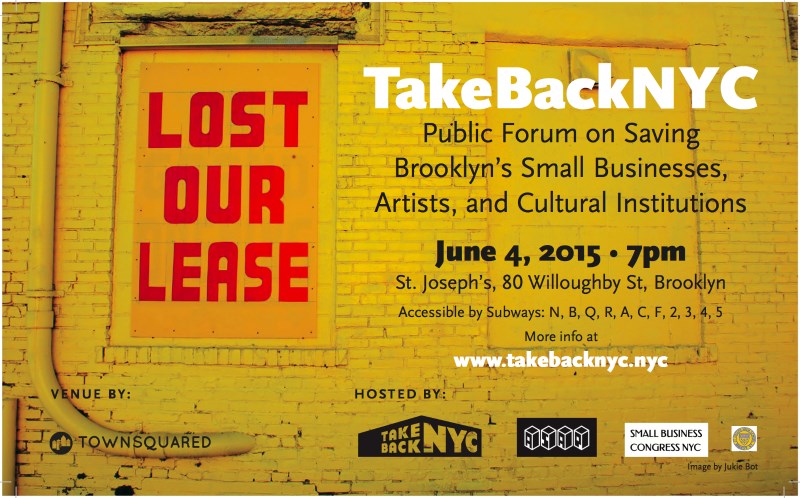 You are cordially invited to join TakeBackNYC for a Public Forum on Saving Small Businesses, Artists and Cultural Institutions.
Small businesses, artists and cultural institutions are in crisis, struggling to survive, and City Hall is not doing enough to help save them. OUR city's almost 200,000 small businesses impact the quality of life and future of our City, our neighborhoods and all New Yorkers.
Most of these struggles have one root cause: exorbitant rents forcing out long-term successful commercial tenants in favor of the highest bidder with no thought at all to the character of our communities being devastated and the local jobs that are being lost.
TakeBackNYC has emerged to change this.
TakeBackNYC is a coalition of residents, small business owners, and community organizations dedicated to putting an end to the rampant real estate speculation and greed which is destroying the fabric of our local economies. To bring awareness of this issue and explore real solutions—not the status quo of the real estate lobby—we cordially invite you to attend this event to learn more and hear from a panel of experts as well as the many residents it affects.
WHAT: TakeBackNYC
WHEN: June 4, 2015 at 7:00pm
WHERE: St. Joseph's High School, 80 Willoughby Street, Brooklyn
To learn more visit www.takebacknyc.nyc.