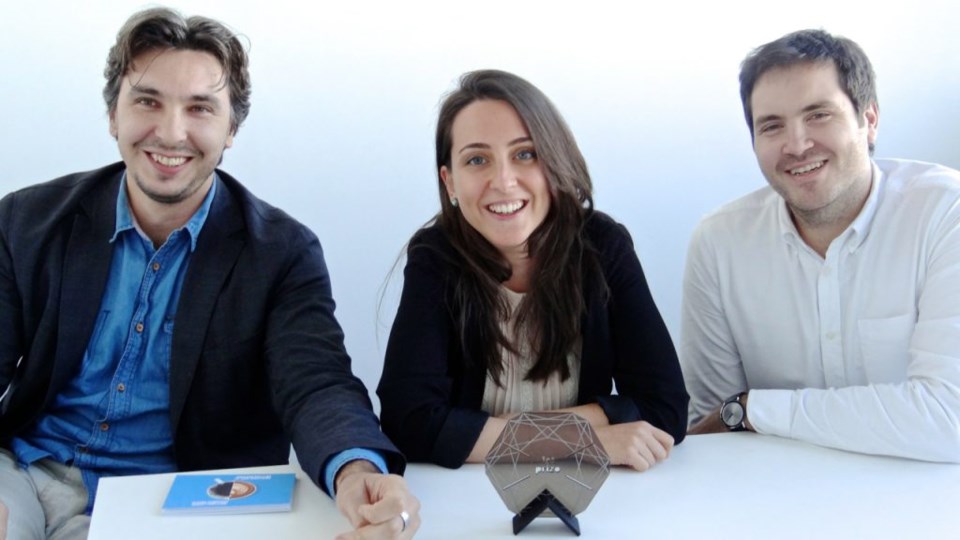 If you've ever wondered what was really happening inside the amorphous gray monolith of buildings known as The Brookyn Navy Yard, rest assured, it's a great deal.
For one, as a major manufacturing hub, there is a lot of design development, building and innovation taking place around the clock.
A great example is Eray Carbajo, a Turkey-based architectural design firm with an office in The Brooklyn Navy Yard, run almost singlehandedly by the company's three main partners, Inanç Eray, Gonzalo Carbajo and Pinar Güvenç.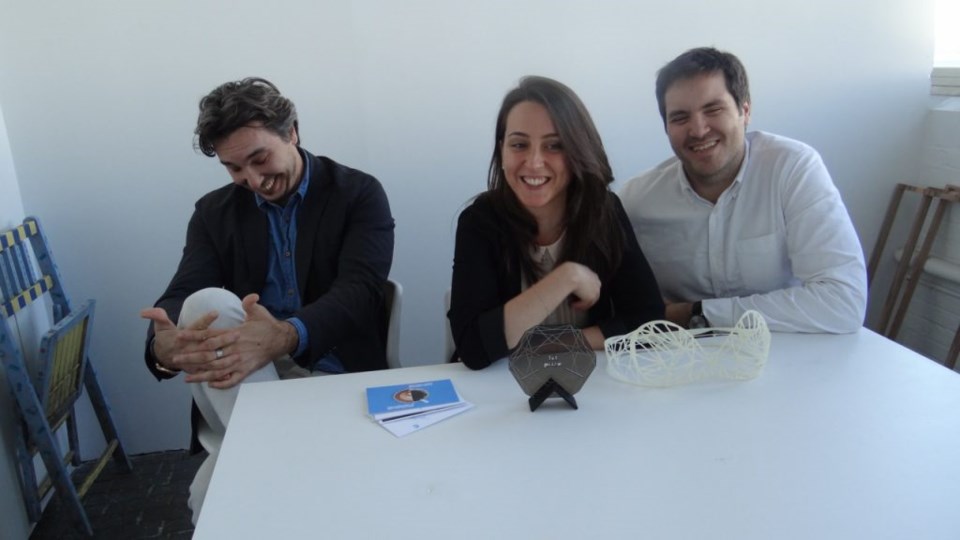 Only two weeks ago, the design team of Eray, Carbajo, Güvenç and a fourth team member, Marco Mattia Cristofori, received an award in Italy for its latest design of a bikini bathing suit.
Architects winning an award for a bathing suit, you say? But these aren't your run-of-the mill designers—they design everything from furniture, to museums, to homeless shelters to clothing. And their winning concept is hardly what you expect in a bathing suit. The suit is made of a sponge material that is water-resistant, cleans the ocean and it is recyclable!
"We understand design as a modus operandi, and we see architecture as a broader exercise," said Carbajo, 37, who is originally from Argentina. "From graphic design, to industrial design, to a setup of a city, we're trying to make the world. We have no boundaries for what we design."
Eray, 35, who is from Turkey, met Carbajo more than a decade ago in London. Carbajo had been living and working for eight years in New York City at Skidmore, Owings & Merrill (SOM), one of the largest and most influential architecture, interior design, engineering and urban planning firms in the world. Then, the economic crisis hit.
"We were understaffed and overworked. Inanç was in town, and we were trying to figure out what we were going to do. So, we decided to open our own firm. Then the brains came after," said Carbajo smiling and pointing at the 27-year-old Güvenç.
Already, they've received more than 30 awards (ten where they have placed 1st) for dozens of their designs, from the most prestigious design competitions around the world, including the most recent 1st place award in the International Wearable Technology Competition for their innovative and cutting-edge sponge suit design.
Güvenç knew of a team of Turkish engineers at the University of California in Riverside who were working on a special sponge material that was water-resistant but yet was able to absorb contaminants at the nano level.
"The idea to create this technology came after the oil spills of BP. The contamination trickled down into beaches, and we're not even realizing that we're still swimming in these oil-like contaminants," said Güvenç. "So the research started at U of C Riverside about four years ago, and they recently got to the point where it could be incorporated into some products as this competition for wearable technology came up.

"It's a super hydrophobic material that absorbs any oil-based contaminant but at a level that our body could not. So the swimsuit absorbs, but the pollutants do not touch your body."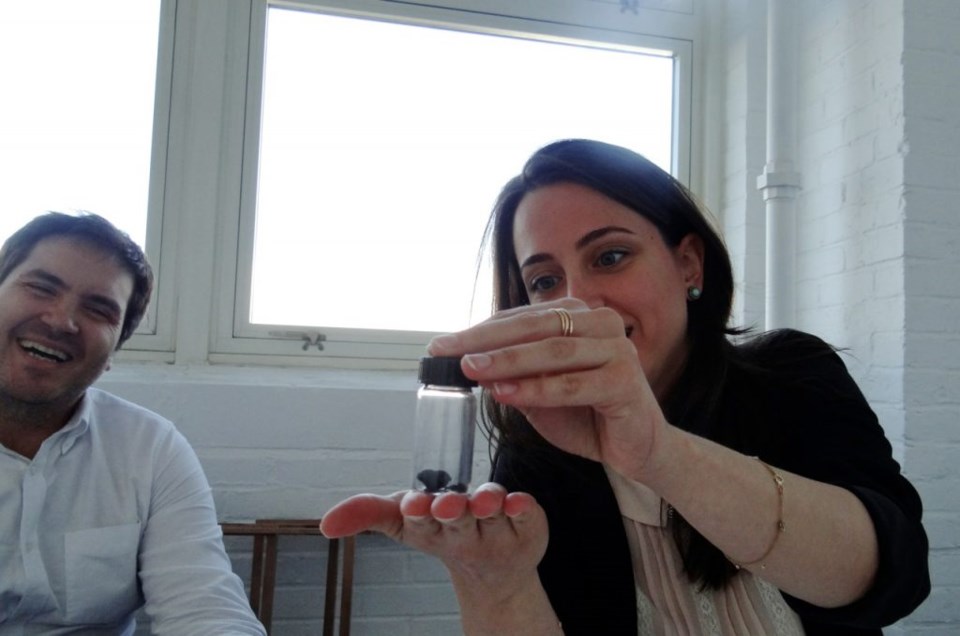 The sponge is made from a carbon-based material that is biodegradable and scalable and inexpensive to manufacture, said Güvenç. It can be used from 4-20 times, depending upon how polluted the water's pollution level. And then you have to get a refill of the sponge material.
The goal is to have recycling centers because it does release the contaminants when heated at high temperatures. And since it's very affordable to manufacture, it wouldn't be an expensive exchange.
"The idea was to help clean the seas as you swim," said Güvenç. "It won't make much difference on an individual level. But if we're all using it, sure. It's something to consider."
Already they're working on other applications, including surfboards, swim caps and other water gear.
"We are in a crowd-sourcing economy. So it's the same mindset—crowd cleaning," said Eray. "We are just happy to just create the dialogue and start the discussion."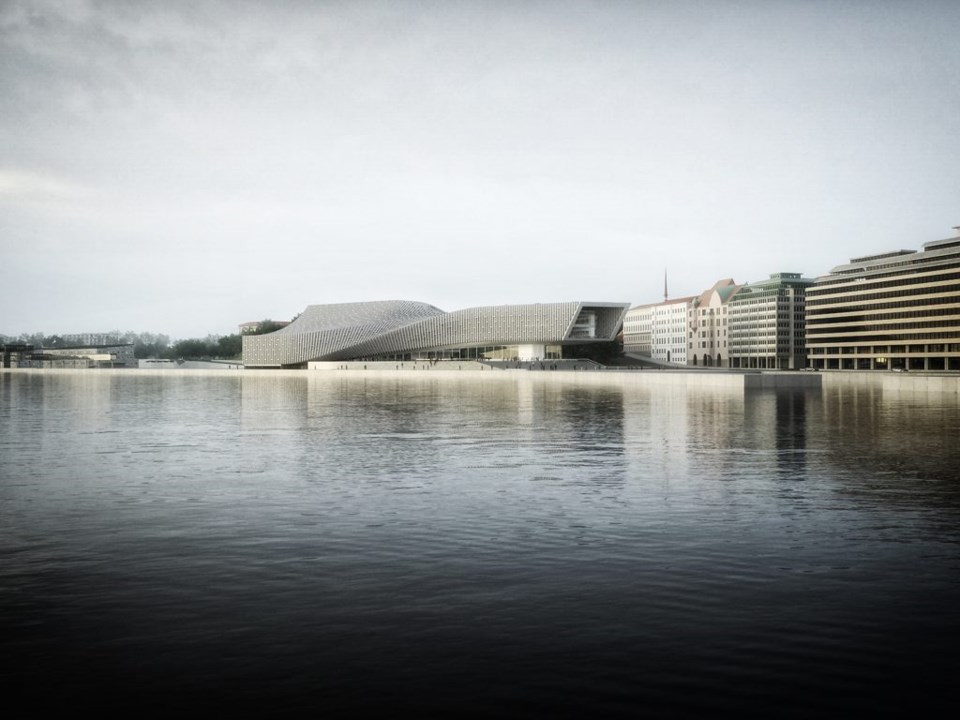 The team also won an Aesthetic Merit Award for a prototype of a 200-sq. ft tiny homes homeless community in North Carolina. All of their projects vary in size, scale and topic.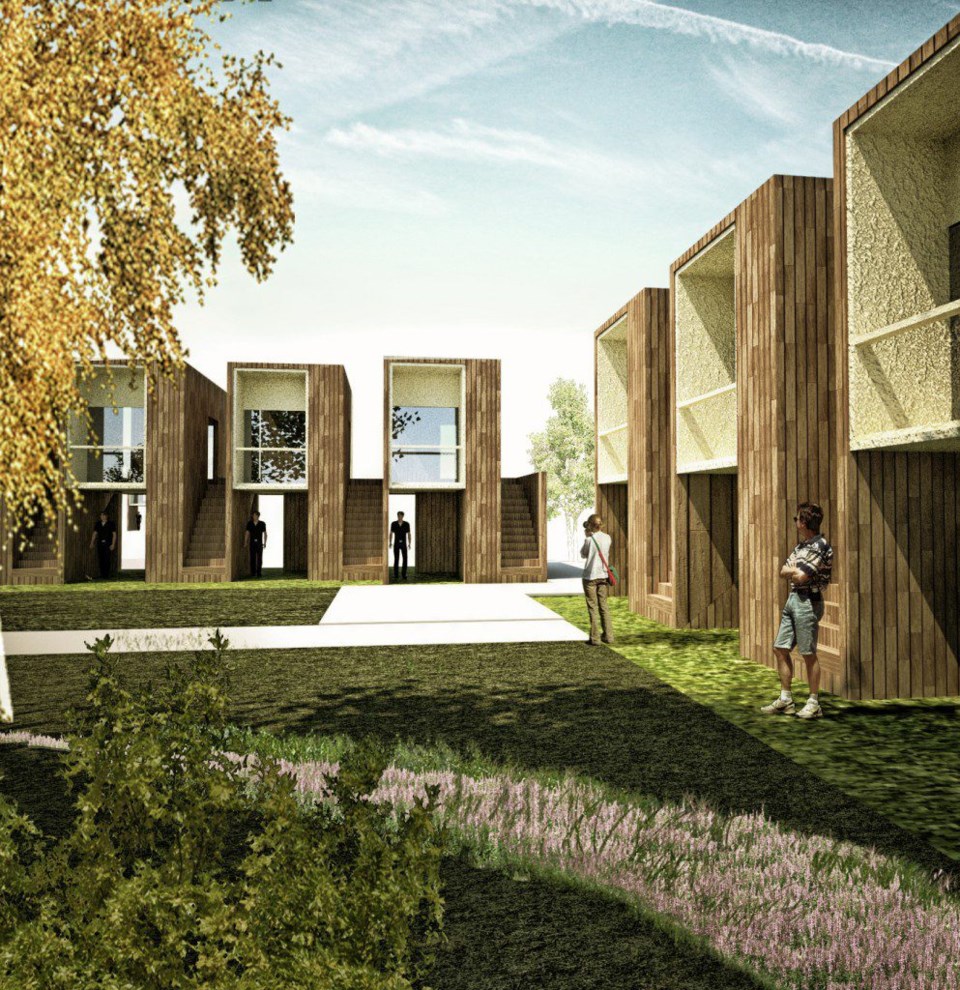 "We're competition junkies," said Güvenç. "It's a lot of research, a lot of time and a lot of 24-hour days. But it's an amazing learning curve that makes us work together in a very fast and efficient pace with an amazing outcome. We love doing competitions. We like to try different types, and we don't get comfortable in a certain typology."
Currently, the team is working on cutting-edge boutique hotel design that will be erected in Gowanus, Brooklyn.
"I think the main thing is that we are constant researchers in what we are doing. We are learning from all the past architects and we're always researching for new innovation—whether that is little increase or a huge transformation," said Eray.
"And being in the Navy Yard is who we are, where we want to be. It's not a coincidence. We are doers," he said. "We want to be surrounded by manufacturers, because that smartness-- from carpenters, to welders-- we want to bring it into our equation of efficiency and design and make a better product.
"To us, every project is another 'design problem' that needs to be solved."