The success of Brooklyn's small businesses is key to New York's post-COVID-19 economic recovery and the state government will do everything it can to support them, Governor Kathy Hochul reiterated at Brooklyn Chamber of Commerce's annual meeting and winter gala Wednesday night.
Hochul, who delivered the keynote speech at the event, told the crowd of small business owners, economic development advocates, elected officials and voters that small businesses were vital to local economies, adding "supporting small businesses owners in Brooklyn who got hit hard by the pandemic is critical to our economic recovery efforts."
"That's why I've taken steps to provide more pandemic relief to small businesses, make it easier for small business owners to access government resources, and continue to create opportunities for minority or women-owned businesses to ensure an equitable recovery," Hochul said at the event at El Caribe Country Club in Mill Basin.
"We will continue to do everything we can to put small business owners first as we work to bring our economy back."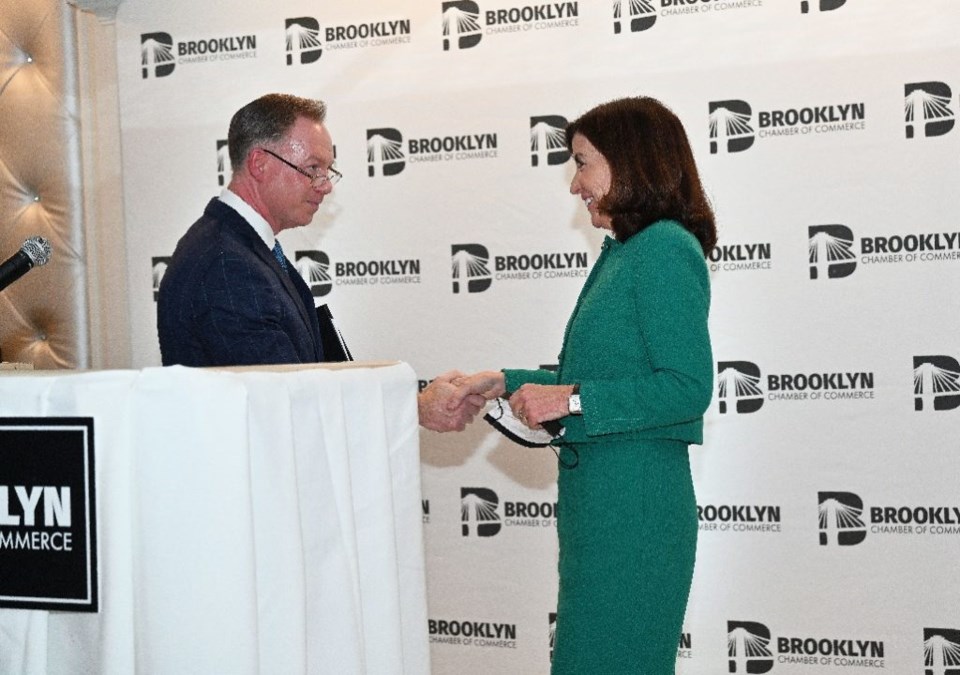 Brooklyn Chamber of Commerce President and CEO Randy Peers introduced Hochul and highlighted some of the key issues impacting Brooklyn's economic recovery, including that one third of local businesses owe back rent, that there are widespread labor shortages, supply chain chokepoints and rising inflation.
"Brooklyn's vital small businesses including many minority and immigrant-owned companies have suffered enormous hardships during the COVID-19 pandemic, and while too many were forced to permanently close, the Brooklyn Chamber of Commerce has provided critical opportunities supporting thousands of businesses toward recovery."
He added that through key initiatives like the Social Justice Fund, which is a ten-year, $50 million commitment from the Joe and Clara Tsai Foundation; The NYC Small Business Resource Network; and the Bring Back Brooklyn Fund, the chamber had been central the majority of efforts designed to revive Brooklyn's economy.
"We look forward to continuing the mission into 2022 and beyond."