New York City and its boroughs have long been recognized as melting pots of culture and ethnicity. Unique businesses seem to flourish here, especially when they invite the incredibly diverse public to try something new or different. Amid this booming metropolis are large financial institutions who play a major role in the division of essential funding but the often unrecognized heroes are the small-but-mighty, federal credit unions.
Brooklyn Cooperative Federal Credit Union introduced themselves to the Brooklyn residents in a modest storefront that opened in 2001 on Myrtle Avenue. With its first location based in a predominantly Latino immigrant community of Bushwick, Brooklyn Cooperative has hoped to expand, with a second branch in Bedford-Stuyvesant.
Owned by individual members and chartered by the federal government, Brooklyn Cooperative is the local home for the full range of banking tools, services, workshops, and counseling. While it always sounds appealing to give back to the community through your banking choice, it can be difficult to escape the barrage of advertisement and promotion that lead to large familiar financial institutions. For the average banker, word of mouth from people they respect can play a major role in who they trust with their money.
The Brooklyn Reader had an exclusive interview with one of Brooklyn Cooperative's loyal members, Mollie Hosmer-Dillard, a full-time freelancer, in order to better understand her perspective and that of the countless Brooklyn residents who trust this process.
Q. Do you remember how you first heard of Brooklyn Cooperative?
A. "Actually, my sister has an account with them and she moved to New York before I did. When I moved here, I was eager to find a new bank and to really settle into Brooklyn. She suggested I try B. Coop and she even came with me when I first visited a branch."
Q. Do you recall what that day was like?
A. "It was pretty seamless. I think the person that helped me set up my account actually knew my sister and it felt like they really took time to get to know the people that were contributing to their membership."
Q. Had you only considered larger banks before opening an account with Brooklyn Cooperative?
A. "No not really. I grew up in a small town so I have experience with smaller banks. When I came to New York I brought that same mindset and I definitely was looking for the same type of banking experience."
Q. In your opinion, what's the difference between the bigger banks and credit unions like B Coop?
A. Well, one of the things that I really like is that its a small group of people who are investing money in local businesses and individuals. That's a cool cycle to be a part of and to witness. Aside from that, on a personal more emotional level, I love going into my bank and being recognized by the people behind the counter.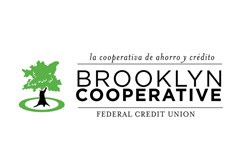 They know me, they know my contribution to the community, and on the flip side of things, I know them and their motivations. Plus, they always seem to enjoy being at work, which reflects well on any business.
Q. Do you feel like the Brooklyn Cooperative experience is a win-win for you and your family?
A. "Absolutely. The ambitious people who work in the bank coupled with the opportunities that they create for the community are pretty incredible. I've recommended this option to lots of friends, especially when it comes to doing taxes."
Q. As a freelancer, how has B. Coop helped your money management?
A. "I do my taxes through the bank specifically because I'm a freelancer. They have personnel who are there specifically to help small business with anything that's tax related. I can come in and really sit down with someone to get insight on how my taxes should be done."
Unlike most banks in the area — where the owners may be a different group of people than those who actually use the bank's services — Brooklyn Cooperative serves as New York City's fastest growing credit union, owned by the people who use it on a day-to-day basis. For more information or to find your closest branch, please visit The Brooklyn Cooperative website.