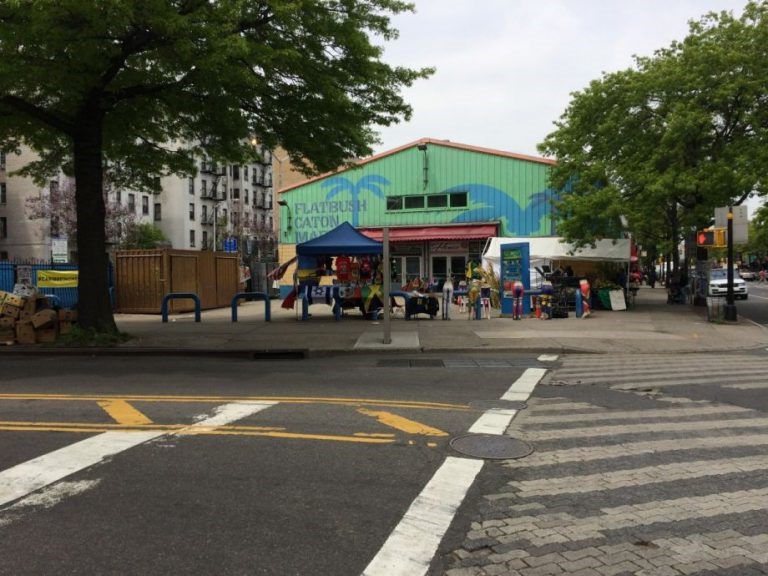 In April, New York City Council approved plans to demolish and rebuild Flatbush Caton Market as part of a complete revamp, aiming to create a larger space for the market, affordable housing and a community space, as nextcity.org reports. Amid concerns about gentrification and displacement, the city promised to preserve and expand the market while also adding 250 units of affordable housing.
"Everybody who lives in Flatbush recognizes the changes that are happening," says James Johnson-Piett, principal and CEO of Urbane Development, a partner in the project. "But I think the opportunity and promise in this project is to have a really strong gateway to Caribbean Flatbush."
Flatbush Caton Market, managed by the Caribbean American Chamber of Commerce and Industry (CACCI), was founded with the support of former City Councilwoman Una Clarke. Located at the intersection of Flatbush Avenue and Caton Avenue, it opened first as an outdoor market in 2000, before moving into its current building in 2002. Today, the market is home to 40, mostly Caribbean vendors, who sell an array of goods, from Caribbean fruits and foods, to clothing printed with island flags.
"When the initial vendors were moved from the streets to the parking lot with a tent as cover, I never thought they would end up in a building," Clarke said in a press release earlier this year. "The community congratulates the de Blasio administration for the redevelopment of the site to provide affordable housing while preserving the market as a small business hub."
During the public input process, Urbane Development worked closely with CACCI. BRP Development, one of the largest African-American-owned development companies in the U.S., with projects in Harlem, East New York and Bedford-Stuyvesant, as well as in New Jersey and Baltimore, is slated to lead the project.
The new facility will include 250 housing units, 22 percent of which will be made available to low-income residents, 30 percent for moderate-income and 48 percent for middle-income. Additionally, the new construction will include a commercial kitchen and a community space, which will serve as an incubator space for existing market vendors and community entrepreneurs.