The architecture firm Francis Cauffman revealed on Wednesday the renderings for a new health center and mixed-use building going up at 620 Fulton Street, one of the first dynamic new buildings to be erected in the fast-developing Brooklyn Cultural District.
Located one block from the Brooklyn Academy of Music on Fulton Street between St. Felix Street and Ashland Place in Fort Greene (where Crunch Gym currently is located), the 180,000-square-foot, 12-story building is on track to break ground in Spring 2015 and open in Fall 2016.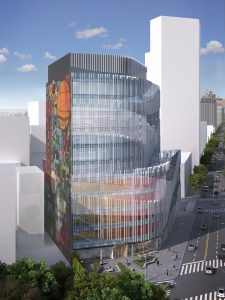 The Health Center, Inc. (HCI), the building's owner, will bring a 65,000-sq.-ft. health center that focuses on wellness and treatment of illness, incorporate state-of-the-art technology and enforce a collaborative, team-based approach to care, while also providing an office space, retail space, a restaurant and other public amenities.
"We had two major goals for this building," said Dr. Robert Greenspan, executive director of HCI. "First, we wanted to create a strong image for HCI in Brooklyn that supports our mission and welcomes our members.
"Second, we insisted on a vigorously patient-centered environment that provides high quality healthcare characterized by exceptional customer service. Above all, we want our members to enjoy an unmatched healthcare experience."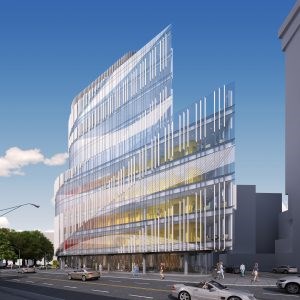 The entire building will have a unitized curtain wall system with fritted glass and 10-inch glass fins that project from the facades. These architectural features will appear to dissolve the edges of the building and create a dynamic, sculptural form that gives a different impression to passersby from different vantage points.
The south façade will contain a mural designed by a local artist (yet to be selected).
"We are delighted to work in partnership with HCI to achieve their vision for 620 Fulton, while transforming the Brooklyn Cultural District into a 24/7 community," said James Crispino, AIA, NCARB, design principal of Francis Cauffman.
The new HCI site at 620 Fulton replaces a smaller building in Brooklyn and is the fourth location for HCI, which also operates two facilities in Manhattan and one in Queens.