For a number of New Yorkers, in-store shopping has become either a memory or a much less frequented pastime.
Technology trends, coupled with the pandemic, have seen online shopping increase exponentially. According to Pew Research, eight in 10 Americans are regular online shoppers, spending around $600 billion dollars online almost every year, and that number is only expected to increase.
But that increase in shopping has come hand-in-hand with an increase in the rate of stolen packages. According to The New York Times, more than $1.7 million worth of packages are stolen every day.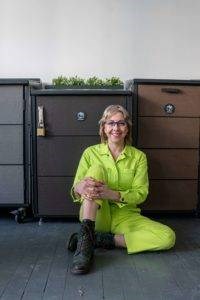 Stoops across the borough have been fitted with cameras and other devices, and schedules have been changed to suit delivery times, but package pirates just keep coming.
Now, Brooklyn-based company Citibin has joined the efforts to combat package theft, pivoting from garbage storage due to customer demand, Founder Liz Reisch Picarazzi said.
Initially Citibin was created to give people in attached homes, like most in Brooklyn, a place ot securely store their garbage, Reisch Picarazzi said.
"The bins are made of aluminium and bamboo, it's eco-friendly materials so they can be adapted for a lot of different purposes," she said, adding the units come with a padlock-able handle and the option to upgrade to a digital lock to protect packages, and are made in three different colors.
"We started working with single-family homes on package lockers, but multifamily residences and property managers started seeing it, so they use these multi-module parcel bins because they've been dealing with theft complaints."
Last year, Citibin saw a 70% increase in demand for package lockers, but in the first half of 2020, when the pandemic hit, there was a 650% increase in demand.
Since creating the lockers, Citibin has had no reports of packages being stolen. The lockers can be bolted to the cement, which serves as a deterrent to porch pirates.
Citibin, while Brooklyn-based, ships the multi-purpose containers nationwide and to Canada as well.
Reisch Picarazzi said she's cut herself a space in a market that doesn't quite exist yet: the outdoor storage market.
"Sometimes when we go to trade shows that are for designers and architects and they don't understand how our parcels fit into it."
She said the same applied when she took units to trade shows for trash pick up trucks.
"I would envision us as The Container Store of outdoor storage, which isn't really an established category and I'm trying to make that a category," Picarazzi said.
"When I say we want to be the Container Store of outdoor storage, we have a category here that meets a lot of different needs at once."
She said the goal was to expand outdoor storage options, with the introduction of their modern outdoor sheds, deck boxes and planters.
"It's not something that I would have thought of, so it's really exciting, but there's still a lot to do."