Mayor Bill de Blasio announced on Wednesday the launch of NYCHA's first large-scale solar program which will provide low- to moderate-income New Yorkers, including public housing residents, access to clean, low-cost energy throughout the city and create jobs in the growing solar industry.
"NYCHA, New York's largest landlord is ready to lead the charge on renewable energy. With this unprecedented investment, the city is reducing its carbon footprint and building more resilient communities for the 400,000 New Yorkers who call NYCHA home," said Mayor Bill de Blasio.
The New York City Housing Authority plans to install solar power at 14 developments city-wide, four of which are located in Brooklyn. As part of its long-term strategic plan NextGeneration NYCHA and since the release of its Sustainability Agenda last year, NYCHA has been working with government and private sector partners to provide better service for residents, reduce energy costs and curb the effects of climate change.
"I'm glad this solar program is finally happening at NYCHA buildings and that the city is progressing and moving towards renewable energy," said Miguel Rodriguez, a NYCHA resident who has worked in the solar industry through NYCHA's Green City Force partnership. "This is going to make a huge difference within our communities."
NYCHA evaluated more than 2,500 rooftops to determine potential solar capacity, considering factors such as the condition of the roof, usable roof space, height and shading. The authority also looked at parking lots where solar canopies could be placed over the parking area. Based on these criteria, NYCHA identified 190 developments for large-scale solar development.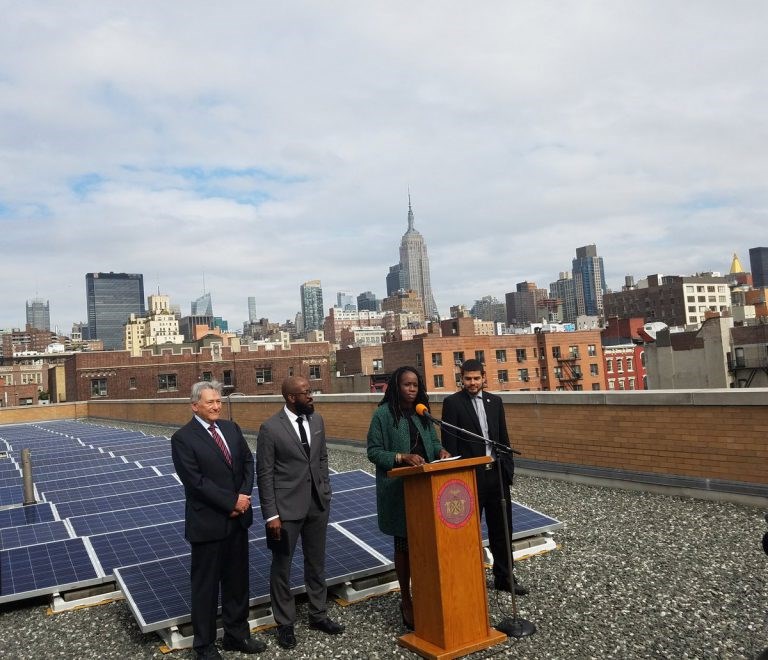 NYCHA plans to lease sites, which include both rooftops and parking lots, for up to 25 years. The solar developers will install, operate and maintain the solar panels, and sell the power to low- to moderate-income residents throughout the city. The initiative also aims to provide job opportunities and career pathways to the residents.
"NYCHA's ambitious program demonstrates the range of benefits a well-designed community solar program can provide, from economic development and job training, to cost savings for low- and middle-income families," said Tanuj Deora, executive vice president and chief content officer of the Smart Electric Power Alliance. "Hopefully, this program will inspire other communities to see solar as a cost-effective, positive option and well within their reach."
Proposals are due January 8th, 2018, and NYCHA expects to select developers during the first quarter of 2018. The first solar installations are expected by 2019 and include the following Brooklyn-based developments: Taylor Street-Wythe Avenue, Wyckoff Gardens, Gowanus and Coney Island 1B.
NYCHA's initiative is a welcomed addition to Brooklyn's already sprouting solar movement which includes installations in Brownsville, Park Slope, Gowanus, the Brooklyn Navy Yard and Sunset Park, among others.