This "Vegan Shake Shack" features an eclectic menu of custom burgers made of veggies and plant proteins like tempeh, quinoa and beans, all organic and sustainably sourced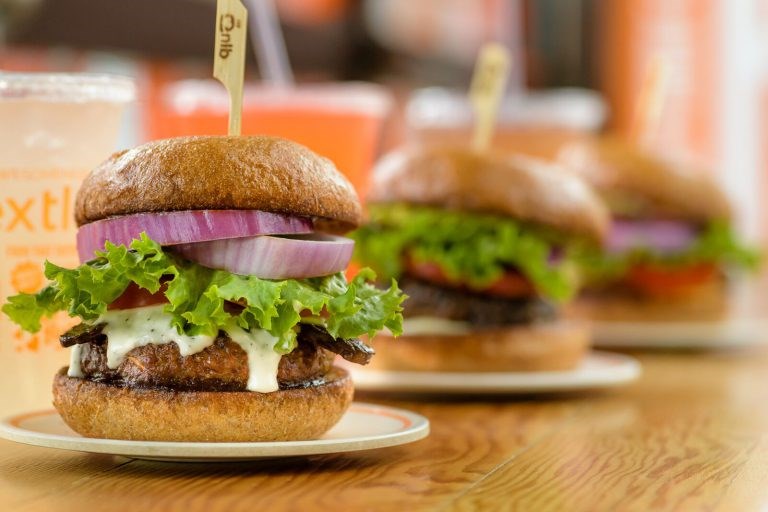 Next Level Burger (NLB), the West Coast vegan burger chain sensation, will open its first East Coast outpost in Fort Greene at the end of January, reported Live Kindly. The all plant-based burger joint will be located inside the upcoming 365 by Whole Foods Market.
Next Level Burger has gained notoriety for its sizeable assortment of custom burgers featuring veggies and plant proteins like tempeh, quinoa and beans. But it also carries the popular Beyond Meat Beyond Burgers that "bleed" and mimic the taste and texture of ground beef with ingredients including beets, peas and coconut oil. The "vegan Shake Shack" also sells sandwiches, shakes, hot dogs, salads and "loaded" fries that can be topped with chili and vegan cheese.
NLB was born when its founders Matt and Cierra de Gruyter realized that what they wanted for their family—healthy, sustainable, delicious food that doesn't have to harm the planet—could be for everyone. Turning their deeply held beliefs into action, they created burger awesomeness prepared from ingredients that are responsibly sourced, organic and GMO-free. Their commitment to sustainability is also reflected in the use of compostable packaging and the restaurant's furniture which consists of reclaimed wood table tops.
"We believe that it's our responsibility to be stewards of our planet, not only for ourselves but for our children and the many generations to come," the company states on its website. "We consider the health of the planet in every decision we make."
Billed as "America's first 100 percent plan- based burger joint," Next Level Burger launched in 2014 in Bend, Oregon and has since grown to five other locations in Seattle, Portland and various spots in California.