A new restaurant celebrated its grand opening and ribbon-cutting ceremony Wednesday in Fort Greene.
Humo, located at 336 Myrtle Avenue, offers grass-fed beef, pork, chicken and tofu products cooked in a wood-burning smoker, without the use of electric or gas.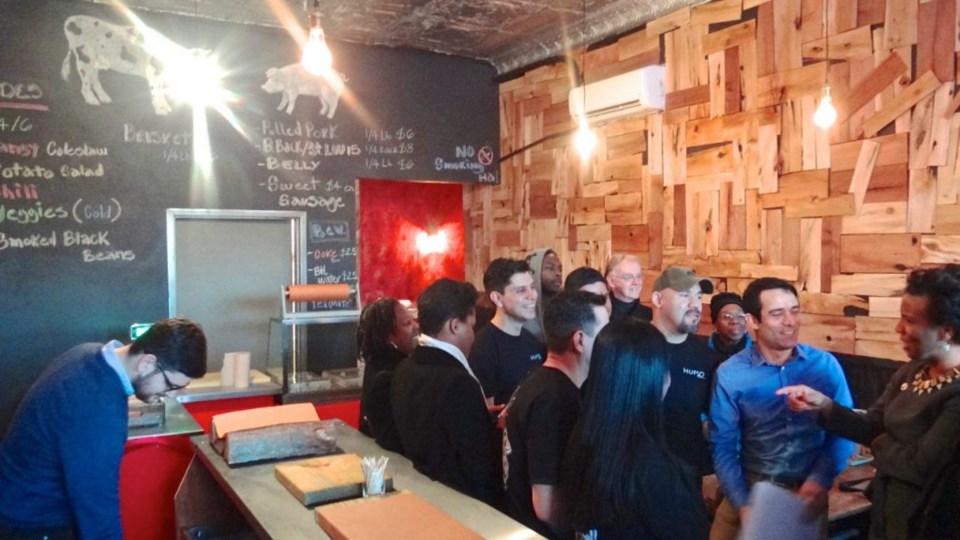 Humo, which means "smoke" in Spanish, also will offer seasonal organic vegetables, homemade coleslaw, chili and other products.
The smokehouse opened to an unusually elevated degree of fanfare, including the participation of Assemblyman Joe Lentol, City Councilwoman Laurie Cumbo, Community Board 2 and a handful of local residents.
Humo's six partners-- David Oliva, Ana Balderas, Augustin Balderas, Ruben Caballero, Raul Perez and Jennifer Jordan—spent two years developing the start-up.
But they were not alone. They were supported hand-in-hand by the Myrtle Avenue Brooklyn Partnership (MARP) which in the past two years, have played a big hand in accelerating commercial development along the hopping half-mile strip of Myrtle Ave, from Classon Ave to Flatbush Extension.
"We've experienced a tremendous amount of growth along Myrtle Avenue, which we're very happy about-- particularly since we've managed to maintain 75 percent of women and minority owned business, which is a huge success," said Michael Blaise Backer, executive director of MARP.
Humo also participates MARP's Farm to Neighborhood Program, which connects small business with regional farmers upstate as a regular food source. In fact, seven of the new business that have opened since December have been a part of that program, said Backer.
MARP also presented Humo a check for $40,000, a façade improvement grant to help maintain the historic character of the storefront and offset some of the build-out costs.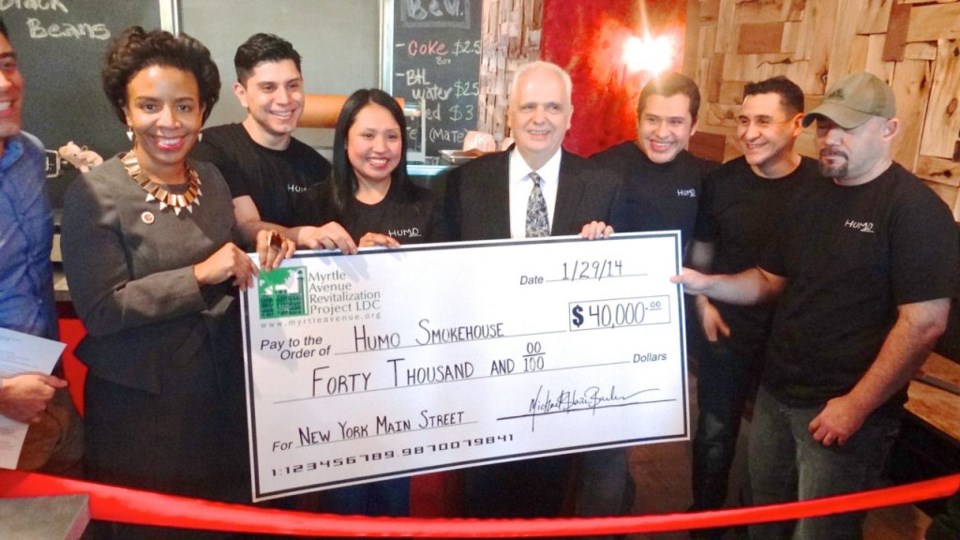 "We believe in the basics of humanity, before kitchens went commercial," said Humo's co-owner Raul Perez, regarding his team's decision to go with smoked meats. "We are big fans of our own ribs. But the surprise has been that everybody is liking everything on the menu…
"It's exciting, very exciting. And MARP has been such great help. A lot of this we couldn't have done without them."