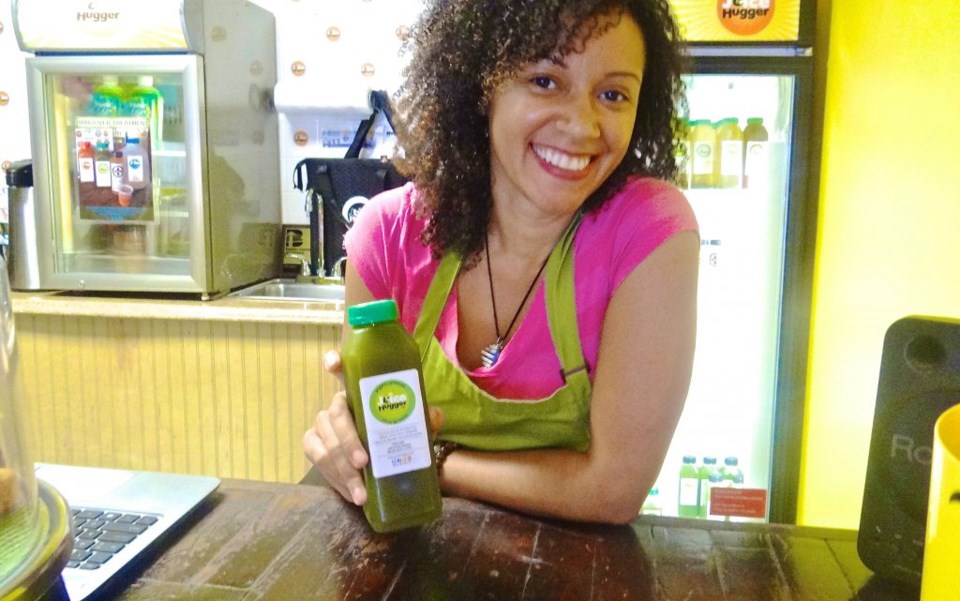 Juicing: Unlike 20 years ago, it's no longer viewed as a practice reserved for tree huggers, vegans or Yogis. Juicing, for most New Yorkers-- especially those who are concerned with weight loss-- has become a compulsory part of leading a healthy, clean lifestyle.
"People are now choosing to juice. And they're doing juice cleanses at home but not realizing that they are causing themselves to become severely dehydrated while throwing their digestion off-wack," said Crown Heights resident Kelly Keelo. "And people also want smoothies. But they are making smoothies that are 600-700 calories by using highly caloric ingredients, such as peanut butter or dairy."
Kelly is not against juicing. In fact, she is an avid juicer. What she's saying is that, when deciding to juice, the process and the products are very important. When done correctly, juicing can have huge benefits.
Originally from Boston, MA, Kelly and her high school sweetheart-turned-husband Carl Foster have lost a combined 60 pounds over the past few years by moving to an aggressive juicing lifestyle. Kelly was working in the beauty industry as a production director for Tyra Banks, where, daily, she helped transform women's hair, skin and bodies for the camera.
But Kelly said it wasn't until after she began juicing that she saw her own hair, skin and entire body transform and without the use professional makeup, spankies or camera angles.
She and Carl learned as much as they could about juicing, began experimenting with different blends and continued to see benefit after benefit for their bodies. Finally, in 2010, the couple decided to leave their respective jobs and go into the juicing business together, with the mission of helping to guide others into a more healthy lifestyle.
They launched Juice Hugger, an online store for Brooklyn locals who want fresh, organic, pressed juices.
With no added preservatives, artificial flavors, sugar or high fructose corn syrup (agave only) and the option to create your own mixes and pre-order, the store's product became an instant hit. And by 2010, the couple opened Juice Hugger Café, a walk-in, retail version of the online store, located at 85 Rogers Avenue between St. Marks and Prospect Place, in Crown Heights.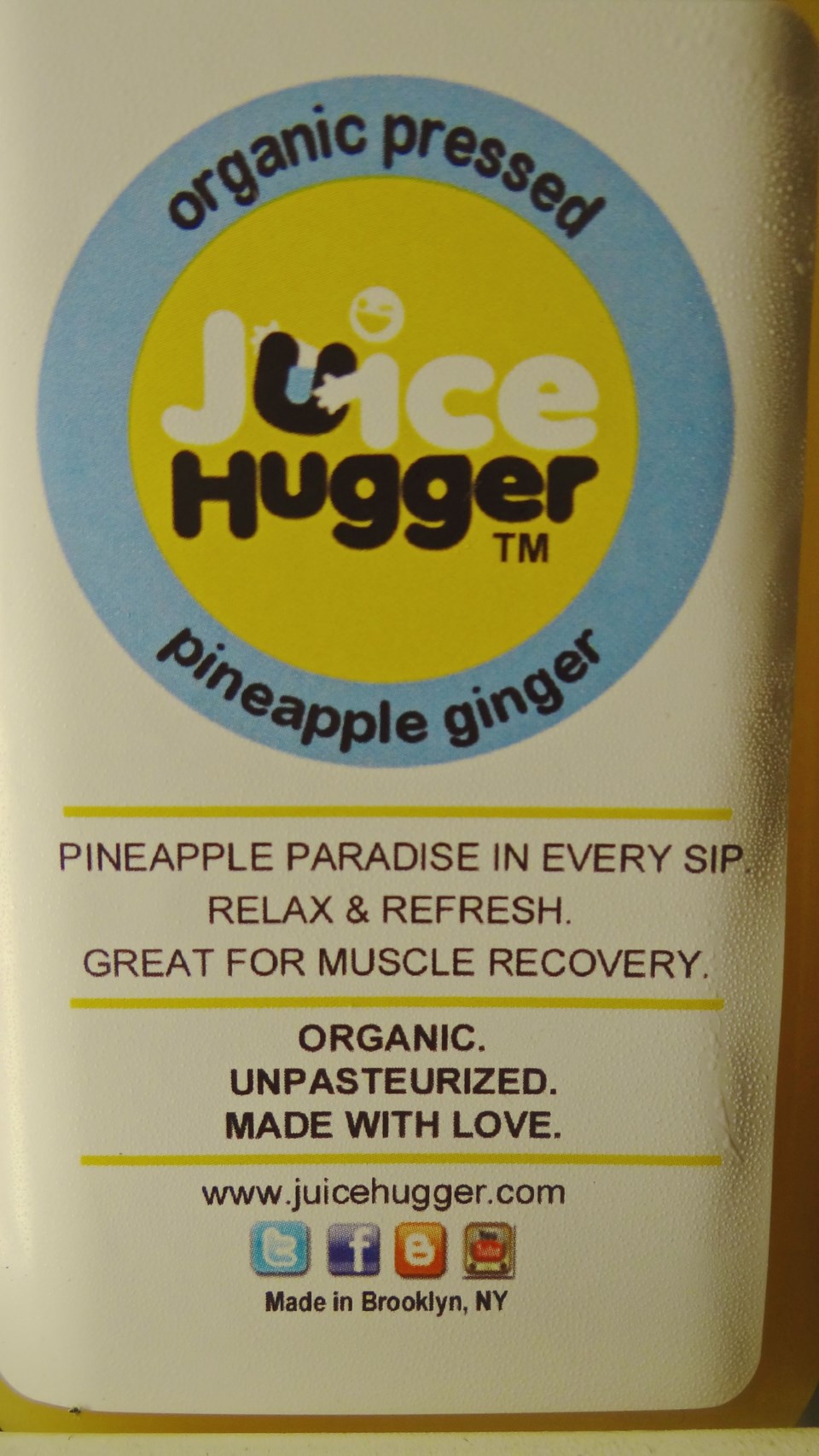 Carl creates the recipes and Kelly handles the branding and marketing. The couple sells the juices from the online site, where clients can either pre-order them for delivery or come to the café for pickup.
So far, they've created 13 different products, from green drinks, to smoothie blends, to fresh pressed cashew milk. Juicy Greens, a custom blend of tasty greens and other vegetables, is their best seller: "It really helps to detox the liver and bring your body back into a more alkaline state," said Kelly. "When your body is in an alkaline state, diseases and illnesses cannot live."
"Also our cashew coffee for past two years has been a huge hit," she points out. In fact, only recently, another premier juicing company, BluePrint, "lifted" the ingredients and name of their Cashew Coffee drink, another popular blend made of coffee and pressed cashew milk. The two companies crossed paths because they share the same distributor. So now a BluePrint version of Juice Hugger's original Cashew Coffe blend sits on the shelves at Whole Foods.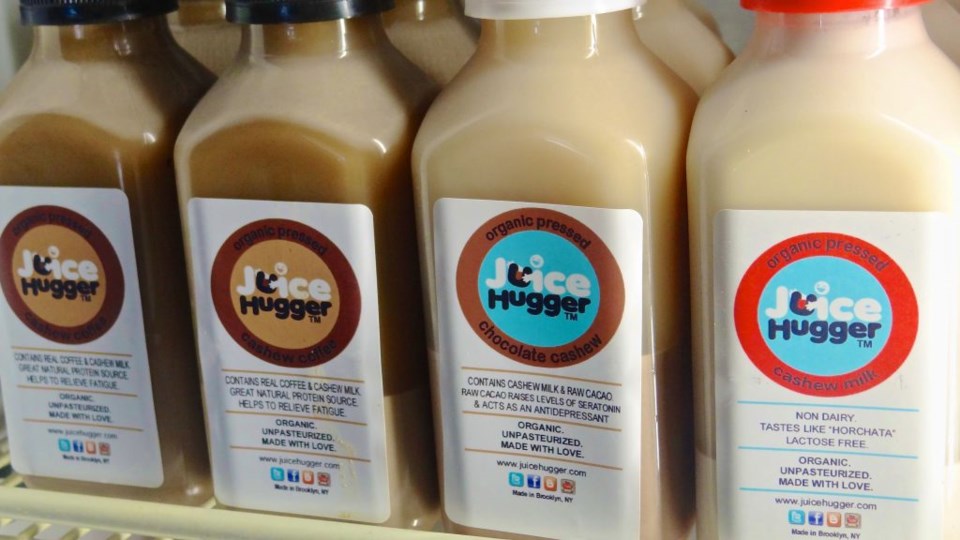 But Kelly said, it's fine. They take the bite as a compliment. "We just want people to be healthy," she said.
"And there's a big difference between our product and most others on the market in that we don't pressure pasteurize; we press our juices with the Norwalk (the Mercedes Benz of juicers, as Kelly calls it), so you're getting all of the vital nutrients. And people really love the taste of that."
"The Norwalk is clean juicing, so that you're not becoming dehydrated," said Kelly. "I think with a lot of juice cleansers, they're not drinking enough juice. You need six juices a day because you're helping to stabilize the metabolism. And 35 percent of people are in starvation mode because they're not eating often enough. So if you're going to do a juice cleanse at home, be sure you are not drinking just 2-3 juices and are not creating starvation in the body."
Juice Hugger Café also sells Kangen Water, healthy snacks such as kale chips and fresh, organic and vegan items, such as gluten-free pancakes and gluten-free pizza. One of their newest products is called "Hangover Hero," a proprietary tonic made by Juice Hugger that puts the nutrients back into your body that acidic coffees and alcoholic drinks deplete.
"We're both foodies, and we really care about whether people are getting their nutritional value to keep them healthy," said Kelly. "But it's also important to us that they are wow'ed by the way it tastes."
"The fresh, pressed juices help our customers restore balance to their bodies and clean their palates. Once they do that, eating right will be easy, because healthy food will taste amazing."