The financial literacy app aims to help local residents identify available government benefits.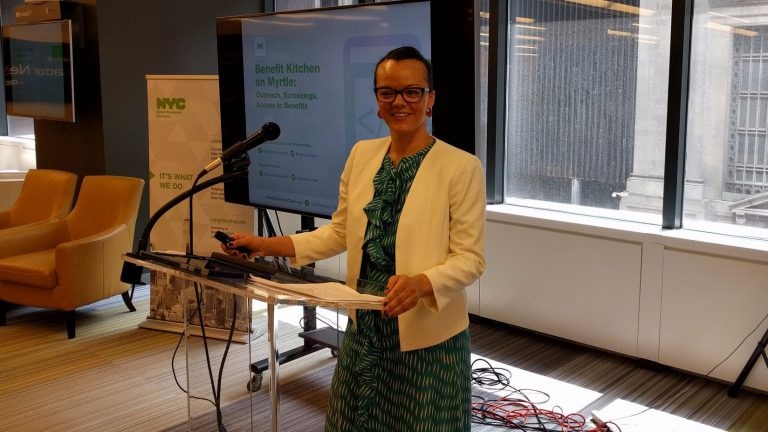 Myrtle Avenue Brooklyn Partnership was chosen as one of five recipients of the "Neighborhood Challenge" grant administrated by NYC Small Business Services (SBS) to create, in collaboration with Brooklyn-based technology platform Benefit Kitchen, a financial literacy app that aims to help low income residents of Fort Greene and Clinton Hill identify federal, state and local benefits available to them.
"Great neighborhoods make a great city and we are using technology to build vibrant neighborhoods across the five boroughs," said Gregg Bishop, Commissioner of the NYC Department of Small Business Services. "These awards will empower community-based organizations to meet local needs — boosting small businesses and enhancing quality of life."
Benefit Kitchen is a financial literacy app that also offers applications in healthcare, banking, nonprofits and retail, creating disposable income for employees and shoppers. The joint proposal of Myrtle Avenue Brooklyn Partnership and Benefit Kitchen outlined the steps needed to create a Myrtle Avenue-branded outreach app that will screen eligibility for 18 government benefits along with local promotions.
"This technology will help families struggling to meet their needs locally by connecting them to benefits they already qualify for," said Myrtle Avenue Brooklyn Partnership Executive Director Meredith Phillips Almeida. "There's even a robust local component that will connect community members to benefits offered by Myrtle Avenue merchants and many of our programs like the Fresh Pantry and Farm Fresh Box."
Myrtle Avenue's proposal was selected from a pool of 12 finalists from all five boroughs after making a 3-minute pitch to a panel of judges that included by representatives from Robin Hood, AOL and city agencies.
Additional competition winners include the Chinatown Partnership, Downtown Brooklyn Partnership in partnership with the DUMBO Improvement District, Long Island City Partnership and the Rockaway Business Alliance.