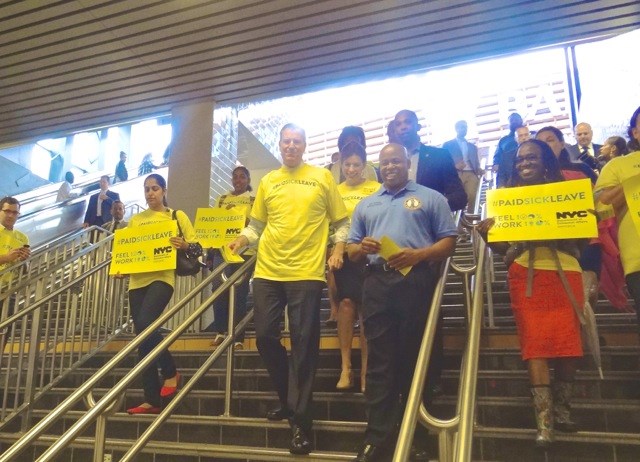 Paid Sick Leave advocates and activists were out at over 150 subway stations across the city early this morning on a flyer campaigning to remind employees of their rights granted in the new Paid Sick Leave bill that goes into effect on July 30.
Under the law, certain employers now must provide sick leave, so employees can care for themselves or a family member without losing pay.
Commuters who use the Atlantic terminal in Brooklyn for their morning commute, might have even been handed a flyer by Mayor Bill de Blasio himself, who stopped through in a show of support, along with a handful of elected officials, including Brooklyn Borough President Eric Adams, City Councilmembers Laurie Cumbo and Rob Cornegy, Assemblyman Walter Mosley and Carlo Scissura, president of the Brooklyn Chamber of Commerce.
This is an unprecedented action by a city agency," said de Blasio. "Now, over a million New Yorkers are covered, and that means that people have the ability-- when they are sick, when their child is sick, when their parents are sick-- to spend a few days getting well or helping others get well.
"This finally gives people the rights that so many others have enjoyed, which is to take that time to get well and not lose pay in the process-- a little more economic security when so many New Yorkers are troubled."
Employers and employees can visit nyc.gov/PaidSickLeave or call 311 (212-NEW-YORK outside NYC) for more information, including the required Notice of Employee Rights, one-page overviews for employers and employees, FAQs, andevents.