Flatbush local Kent Paul always wanted to own a business, but he was waiting for the right time.
During the COVID-19 lockdown, he realized he didn't want to go back to his full-time job as a maintenance worker with the New York City Housing Authority.
"Being that I was locked in, I had time to think about things," he said. "I was like, 'You know what? I'm gonna bet on myself.'"
Paul, 58, had always liked the ambience of coffee shops and the opportunities they created for connection. He also noticed a need — there wasn't a coffee shop nearby. So, in April 2021, he leased the vacant ground floor of the building on Rogers Avenue and Beverly Road — right across the street from where he'd grown up — to open a cafe.
The process was slower than he would have liked. Remodeling efforts were delayed multiple times due to health concerns. Price gouging and supply chain issues forced Paul to pay double for nearly all of the equipment he needed — pre-pandemic, a basic three-compartment, restaurant-quality sink was listed on a restaurant supply site for between $300 and $450. By 2022, the price hovered between $600 and $750.
But Paul was determined, and Prime Grind Coffee & Espresso opened for business in November 2021.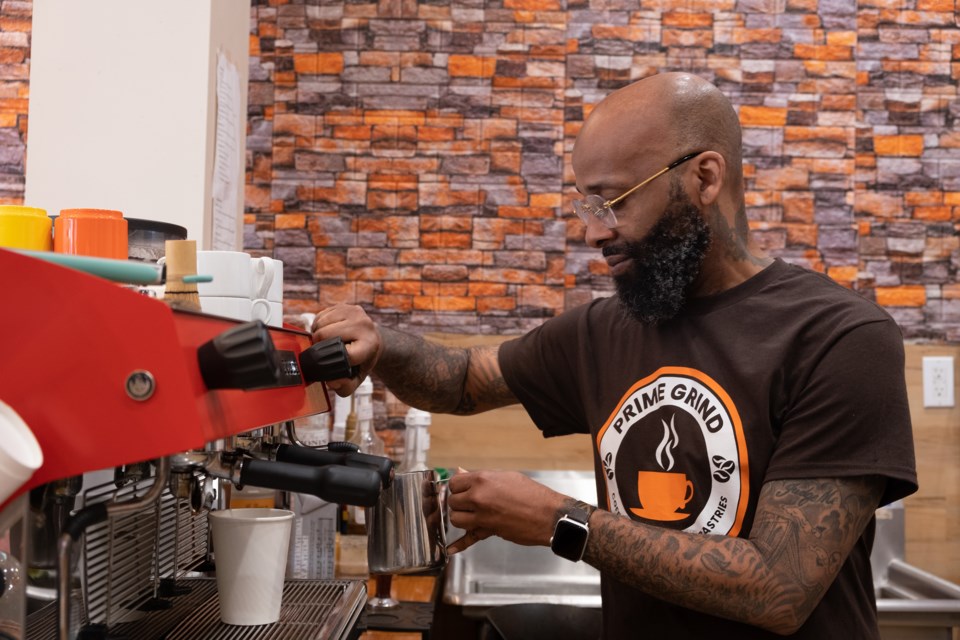 "I was kind of nervous because businesses are closing and here I am thinking about opening one," he said.
When people asked him 'Why now?' Paul said he was looking ahead.
"I felt like everybody's just gonna rush back outside, so why not be ready for them?"
An Entrepreneurial Renaissance, Post-Pandemic
Despite the hardships presented in the last three years, including widespread job losses and furloughs, statistics suggest that more Americans than ever have been emboldened to forgo traditional employment and pursue their entrepreneurial dreams.
Entrepreneurship has helped many gain control over their financial future, while the rise of e-commerce, online services and digital platforms has made it easier to start and operate any business remotely.
According to the U.S. Census Bureau, Americans filed nearly 5.4 million applications to form new businesses in 2021 — the most ever recorded. In 2022, that number only fell slightly and was still significantly higher than the pre-pandemic baseline.
In Kings County, the number of business applications increased by about 3,000 from 2017 to 2019. Between 2019 and 2021, the number rose by more than 14,000.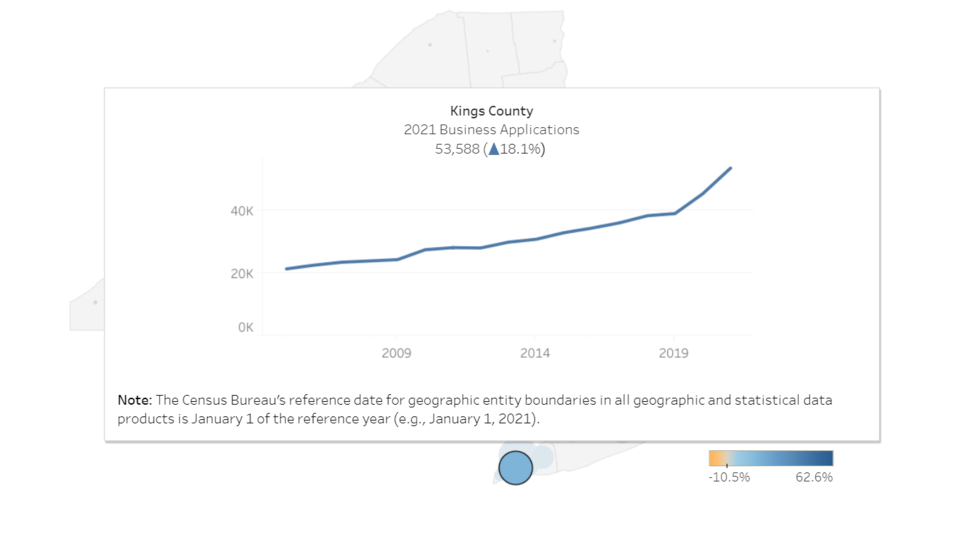 However, there are some important caveats. First, not everyone who files an application for a business will actually complete the process and second, most new business application filings over the last three years are people who moved to self-employment, rather than businesses that will hire employees.
Nevertheless, the continued surge in new business applications has prompted Economic Innovation Group analysts to suggest we're experiencing a "renaissance in entrepreneurial activity."
Mark Caserta, vice president of Small Business Support with the Brooklyn Chamber of Commerce, cautiously agreed:
"I think it is something I'm seeing, with the little caveat that, I think, there are a lot of people jumping into all this with a lot of enthusiasm who don't necessarily have the experience or business plan," Caserta said. "We're hoping that they can find their way through something that's very difficult to do."
Going It Alone
On a sunny May afternoon, Ditmas Park local Sheila Rivera fired up the blender to make "Brooklyn's Finest" fruit smoothie behind the counter at Loony's Juice Bar on Cortelyou Road.
Rivera, 33, had been making whole fruit and vegetable smoothies and juices to boost her family's immune system during the pandemic when she and her husband realized, like Paul, they didn't want to return to their nine-to-fives. They wanted to do something beneficial in their own neighborhood.
Loony's first opened in 2020, but has had to close several times since in response to hiring shortages and expensive plumbing and structural issues, Rivera said. The organic juice bar reopened in April 2023.
"God willing, we're back open and we stay open," Rivera said.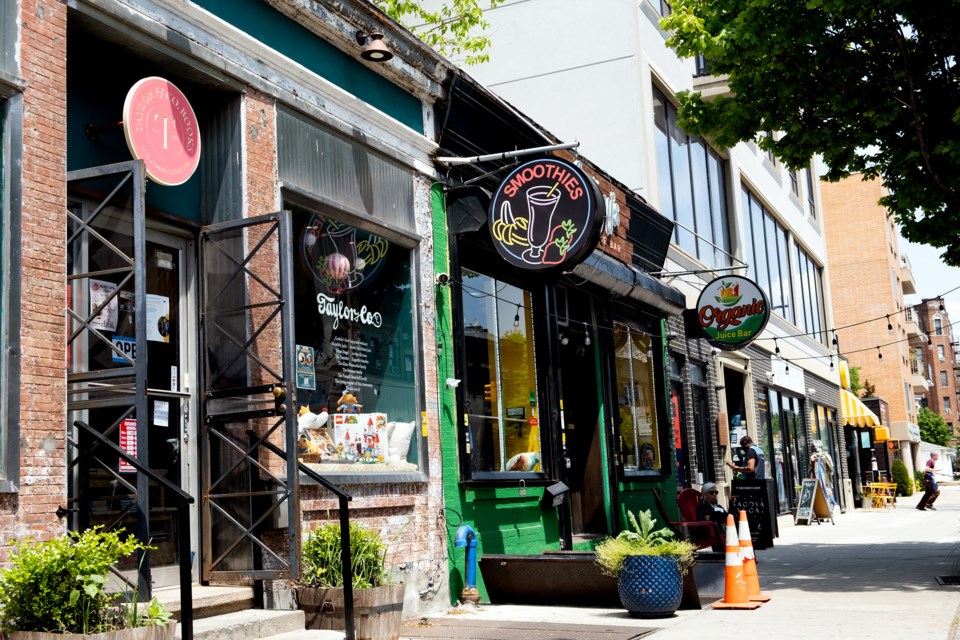 Part of the stability issue, Rivera said, is that the family wasn't able to get a loan — they didn't have the proper documents or enough capital to qualify, Rivera said. To bounce back from financial crises, like the backed-up plumbing, they had to work other jobs.
On a national level, Federal Reserve data showed that commercial bank loans declined by almost $105 billion by the end of March — the biggest slump on record. Michael Pugh, president of Carver Federal Savings Bank, a certified Community Development Financial Institution that works specifically with local and minority- and women-owned businesses, said obtaining financing options through more traditional, larger banks has been particularly difficult for small businesses.
"Many of the businesses that we support, and we find in great areas like Brooklyn, you're really talking about less than 50 employees," Pugh said. "Those businesses have even more of an exacerbated issue."
Asha Samuels, 39, said a $50,000 microloan — the maximum for what's considered "micro" — from Carver has helped her manage day-to-day operations and marketing in her new real estate business.
In 2020, Samuels was working as a clerk in a hospital when COVID-19 hit. Her colleagues got sick and she was unexpectedly promoted to a lead role in the command center. She was suddenly sitting in meetings with the CEO and COO of the hospital.
"It definitely taught me a lot about myself and what I'm capable of doing," she said. "I think that's what really pushed me to open up during the time that I did."
Samuels got her real estate broker's license and opened Samuels Property Group, LLC in Prospect Lefferts Gardens in March 2021. She took on five agents and needed to lease an office space, which she did with her own savings.
Business has been steady since, she said, though the housing market has slowed down a bit.
"[Opening an office] was a big risk for me, using all of my funds to do that," she said. "I think what the pandemic has taught me, coming from the healthcare industry, is that we have to always be prepared for whatever hits us."
A Seed Of Hope
For some, entrepreneurship was completely unexpected. Writer Andrew Colarusso's contract as an assistant professor at Brown University ended in 2022 and the 33-year-old found himself back in his home neighborhood of Ditmas Park, looking for work — anywhere.
"I think for our generation… the idea of living and working in the neighborhood you grew up in seems like a bygone thing," he said. At the same time, "every other door I had knocked on or tried to push open was not opening — I was looking for teaching jobs; I was looking for writing fellowships, and they just weren't coming up."
When Brooklyn Artery — another locally owned business — left its storefront to move across the street, Colarusso saw an unexpected opportunity. Colarusso ran a crowdfunding campaign to open Taylor & Co. Books in March 2023.
He hasn't yet had to dip into the line of credit he opened with the Small Business Administration, but he's concerned about high interest rates if he does — to combat inflation, the Federal Reserve has hiked the rate 10 times in little more than a year.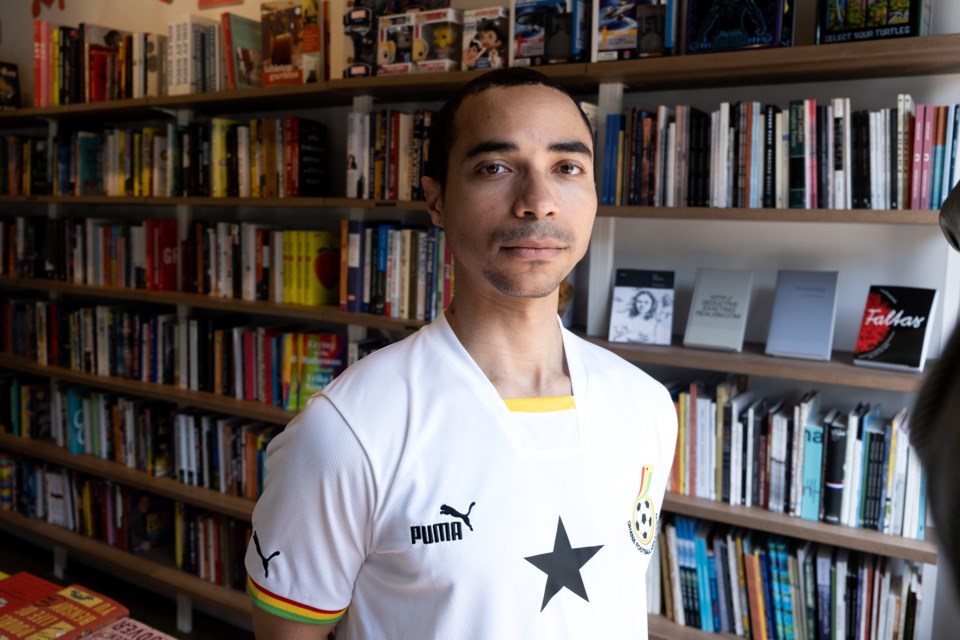 "That could be dangerous and crippling for a lot of first-time small business owners," Colarusso said.
That said, in some ways, post-pandemic businesses are in better positions than those that had to struggle to survive in 2020 and 2021 and came out of those years with significant losses, if they came out of them at all.
For Colarusso and his ilk, there is a general sense of hope.
The new business owners who spoke with BK Reader were aware of the potential for more crises in the future, but said the leap was worth it.
A 2022 year-end survey from the Brooklyn Chamber of Commerce reaffirms this seed of tentative hope among local entrepreneurs — more than 60% said they were expecting revenue/earnings to go up in 2023 and less than 20% said they plan on downsizing.
"If you're waiting for the ideal moment to do a thing, you'll spend the rest of your life waiting," Colarusso said. "I don't mean to sound kind of glass-half-full… But I do sincerely believe that there's no time like the present — whether the interest rates are good or not, you'll find a way."
---
This story was produced as part of the Small Business Reporting Fellowship, organized by the Center for Community Media and funded by the NYC Mayor's Office of Media and Entertainment.