A Fort Greene church reminiscent of a fairytale will be torn down and replaced by an 11-story development that will be primarily full of apartments, planning documents show.
The Romanesque Revival style St. Michael-St. Edward Church located at the edge of the Ingersoll Houses near Fort Greene Park, which was built between 1891 and 1906, is still owned by the Roman Catholic Diocese of Brooklyn, however it has been empty since 2010.
According to Patch, the Diocese of Brooklyn closed the church in 2010 due to deteriorating conditions, with it collapsing from the inside. A report in The New York Times from 2010 says Father John Powis was holding Mass in the basement due to debris falling in the main part of the church.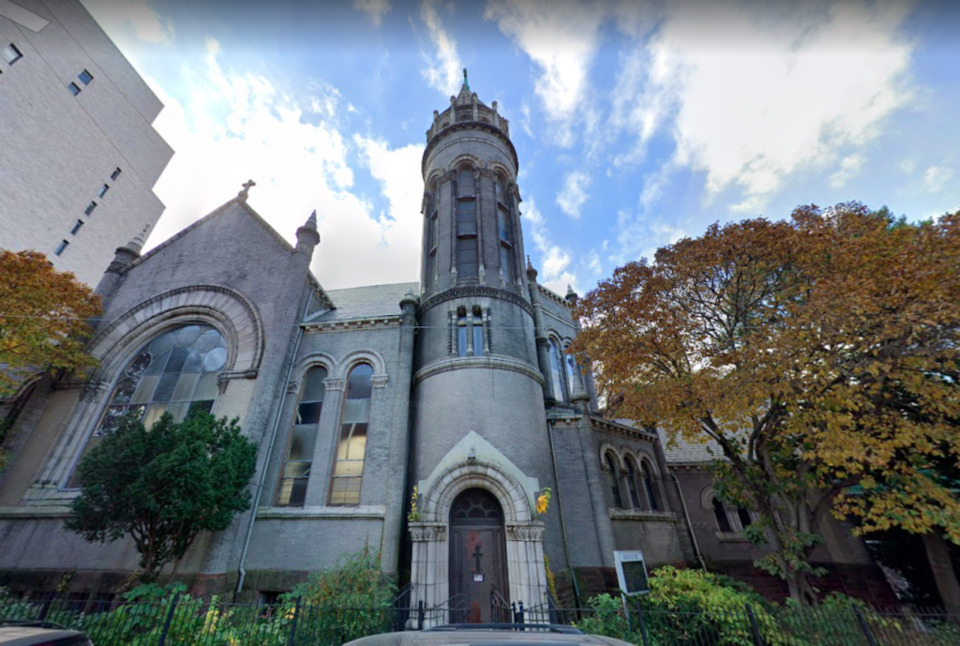 The parish merged with the nearby Mary of Nazareth Parish as part of its citywide, cost-saving consolidation efforts, Patch reports. In 2010, NYT reports the Roman Catholic Diocese of Brooklyn was facing a drop in attendance and a shortage of priests, and it planned to close two churches, fold six parishes into three and impose strict budget constraints on all 198 of its parishes.
The Roman Catholic Diocese of Brooklyn first filed plans in December 2021 to replace the church with a new development, and plans to demolish the church were filed this week.
The proposed new development will be designed by Aufgang Architects and will include 105 apartments, according to the plans, as well as a community space.
The Diocese of Brooklyn told Patch the community space will not be for its religious use and said with the site being closed for more than a decade, "the redevelopment plans will bring much needed housing to this community."
In regards to preservation efforts the spokesperson said: "All religious property of this church has been successfully removed. It is now in storage and is available to other religious sites."