What do you know about the Brooklyn Navy Yard today? Most Brooklyn residents can tell you that it is a historic shipping dock, a manufacturing hub and home to Steiner Studios, the largest movie production park outside of Hollywood.
Still, with all of the "big things" happening at the Brooklyn Navy Yard, the complex escapes most residents as a destination that should concern them personally outside of knowing it exists. But all of that is about to change.
Not only is the industrial park part of the borough's burgeoning tech triangle with state-of-the-art research and manufacturing but, also, with companies like Oonee bicycle pods, The Condos at Navy Green, and Brooklyn Grange (whose rooftop farm is complete with egg-laying hens), it is revolutionizing the way New Yorkers will eat, work and play.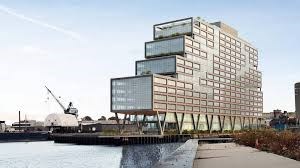 The Yard's latest and greatest next big thing will take place spring 2019, with the opening of Dock 72. A public-private collaboration between WeWork, Rudin Development Company Inc. and Boston Properties, in conjunction with New York City and The Brooklyn Navy Yard, Dock 72 represents a unique partnership between several major players in development and a nod to the current era of co-collaboration.
Dock 72 is the first ground-up office building to be erected in Brooklyn in 20 years. The building will serve as office space for Rudin and Boston Properties. However, the majority of the space will be allocated to WeWork as co-working space for small firms, featuring the next level of office design, with the creative tenant in mind.
"The whole reason we're doing this is to provide the most innovative companies out there with the best space," said Andrew Levin, senior vice president of leasing at Boston Properties-NY. "Imagine watching that level of excellence with the best real estate possible."
The developers are so excited about what the 675,000 sq. foot structure will bring to the borough, they invited BK Reader on a private tour.
"It's about providing a choice to people around how they want to work and where they want to work."
The building was still under heavy construction, but we got a top-to-bottom glimpse into what is soon to come. The building's architecture, landscaping and amenities lend themselves to a philosophy that intuits the future of work-life-productivity-and-balance.
"This is about bringing much needed amenities to the area; it's like a resurgence and a repurposing of the Navy Yard to bring jobs, employment and economic development," the tour guide said.
Currently, the Navy Yard and its new businesses have created 7,000 new jobs. After the completion and launch of Dock 72, that number is estimated to jump to as high as 17,000.
The 675,000 sq ft. tower will rise a modest 16 floors, due to height restrictions. But the architects flipped the script and designed the building in the fashion of a virtual tower on its side. Unusually long floor plates-- 550 feet long X 90 feet wide-- and a glass exterior give it an airy, sprawling feel designed for density and collaboration and where so no one is ever more than 45 feet from natural light.
Three of the floors, also known as "amenities floors," house a food court, a cafe, two full-service bars, a rooftop conference and a health and wellness center.
The building is constructed with dozens of common areas for co-working, as well as two, private outdoor terraces with, what the property owners call, "BMW views," that is, at-once views of the Brooklyn Manhattan and Williamsburg Bridges. Outside, on the building's grounds are stadium-style seating facing the East River and overlooking a grassy knoll, where tenants can relax or take advantage of their basketball or foosball courts.
"The reasons it hasn't existed before is because the Navy Yard wanted to jumpstart the process at a reasonable price these firms can afford."
People are used to options, like working from home. They also want space. The space is designed for people to use the amenities, take breaks throughout the day or move around in different the areas to work, said Levin.
"It's about providing a choice to people around how they want to work and where they want to work."
Dock 72 also happens to be the home base of the East River Ferry. So expect a bustling corridor of foot traffic from residents and tourists shuttling between Manhattan and Brooklyn. So, tenants leaving the borough will never have to wait for a ferry. A 150-foot-wide mural, conceived and painted by 28 Brooklyn-based youth artists, celebrates the history and resurgence of the Brooklyn Navy Yard and will frame the seating area while welcoming passengers at the Ferry's entrance.
For transportation into and around the Yard, there is parking, a covered bike valet, and the complex will run two free shuttle buses from subway stops in DUMBO and Atlantic Center.