Broadway Junction, the busy yet infamously underutilized area surrounding the Broadway Junction Subway station, may need to brace for a big change.
The area, which sits between several neighborhoods including East New York, Bed-Stuy and Brownsville, has become the center of a private developer's new vision for East Brooklyn.
Totem Group, a Brooklyn-based real estate development firm, shared preliminary plans to build a large mixed-use building complex adjacent to the busy station at a virtual town hall held on March 22.
Today, the Broadway Junction Subway station, servicing the A, C, J, Z, and L lines, attracts around 100,000 riders a day. But the station and areas surrounding it have largely fallen into disrepair.
Still far from becoming a reality, Totem's plans call for the construction of four high-rise towers in the area, two of which would include housing-- one offering 400 units of senior housing and the other offering another 200 units.
Plans detail more than 1.1 million square feet of retail and commercial space, for a total of 1.5 million sq. ft across the development. The removal of a block-long stretch of Herkimer Street that runs through the imagined development is also proposed.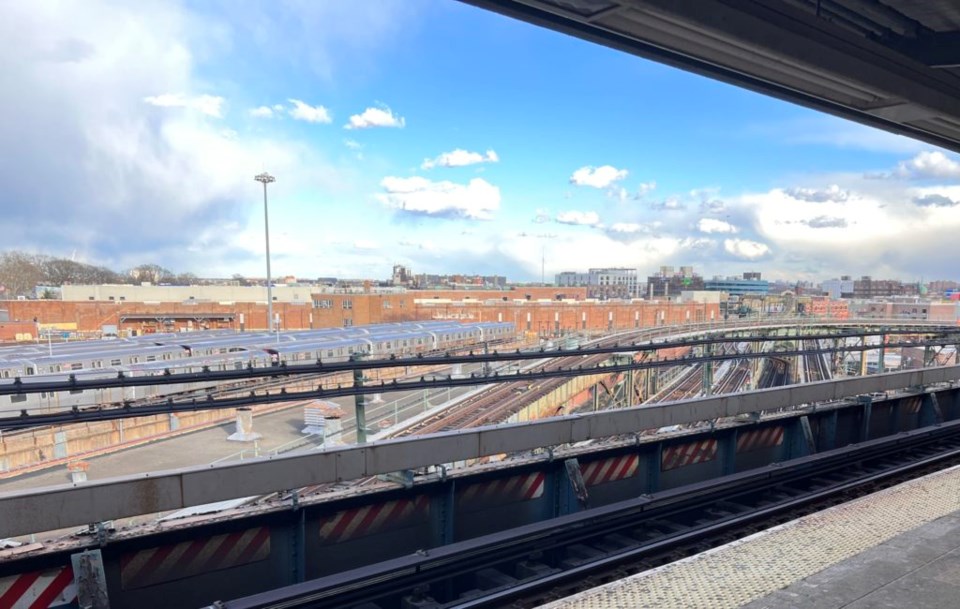 Planning for the development is still in the very early stages. According to the Department of City Planning, Totem has only submitted a pre-application statement for its plan, which is not yet under public review. Once the application enters public review, it will be subject to the Uniform Land Use Review Procedure (ULURP) — the process by which the city changes the zoning rules of a property.
Though it could be years before these plans are set in stone and building begins, elected officials and community activists already are voicing concerns.
Councilmember Sandy Nurse, who represents the 37th District covering the neighborhoods surrounding Broadway Junction, facilitated the March 22 town hall, which was attended by Brooklyn Borough President Antonio Reynoso, leaders from Totem Group, and local residents and activists.
"I do believe that Broadway Junction, and the surrounding area, certainly needs to be invested in," Nurse told BK Reader, "But it doesn't have to come through a developer. It could come through the City really participating in a community planning process."
At the town hall, Reynoso commended Nurse for her early action in seeking the community's feedback on the plans, while also deriding the ULURP process, which he says makes it difficult for meaningful community input to be considered.
"Community infrastructure investments should not be tied to rezonings and development, they should be done independently," said Reynoso.
Totem assured town hall attendees that they intend to work with the community to make the development affordable and beneficial to residents.
"We are proud of our firm's record of projects and intend to put our principles in action here at Broadway Junction, and work with you all to create the type of asset that this community deserves," said Totem Co-principal, Vivian Liao.
The group says it plans for the two residential towers to include 100% affordable housing. "That is our going-in goal, we want you to hear it from us early, that is our clear intention here," said Tucker Reed, a co-founder and principal at Totem.
However, local housing activists are not convinced. The East New York Community Land Trust, which works to promote public land ownership over private, is standing strongly against the proposed development. "This is bad precedent," Boris Santos, a member of ENYCLT told BK Reader. "There's no 20-story anything in East New York."
Santos says that even if the development includes 100% affordable housing, it will negatively impact residents, introducing an intense level of population density and driving up property values. "This density definitely is going to have ramifications of displacement."
Bill Wilkins, director of economic development and housing at East New York's Local Development Corporation, was also present at the town hall. He expressed enthusiasm at the prospect of development and emphasized the need for a college in the area, something ENYCLT also supports.
But residents from the area who attended the meeting were largely disillusioned with the plans. "Broadway junction is a mess. There is nothing but trash," said Anita Hicks, a fourth-generation resident of the Broadway Junction area. Hicks also voiced concerns about the development's effect on traffic.
"I hear 'Okay, we're gonna clean it up,' but we have to be enveloped with all of these different buildings and projects."
Totem says it is a year to 18 months away from beginning the ULURP process, and it plans to participate in community engagement in the meantime.
"It would be a very drastic change. And that necessitates a very serious engagement process with this community," Nurse said.
"My feeling is, without the blessing of this community, it then becomes something that's not for this community."