Divine Flavored Nigerian food truck is the winner of the 2017 Vendy Cup which honors NYC's diverse street food culture and its makers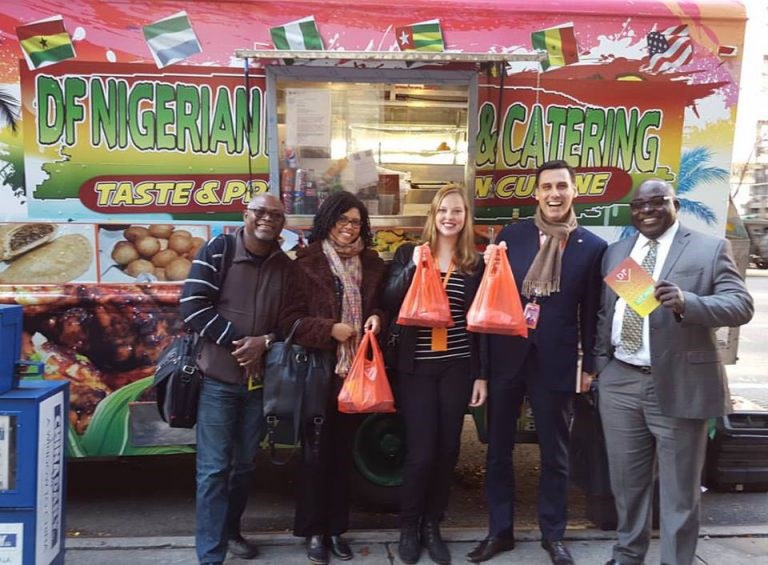 Divine Flavored, a Crown Heights food truck operation featuring Nigerian street food is officially NYC's best! On Saturday, September 16 chefs, celebrity judges and street food lovers assembled on Governor's Island to award the Vendy Cup to the best in mobile food vending, and determined Divine Flavored's Godshelter Oluwalogbon and wife Bisola to be the deserving recipients of the cup!
Ghana-born and Nigerian-raised Oluwalogbon immigrated to the US in 2001 at the age of 25. A professional chef and graduate from the New York School of Culinary Arts, he began catering for members of his church while working several restaurant gigs. After ten years of catering, he expanded his operation by selling meals out of the back of his car outside the Nigerian embassy in midtown. Then, in 2015, Oluwalogbon established his Divine Flavored Nigerian food truck operation.
Divine Flavored Nigerian faced serious competition from Big Brother's Delicious Chinese Food, Anton's Russian Dumplings and Adel's No. 1 Halal Middle Eastern Delicacies. But, after just being in business for two years, Oluwalogbon's Nigerian fare beat the competition and received the highest food truck honor: the Vendy Cup.
The Vendy Cup is an annual street food competition that awards the best street food vendors in New York City. Since 2005, the awards have celebrated excellent street foods and the hardworking people who prepare them. For the 13th year, the fundraiser for the Street Vendor Project has sought out the best in the city's robust group of food trucks, carts and sidewalk stands to celebrate the diverse ways to dine on the street. The Street Vendor Project is a membership-based non-profit organization that stands up for vendors' rights while providing legal and small-business services.
Not that Oluwalogbon still seems to need the support, he is already planning his next step: He recently signed a lease on a restaurant and his Crown Height's catering operation is also still in full effect!