The Flatbush community is rallying around neighborhood institution Scoops and Plates Eatery, which is in danger of shutting down by the end of the month, reports Gothamist.
Local residents and activists have launched an online petition to save the shop that has gained a loyal following for its vegan ice cream and Caribbean eats. Scoops is one of the oldest Caribbean-owned businesses on Flatbush Avenue. Longtime Flatbush resident Tony Fongyit opened his eatery 35 years ago, after immigrating from Trinidad in the 1960s.
"Tony Fongyit, the owner of Scoops, is well-known for serving amazing Ital vegetarian foods and vegan ice cream, as well as providing wellness products and advice to our community," stated local activist group Equality for Flatbush in support of the eatery. "We are asking Jeremy Properties to do the right thing and give Scoops a new lease."
Fongyit said he was given abrupt notice to vacate the property at the end of May and has been struggling since to make contact with his landlord to renew his lease, which ended six months ago. According to a video produced by Equality for Flatbush, he has been trying for the last two years to sign a new agreement.
"I'm trying to talk to the landlord about the new lease, hoping we can come to some kind of agreement, against all odds," Fongyit said. "I'd really, really love to stay."
Scoops occupies a storefront inside a six-story, mixed-use building at 624 Flatbush Avenue which was bought by real estate company Jeremy Properties in 2015. Since then, it has been increasingly difficult for Fongyit to get in touch with his landlord— which is particularly troubling, considering the rising rents spurred by the rapid gentrification of the neighborhood. According to a 2018 Streeteasy report, Flatbush was one of the areas experiencing the fastest rise in rent since 2010.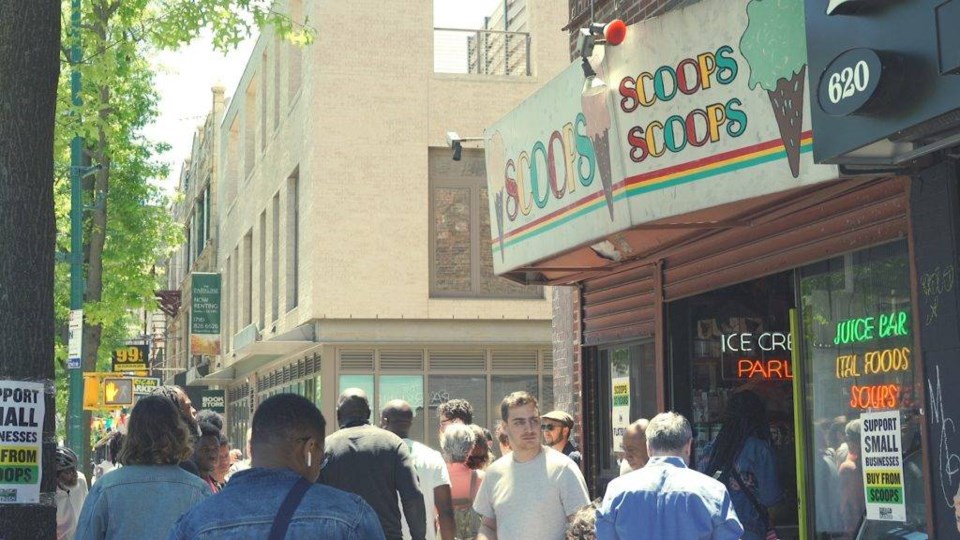 On Saturday, Equality for Flatbush gathered community members and local elected officials including Brooklyn Borough President Eric Adams for a rally in front of Scoops, urging Jeremy Properties and his VP Lawrence Bernstein to renew Fongyit's lease.
"Save Scoops," implored Adams. "I've loved Scoops long before I was a vegan. They've been a mainstay on Flatbush Avenue for more than 30 years. Brooklyn's popularity must translate into prosperity for all, especially longtime Brooklynites."
Fongyit is now reportedly in talks with Bernstein, who contacted him to "discuss a possible lease renewal."
If you want to sign the petition in support of Scoops and Plates Eatery, go here.