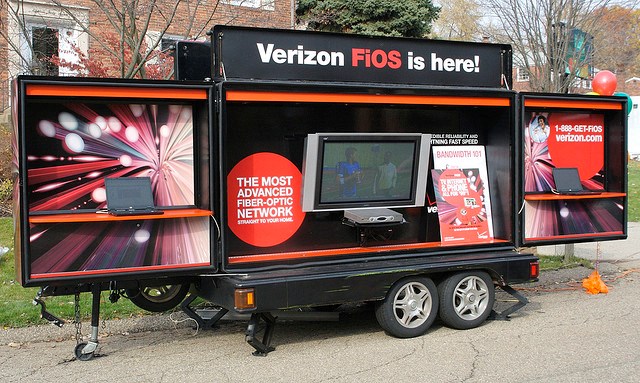 In 2008, Verizon promised that every New York City household would have access to its fiber-optic FiOS service by June 2014.
It's 2017, and the telecommunications conglomerate has not come close to fulfilling that promise. So the City has sued the cable giant.
"Verizon must face the consequences for breaking the trust of 8.5 million New Yorkers," said Mayor Bill de Blasio in a statement. "...We're done waiting. No corporation — no matter how large or powerful — can break a promise to New Yorkers and get away with it."
Verizon claims it is already providing FiOS service to 2.2 million households in New York City. However, with network service in 3.1 million households, this means that almost one million New York City households still do not have access fiber-optics and, further, are being deprived of competitively priced options.
In its complaint, which was filed in New York Supreme Court on Monday, the City says that Verizon, "failed in many instances to timely complete installations as requested by potential subscribers." The complaint further alleges that the communications giant has even failed to accept many New Yorkers' requests for FiOS service, although its contract with the city made it a requirement.
Not only does this inconvenience consumers, but it also undermines "one of the central goals of making FiOS available to every resident in the City: to expand New Yorkers' options for receiving cable television service and thereby to create competition that would constrain prices and enhance quality," said the complaint.
According to Ars Technica, Verizon claimed its fiber optic service in June 2014 passed buildings in "90 percent of the Bronx, 89 percent of Brooklyn, 94 percent of Manhattan, 90 percent of Queens and virtually the entirety of Staten Island."
However, U.S. Census data tells a different story. Only one New York City borough-- Staten Island-- received anything close to that figure by 2013, with 95 percent coverage. The rest of the other boroughs had either 60 percent or less coverage. Brooklyn had the lowest, at 40 percent coverage.
"When I held a hearing at Brooklyn Borough Hall on this very issue in November of 2015," said Brooklyn Borough President Eric Adams, "I was optimistic that our substantive concerns would be addressed. Unfortunately, our continued lack of connectivity reflects an unacceptable status quo, which is why I stand behind the City's decision to file a lawsuit in this matter."