A local resident's passion project-- to bring health and wellness to communities of color-- has come to life in Bed Stuy.
Buy Better Foods, founded by Myriam Simpierre, and located at 372 Kosciuszko Street between Lewis Avenue and Marcus Garvey Blvd, seeks to bring healthier and more accessible food options to the community.
The organic specialty market, which launched during the height of theCOVID-19 pandemic, is a one-stop-shop for all personal needs and is a great alternative from the usual bodega snacks.
Simpierre prides herself on carefully selecting foods and items that are vegan-friendly, allergen free, sustainable and have bulk/zero waste.
The market offers a wide variety of organic snacks and ready-to-eat foods from independent makers and black-owned grocers. The community wellness hub also carries items like essential oils, vitamins and natural products, including candles, soaps, hair and skincare products.
Simpierre realized there was a need for more healthy food options after deciding to go on a full-body detox and struggling to find the nutritious items she needed in her neighborhood: "A lot of the things I needed for my detox program, I had to find outside of my community," said Simpierre. "I wanted to make sure the things we needed on a daily basis were of good quality, organic foods, or vitamins and minerals."
So, Simpierre decided to be an answer to the problem. As a certified holistic nutritionist, Simpierre recognizes that sometimes choosing healthier options for our bodies can be overwhelming. It is a process that includes both mental and physical cooperation.
For this reason, she decided that Buy Better Foods would become more than just a market servicing the community with healthy and organic items; it would also be a "wellness hub" and learning center, with trained professionals and nutritionists who could teach customers how to make taking care of their bodies a lifestyle that is manageable.
The Wellness Hub offers individualized wellness and nutrition consultations for patrons not knowing where to begin on their wellness journey.
Patrons of the store can come in with their questions and concerns and will be directed to the right products and necessary lifestyle changes for their bodies.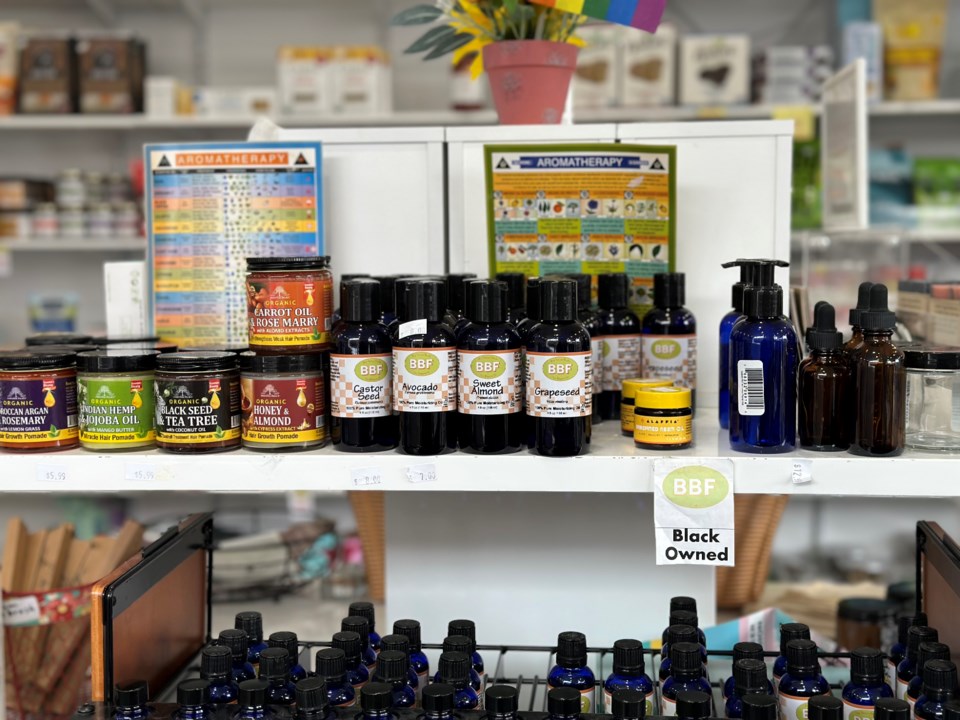 "When we opened right after the pandemic, my plan was to have in-store cooking classes and nutritional classes. But unfortunately, after the shutdown I couldn't do any in-house stuff. Hopefully this year, I will get back into that," said Simpierre. "Instead, for now, [we] do one-on-one informational sessions with whatever customers buy in store."
She coaches her clients on how to pay attention to their own bodies while tackling one goal at a time. While there are helpful diets around that people can begin, eating cleaner is an individualized process and should cater to the needs of the person.
Your health is your wealth, and the initiative to bring better food to the community starts with knowing what's in the food. She encourages people to be aware of what they feed themselves, because it can be filled with toxins that harm the body.
"I think most importantly, you have to know your body well enough to see what it can take and what it can't take. How do you do that? You literally just journal what you're eating and recognize how your body reacts," Simpierre adds.
"You have to take the time and kind of analyze it and from there, find out what your body can handle. It truly is a wonderful journey."
Simpierre is looking forward to expanding her Wellness Hub by adding a juice bar and other cafe options. She is also looking forward to beginning in-house classes for community members who want assistance with creating a healthier lifestyle.
You can follow Buy Better Foods on Instagram here. You can also visit their website and donate to help support the mission for community wellness.