The 'Ganesha Toilet Seat,' sold on Etsy's website for $85, depicts the Hindu God as 'Bathroom Ganesha,' holding a comb, mirror, toothbrush and toothpaste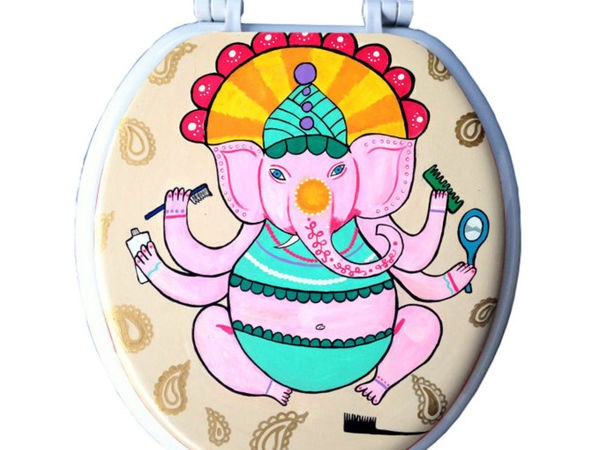 Upset Hindu officials are urging Brooklyn-based e-commerce company Etsy for the immediate withdrawal of a toilet seat cover that depicts the image of Hindu God Ganesha, calling it "highly inappropriate."
"Hindus are for free artistic expression and speech as much as anybody else, if not more. But such trivialization of Hindu deities is disturbing to devotees all over the world," said Rajan Zed, president of the Universal Society of Hinduism in a statement released on Monday. "Ganesha is meant to be worshipped in temples or home shrines, and not to adorn a toilet."
In the item details listed of the "Ganesha Toilet Seat", which is sold on the retailer's website for $85, Ganesha is titled "Bathroom Ganesha," holding a comb, mirror, toothbrush and toothpaste.
In his statement, Zed suggested cultural sensitivity trainings for the senior excecutives of Etsy and other companies to gain understanding of the feelings of customers from diverse cultural and religious communities before introducing new products or launching advertising campaigns. Zed also urged Etsy and its CEO Josh Silverman to offer a formal apology.
"The inappropriate usage of Hindu deities is not okay as it hurts the worshippers," Zed said.
Hinduism is one of the world's oldest and largest religions with about 1.1 billion devotees, three million of which reside in the United States. The chubby, gentle, wise, elephant-headed Ganesha is one of Hinduisms most popular deities. He is the remover of obstacles, the God whom worshippers first acknowledge when they visit a temple and is invoked before the beginning of any major undertaking.
Since its founding days in 2005, Etsy has grown to an internationally operating e-commerce enterprise with offices in France, Japan, Australia, Canada, Germany, United Kingdom, Ireland. Etsy, according to its mission statement, is committed to using the power of business to strengthen communities and empower people.
Yet, citing the company's mission statement, Zed asked: "Is offering products like the 'Ganesha Toilet Seat' Etsy's way to reimagine commerce in ways that build a more fulfilling and lasting world? And whose values are included and considered in that mission?"
A question that yet remains to be answered.
Update:
Easy removed the toilet seat depicting the Hindu God Ganesha from its website within less than two hours after protests sparked.