The nationwide release of the "Black Panther'' sequel lands in theaters on Friday, Nov. 11, and the 'Wakanda Community' can hardly wait. The trailer for Marvel Studios' "Black Panther: Wakanda Forever" drew 172 million views within 24 hours of its release in July, nearly doubling trailer views for the 2017 original.
For its legion of fans, "Black Panther," with its nearly all-Black cast in a high-tech fictional African country, has been hugely inspiring.
"I'm not exaggerating when I say that 'Black Panther' was probably the most unique cinematic experience that I had up to that point," Ibraheem Basir told BK Reader.
"That was my first time seeing an Afro-futuristic world brought to life."
After seeing the first film, Basir left the movie theater thinking to himself, "If I ever have a chance to work with Marvel or to tap into that energy, it would be an honor."
That was before he launched A Dozen Cousins, a Black-owned food manufacturing company of ready-to-eat products, inspired by traditional Creole, Caribbean and Latin American recipes.
But now, Basir's fleeting dream has become his reality: A Dozen Cousins and Marvel Studios announced a collaboration on Oct. 4,  for a new food product line inspired by Marvel Studios' "Black Panther: Wakanda Forever."
The products feature characters from the film on its packaging, as well as new, co-branded jollof rice, jerk chicken and coconut rice seasoning sauces. As a bonus, the partners created a 'vibranium spoon,' inspired by the rare metallic ore with energy-manipulating properties found in the Black Panther's homeland of Wakanda.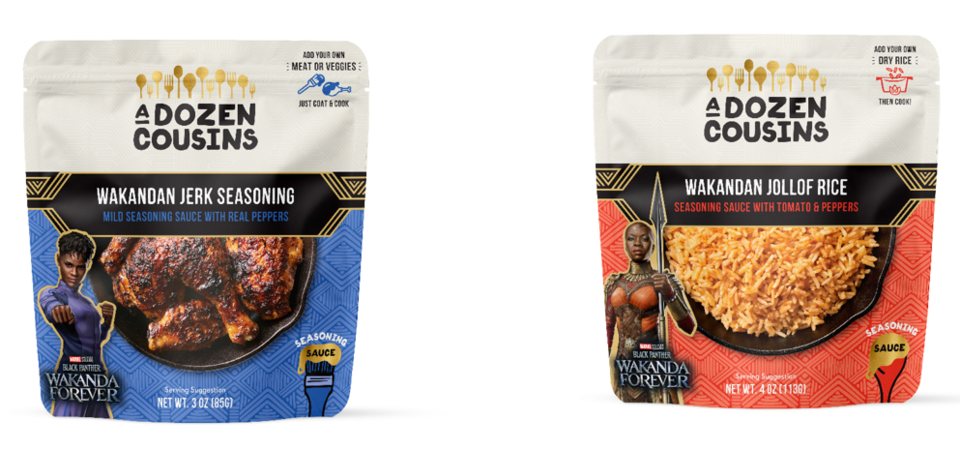 "The goal of the collaboration was to celebrate the impact of the African diaspora on the foods that we enjoy," he said.
Basir currently lives in Los Angeles with his wife and daughters, but he has roots in Brooklyn. He grew up near Brownsville before moving to the Fort Greene and Clinton Hill area at 8 years old.
He's of African-American heritage but developed a passion for Caribbean, Latin and African cuisine in the melting pot of Brooklyn.
"So growing up in Brooklyn, I had neighbors who were from West Africa, the Caribbean and all throughout Latin America," Basir said.
"And so, even though my mother's cooking was very rooted in southern soul food, she also exchanged recipes with neighbors."
Among Basir's favorites were jerk chicken, roti and curry, and Trinidad doubles, which he called "a go-to hot snack for us."
Basir earned a bachelor's from the University of Pennsylvania and a master's from the university's Wharton School of Business.
Before A Dozen Cousins, inspired by his daughter and her 11 cousins, sold its first product in January 2019, Basir worked in the food manufacturing industry for nearly 10 years.
He started his career at General Mills and worked at several other national food manufacturers in brand management.
"So, thankfully, I had a chance to launch probably 10 or 15 different brands during my previous career before I went out and started a business," he said.
Basir said he uses wholesome ingredients while avoiding GMOs and artificial flavors to manufacture his products. They are available at supermarkets, grocery retailers, such as Target and Whole Foods, and online at Amazon.
As he grows his business, Basir is also sharing his experience with other people of color interested in building successful companies or careers in the consumer packaged goods industry.
Currently, he serves as a founding board member of the nonprofit organization Project Potluck.
"The goal of the organization is to help improve representation in the CPG industry and get to a point where the shelves on the average supermarket look as diverse as this country," Basir said.
By promoting diversity and empowerment, Basir is certainly keeping the spirit of Wakanda alive.