"I don't think any American would disagree that there's baseball, apple pie, and McDonald's," said 72-year-old Diana Montague Griffin, who has worked at McDonald's all over the country since 1975.
On Monday, much to Griffin's surprise, the Kings Plaza McDonald's team celebrated Griffin's half-century journey with the company by giving her the McDonald's Leadership Service Award.
"Diana has continued to go above and beyond to serve our community and foster a positive, welcoming environment within our restaurant," Kings Plaza McDonald's owner and operator Paul Hendel said. "It has been an absolute pleasure to watch Diana continue to develop skills, grow with confidence, and excel throughout her entire career with McDonald's."
Griffin's journey started when she moved from Philadelphia to Illinois in 1975 for her husband's job. While she was attending community college, Ray Kroc, McDonald's first CEO, visited campus to recruit office workers for McDonald's headquarters in Chicago.
"I realized this now that I'm older, but he wasn't really recruiting people, per se," she said. "He was recruiting attitudes."
Although Griffin spent her three years at the headquarters as a junior accountant in the real estate department, Kroc ensured that everyone in the office was well-acquainted with the backbone of the company: the chefs.
Griffin and her coworkers visited the test kitchen as part of Kroc's mutual respect policy. "I wouldn't be up in the office if it wasn't for the people down there," she said.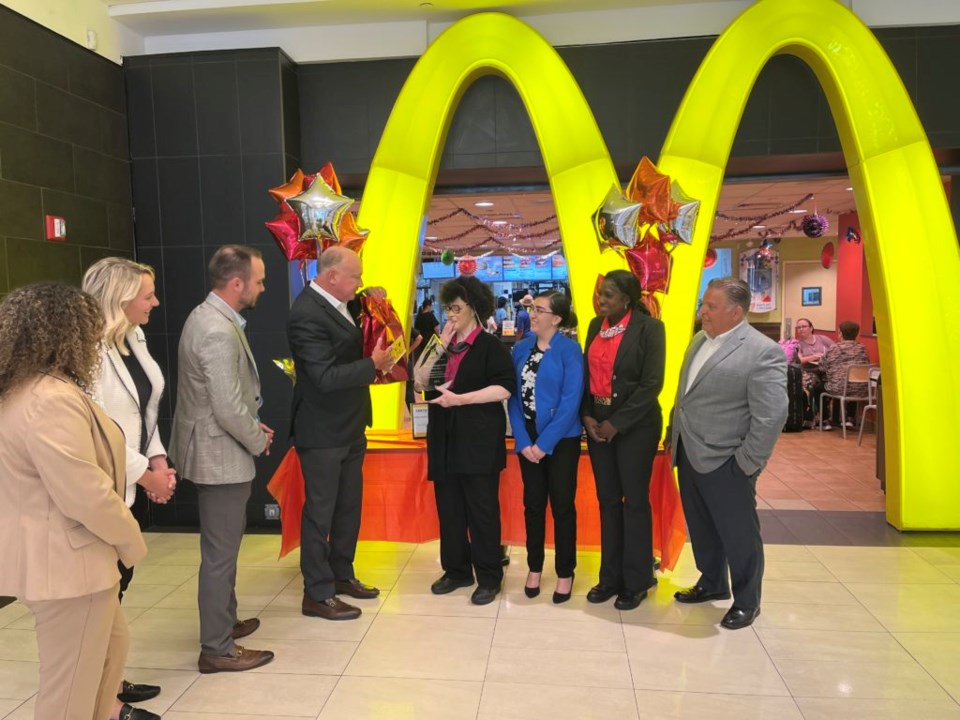 Once Griffin's husband was transferred again, she worked at another McDonald's—and another, and another. She estimates that she worked at six different locations from Dallas, Pennsylvania, New Jersey, to Brooklyn. Eventually, she and her husband retired, and Griffin left McDonald's for the first time in decades.
But when he passed away, Griffin was at "loose ends," she said. Although she was worried about how her age would be perceived by employers, she decided to try to return to McDonald's. "I figured, hey, I know McDonald's."
After numerous applications, Nicola Adams, the general manager at the Nostrand Ave McDonald's, "took a chance on an old lady," Griffin said. For two years, she was an experience leader, meaning that she talked to customers in the lobby, ensuring that they were satisfied and comfortable.
The diverse space that Griffin encountered at the Nostrand Ave McDonald's was reminiscent of her early days at the company and its emphasis on community: It represented "the fruition of Ray Kroc Street," she said.
"We had our Mahjong group, we had a group of Greek men, five or six of them that met in the same spot, and we had a religious group that had their Bible study every day," she said. "That little scenario, the microcosm there was America."
This year, she is a training manager at the Kings Plaza McDonald's, working alongside the restaurant's general manager Paulina Pimentel.
Griffin is instrumental in making everyone feel welcome at their location, Pimentel said. "Right now, it's very important, especially for new hires and customers and everyone that's coming back from COVID, for them to feel valued and heard."
When Griffin first heard that she won the Leadership Service Award, she thought they were simply honoring all of the employees. After realizing they were honoring just her—the self-described grandma of the group—she was "startled," she said.
"I never expected this type of thank you," Griffin said. "I've learned so much about myself from McDonald's that it's just amazing that they think they've learned from me. I can't tell you how wonderful it is."