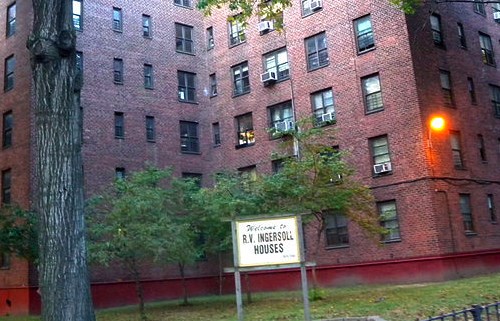 Police in Fort Greene's 88th Precinct are on the hunt for a man who violently raped an elderly woman Thursday morning, leaving her injured and hospitalized, reported CBS 2 News.
The New Year's Day attack happened at around 8:00am while the woman was out pushing a cart to collect cans and bottles.
The perpetrator, who remains unidentified, dragged the 75-year-old victim to the bottom of a stairwell outside of Ingersoll Houses on North Orchard Walk before sexually assaulting her and stealing her wallet.
"I see her all the time. She's a very nice woman. When I heard about it, it hurt my heart," said neighbor Ira Christopher.
Police sources said someone found the woman bleeding with her pants down.
Her daughter said that her mother doesn't remember what happened, because she has early signs of Alzheimer's, but the bone around one of her eyes was badly fractured, and she is in pain.
Anyone with information that can lead to the arrest of the person responsible for the shooting, please call CRIME STOPPERS at 800-577-TIPS for a reward up to $2,000 for an anonymous tip that can lead to the arrest and indictment of a violent felon.