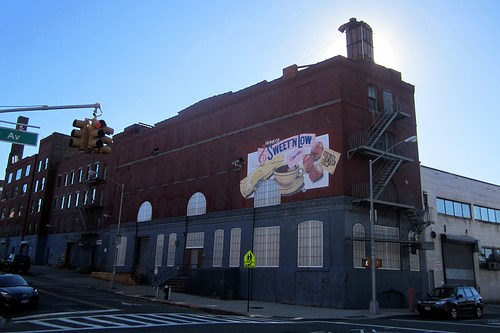 Cumberland Packing Corp, the maker of sugar-substitute Sweet'N Low and also Sugar in the Raw, will be closing up shop and leaving Brooklyn, reported The Wall Street Journal.
The announcement came Friday from a spokesperson at Cumberland, a family-run company located at 2 Cumberland Street, right outside of the Brooklyn Navy Yard in Fort Greene.
The headquarters and manufacturing company has been in Brooklyn for more than 70 years now. As far as the reasons behind the move, Cumberland's President and CEO Steven Eisenstadt stated that the company's Brooklyn operation had grown less automated than its competitors and had become noncompetitive. Although the company will move to another U.S. location, it will maintain its Brooklyn headquarters, he said.
Also, apparently, the company had been in the midst of failed union negotiations since September. The move will mean that some 300 people will lose their jobs.
"I am deeply concerned about the closure of the Cumberland Packing Corp., which provides jobs and economic stability for hundreds of working families," said Public Advocate Letitia James. "The City must commit to doing everything possible to protect the livelihood of those all those facing potential unemployment."
James said she plans to convene an emergency meeting on Monday with local officials and UFCW Local 2013, the union that represents the workers, to discuss the best course of action.