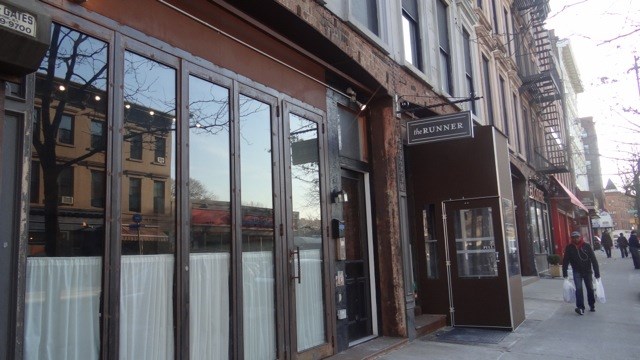 The ever-blossoming Myrtle Avenue in Clinton Hill celebrated another ribbon-cutting for a new business today: The Runner, a restaurant that offers a vintage twist on American Heritage cuisine.
"It's a neighborhood cozy-and-warm place with freshly prepared items at a reasonable price," said The Runner's CEO Richard Winter, who grew up in Bay Ridge.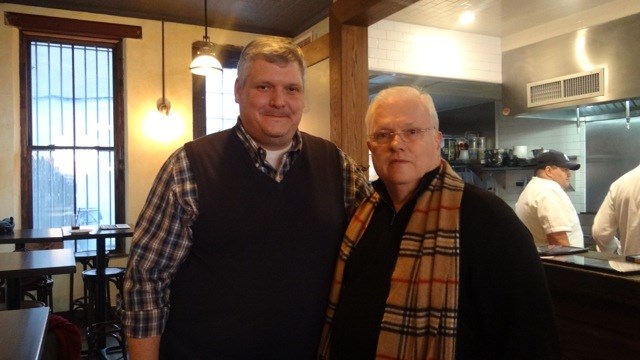 The Myrtle Avenue Brooklyn Partnership (MARP) hosted the opening ceremony, joined by Brooklyn Borough President Eric Adams, Brooklyn Chamber of Commerce President Carlo Scissura and representatives from the offices of Assemblyman Walter Mosley, Assemblyman Joe Lentol, State Senator Velmanette Montgomery and City Councilwoman Laurie Cumbo.
Divided into two spaces of about 600 sq. feet each, the restaurant boasts a rustic feel, with soft lighting, exposed brick, hardware details, a full bar and a large brick oven.
The food is everything you love about American cuisine, dialed up slightly by one or two ingredients to give every item on the menu a gourmet appeal:
Their brick-oven pizza, an appetizer that's not called "pizza" at all, but instead, "Tarte Flambé," made with crème fraîch instead of marinara, thinly sliced onions and fresh-cut bacon is pretty amazing ($12); Another appetizer, the "Bone Marrow," is made of escargot and apple onion jam ($12);
They've done away with the lettuce in their version of chopped salad. Their version is made of chopped kale, brussels sprouts, cabbage and pistachios ($12).
There's an entreé, the Lamb Shoulder, made with cinnamon, currents, pickled onions and cilantro ($16); and for dessert there's a Ricotta Cheescake that sounds quite special ($8)
"Everything, from the roasted suckling pig to the bone marrow in our escargot... We have a fantastic hamburger and a wonderful wine list, there's a little something here for everybody," said Winter. "And everything is priced appropriately. It's the kind of place you can come to multiple times."
The restaurant's head chef, Andrew Burman, said, instead of looking at modern food and the direction it's heading into the future, he wanted to prepare ingredients in a way that "looks back."
"So we built the menu around ideas of what was happening one hundred years ago," Burman said. "We sort of thought that having a place where it's communal and where everybody important in your life can share, that was more important."
The restaurant's name was borrowed from the poem, "The Runner," by Walt Whitman who once lived in Clinton Hill.
"That poem actually symbolized the Industrial Revolution in progress, and that's kind of what's going on here on Myrtle Avenue," Winter said. "It just became the perfect fit, the perfect name."
The Runner is located at 458 Myrtle Avenue, between Washington and Waverly avenues.