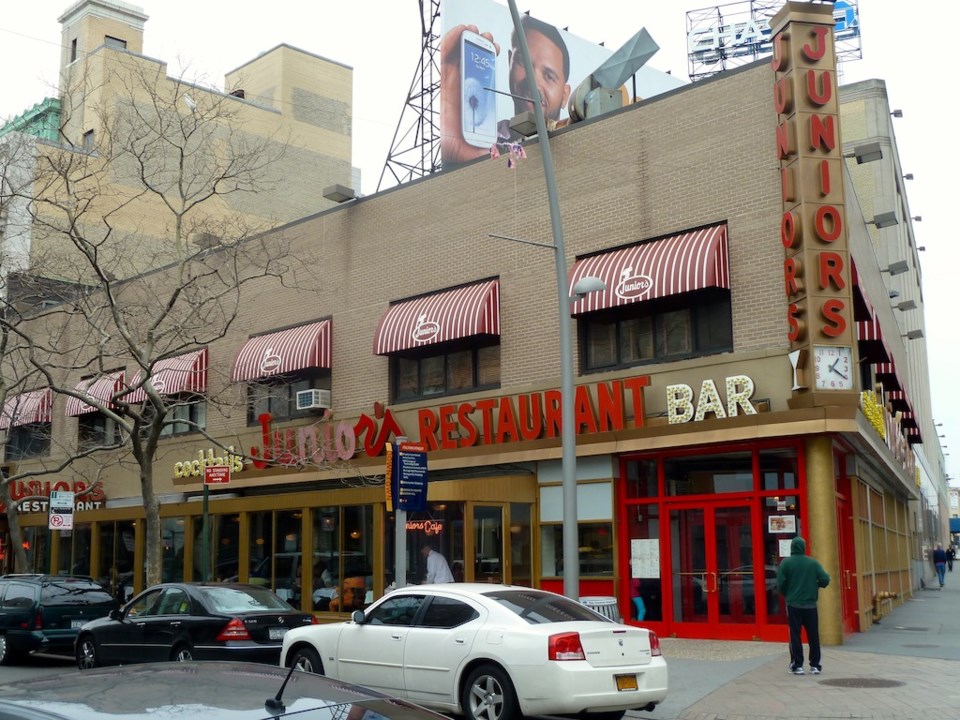 The owners of Junior's Restaurant, an iconic cheesecake bakery located on the corner of Flatbush and Dekalb avenues in Brooklyn, have sold its building to make way for high-rise condos, reported The Daily News.
But it's only a temporary move, according to the Rosen family, the owners of the 64-year-old business: They have every expectation to move back in, once the condos are complete.
According to the paper, the owners ignored potential suitors for years before finally agreeing to sell in a deal that was too good to refuse. The building is estimated to be worth three times as much as it was just ten years ago.
"The development market in the city is at a fevered pitch right now," said Bob Knakal, chair of Massey Knakal, the brokerage firm marketing the property. "When you have a market like that, it makes people think."
Known for its unrivaled cheesecake and amply portioned American diner "cuisine," Junior's has gilded a reputation as a must-visit for celebrities, politicians and blue-collar Brooklynites alike.
For decades, the who's-who of the world have made a point of patronizing Junior's when visiting the borough; and it is regularly featured and mentioned in television, film and music projects, when evoking nostalgia for Brooklyn.
But times are changing, and the restaurant aims to change with it.
After construction, the building could rise at least 20 stories and, with air rights, could become one of the borough's tallest.