Mandy Bowman is the Founder and CEO of the Official Black Wall Street, an app that has revolutionized the process of 'buying Black' with geolocation technology and artificial intelligence.
The app alerts shoppers when they are near a Black-owned business to encourage conscientious spending, and is named after Tulsa's prosperous Black business district that flourished until it was destroyed by a white mob in 1921.
Bowman grew up in Downtown Brooklyn and attended Babson College, where she studied entrepreneurship and global business management.
When Mandy Bowman moved back to her neighborhood after college, she was shocked at how many small, Black-owned mom-and-pop shops were closing in the area where she grew up.
Fed up with big chain stores poaching profits from local, small, Black-owned stores, Bowman decided to create a seamless way to encourage consumers to 'buy Black.' The first iteration of Official Black Wall Street in 2015 was a shareable spreadsheet of Black-owned businesses to support longtime neighborhood stores.
"It seemed like it was kind of overnight that there were so many different Black-owned businesses that were closing down in my neighborhood," Bowman said.
"Around that same time, I was learning about — and experiencing — how difficult it is to make it as a Black entrepreneur. I also was learning about Black Wall Street in Tulsa and how successful that community was," she told BK Reader.
"All of those things made me want to go out and patronize the smaller, Black-owned businesses in my community."
Before starting OBWS, Bowman worked as a digital marketer and social media manager for Atlantic Records, Complex Magazine and Essence Magazine.
One of the most rewarding parts about being a CEO, Bowman said, was picking her team. In 2021, she hired her mom as the full-time client services manager, and her COO is a good friend.
"It's important to have qualified people who you trust on your team," Bowman said.
Now, the big financial institutions have taken notice. In 2022, PayPal presented her with an "emerging leader" award and Bowman's work was highlighted by Mastercard in a promotional video.
Her app is the largest Black-owned business discovery app out there. Today, the directory lists thousands of Black-owned businesses from more than 10 countries across the globe, including nearly 600 enterprises in Brooklyn. And it is only growing larger.
The directory includes everything from restaurants and cafés, to doulas, business consultants and purveyors of apparel, fine art, home goods, toys, beauty services and even automobiles.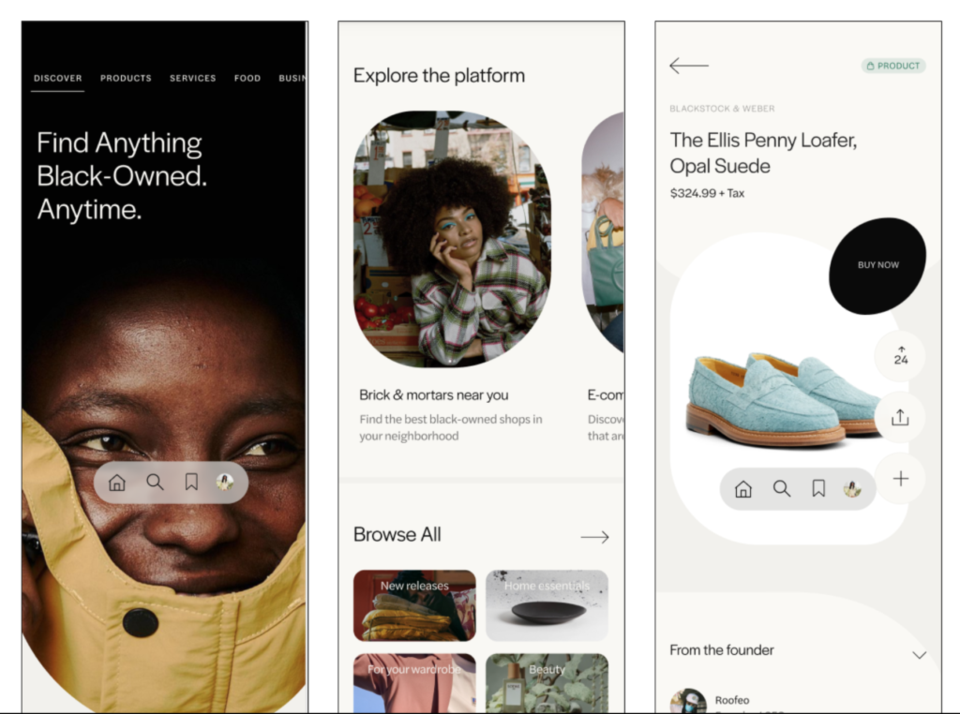 However, it's not just a platform for consumers.
In addition to listing businesses, OBWS also provides crucial resources to Black business owners including access to premium legal counsel, marketing tools and ad space on Snapchat.
Bowman told BK Reader her favorite purchase on the app was a clock and a set of coasters, all shaped like the continent of Africa, for her home.
"The most rewarding thing is when I hear from business owners that are on the platform and they're just so appreciative for the impact it's had on their business."
Mandy Bowman, we acknowledge your ingenious business idea and honor your deep commitment to the small, Black businesses of Brooklyn —and across the world— that carry the torch of abundance for the next generation.
---
February is Black History Month! Every day this month, BK Reader will profile one Black History Maker born or raised in Brooklyn. There are countless Brooklynites — past and present — who have contributed to America's fabric as pioneers or leaders in art, entertainment, sports, science and government. This month, we present to you 28! Click here to see all of the profiles.