Over the last 10 years, Anthony DeJesus has come full circle at the Youth Justice Network, formerly Friends of the Island Academy.
DeJesus was first connected with the nonprofit, which supports young people transitioning out of Rikers Island and back into their communities, in 2008 as a program participant.
Now, 13 years later, he is on staff running the organization's art program.
"I've been here a long time already. I'm just proud," DeJesus tells BK Reader on a recent Thursday morning in East New York.
"I've come a long way, and it was hard. I didn't know a lot and now that we're doing this it's a lot, I feel in pocket."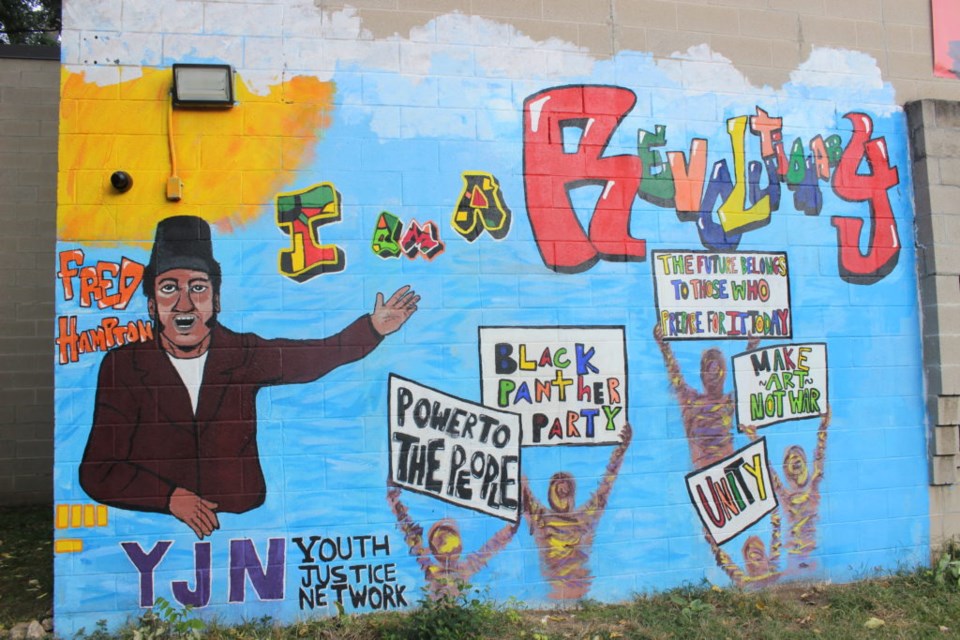 As he talks to BK Reader about his journey with the organization, he stands beside a new mural of Fred Hampton on the corner of New Lots and Schenck Aves he designed and painted with youth in the program.
The mural project is new for Youth Justice Network, and it stemmed from DeJesus' desire to connect the 16 to 24 years coming out of the prison system with their history, to give them inspiration and new tools to navigate the criminal justice system and the world around them. It's no easy task.
The Youth Justice Network, which was started in 1990 by social service staff on Rikers Island and community-based advocates and formerly called Friends of the Island Academy, has a number of different programs serving young people aged 16-24, including mentoring, providing books and art and culture workshops in jails, and giving resources and support through the youth reentry program.
The organization looks after the kids in its program with no timeframe for cutting off connection and it is realistic about the world the youth live in, where kids were frequently rearrested, whether they committed the crime or not.
Brooklyn coordinator Venus Core says the main thing is to give those young people tools to navigate the system, as well as the skills to help them stay out of it. To teach them self-love, confidence and self-preservation.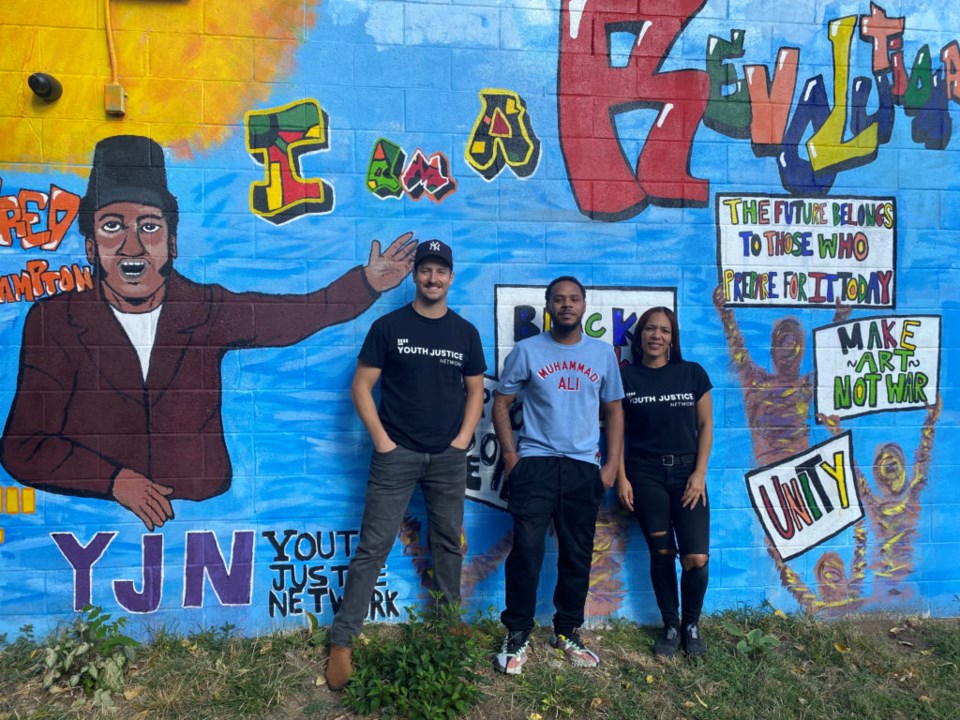 For DeJesus, art is one of the most powerful ways to do that.
"My goal, even before doing murals was to share history. I love history, especially American history and how unique it is," he says.
"The youth are really disconnected when it comes to that, they kind of know what they know now they're in the now. I tell them how it's important to know your history and why things are how they are now and have a frame of reference, and also it inspires you to be creative when you know your history."
To bridge the gap between talking about historical events and figures and really connecting with the young people, DeJesus came with a program idea called Bridging the Gap where he would think of icons like Malcolm X, Martin Luther King, Richard Pryor and Michael and ask the kids, who is that today for you?
"They would say of course Lebron James and Kevin Hart, then we would bridge that gap and do mini murals with it."
From there, the idea grew to large-scale outdoor murals, and thanks to funding from the Brooklyn Arts Council and the donation of a wall on the New Lots Community Church building things were able to get off the ground this summer.
DeJesus says he thought Fred Hampton would be the perfect person to focus on for the first mural, being a young man who would be relatable to the youth in the program. And he was right.
The group watched historical videos on Hampton and, by chance, Judas and the Black Messiah had just been released â€" which they all loved.
"It was amazing, because he was young they related," DeJesus says. "It was a lot of evoking emotions; they were really hurt, they felt betrayed and they related to their life, to their family, friends, whatever."
DeJesus says he was shocked at how much the project got the youth to open up and see the change they could make in their own lives and communities. "The most powerful was we had a young individual who was gang involved heavily and he got to the point where he said I don't want to do it anymore and he gave it up. That was the highlight for me."
The youth brainstormed ideas for the mural, and came up with the final vision, which includes phrases 'make art not war,' 'I am the revolution,' 'Black Panther Party,' and 'power to the people,' then worked through the summer heat painting it on the East New York wall.
Recently, the mural was unveiled in a ceremony with the youth and local leaders… and one big surprise.
At the ceremony, Assemblymember Charles Barron passed his cellphone to DeJesus and the youth with Fred Hampton Jr. on the other end of the line, wanting to offer them congratulations and support for their work.
"It was really a blessing," DeJesus says, adding he mumbled and stuttered his way through the call.
"They couldn't believe it either, they spoke to him, it was so positively over the top."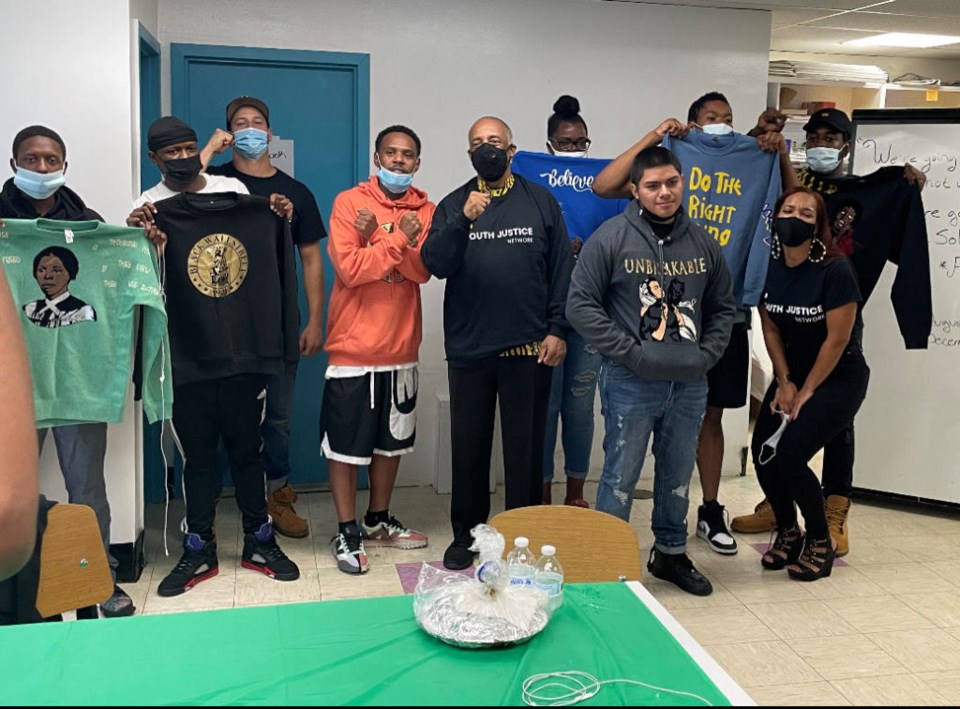 Reflecting on the project and the organization's plans for more murals, DeJesus says the highlight is definitely the community aspect of it, "them coming together to share their emotions and their feelings about the concept, not just Fred, but what he went through and the ideas."
"That aspect that they learned is really good because all these things still go on now, and now they know they can navigate them it in their own way, whether they're dealing with a court case or with problems at home or in the streets," he says.
"They can see remnants of that in their communities and say this is how Fred would have done it so this is how I can do it."
Youth Justice Network plans to do indoor murals with participants over the fall and winter â€" and expand the program back outdoors when the weather permits. To learn more about the organization, click here.