DUMBO, known by most for its crazy expensive real estate, beautifully rustic architecture, high-end retail scene (no disrespect, because really, who doesn't 💗 DUMBO?) and stunning waterfront views, is fast becoming a magnet for artists of all stripes and, perhaps, one of the most Instagrammable locations in Brooklyn.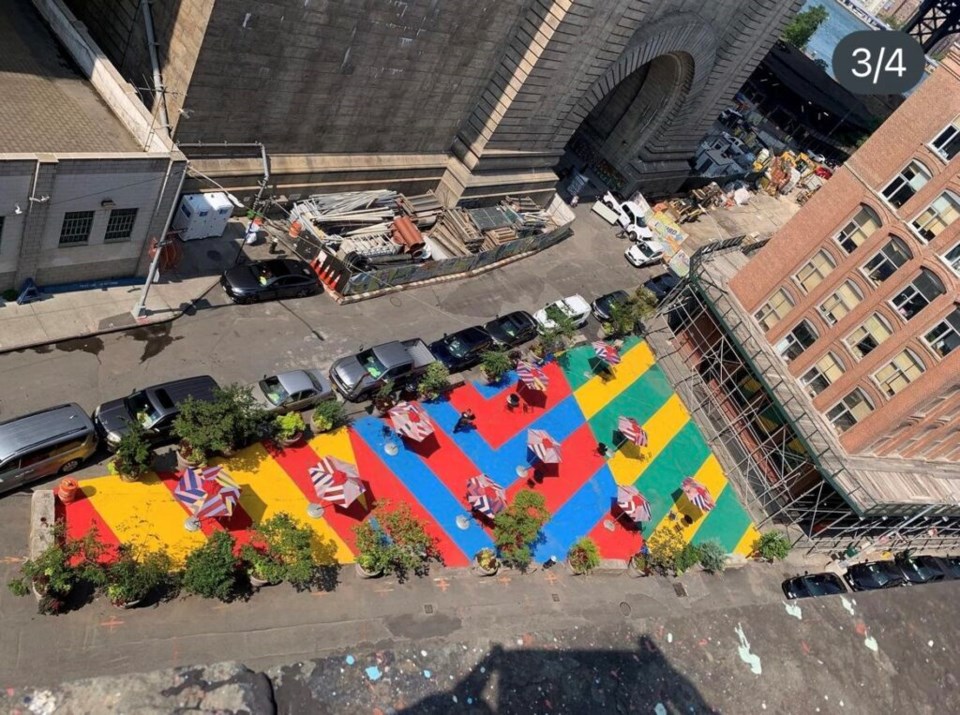 For artists-- particularly visual artists-- the neighborhood is a tucked-away safe haven from the typical BK hustle and bustle and a visual smorgasbord from which they draw creative inspiration.
Well, now the DUMBO Business Improvement District (BID) is buying into its own hype and leaning into its own attraction with initiatives aimed at bolstering the spread of public art in the neighborhood. This includes commissioning local artists to create murals at the renowned Pearl Street Triangle.
American contemporary artist and designer Liz Collins is the latest artist to leave her mark, with a newly installed colorful and dynamic mural on the public plaza to accompany the colorful iconic umbrellas she designed for the triangle months earlier.
Known best for her innovative knitwear designs, Collins developed a patent for her specialized technique of interweaving and assembling different materials to construct her garments.
A signature of her visual artwork includes the incorporation of  recycled textiles from previous art pieces, abstract designs, and structural components like poles and fences and... umbrellas! These pieces typically entertain a diverse color palette and explore themes such as human interconnectedness and cosmic energy.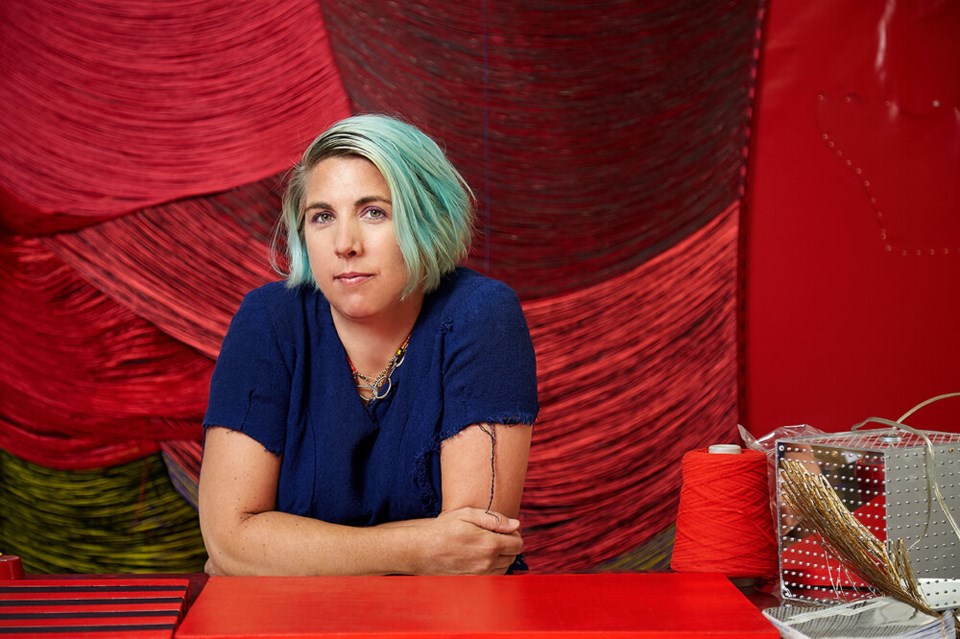 Earlier this year, Collins was commissioned to create the installation Every Which Way  for Meta's Manhattan office complex in the historic James A. Farley Building
After receiving studio space through Two Trees' Cultural Subsidy Program, Collins not only holds a deep appreciation for the neighborhood, but also credits DUMBO and the organization, Art in Dumbo, for giving her work a place to shine.
"Thank you for entrusting me with your public space and for investing in taking it [to the] next level, so the gorgeous umbrellas have a gorgeous ground beneath them," Collins wrote in an Instagram post of her work.
Now complete, the mural and the umbrellas that accompany it are a bright pop of color for those strolling through the neighborhood-- not to mention another perfectly Instagrammable moment impossible to ignore.