WHAT: Billy Bud, an Opera-- As part of a worldwide celebration of the composer's 100th birthday, Benjamin Britten's sweeping, seafaring masterpiece comes to BAM in a spectacular production from Glyndebourne Festival Opera, helmed by Tony Award-winning director Michael Grandage (former artistic director of the Donmar Warehouse).
WHEN: Friday, February 7, 7:30pm — February 13, 10:30pm
WHERE: BAM Gilman Opera House, 30 Lafayette Avenue, Bklyn
HOW MUCH: Subscriptions start at $24; full-priced tickets, $30. Buy tickets here.
WHAT: Free Live Jazz at Hibiscus Day Spa—Come on out every First Friday of the month for FREE Live Jazz. It's a great way to network and meet new people. Walk with a lots of business cards. Reservation is required due to limited seating capacity. Complimentary refreshments. Your choice of red or white wine for only $3
WHEN: Friday, February 7, 7:00pm — 10:00pm
WHERE: Hibiscus Day Spa, 556 Halsey Street, Bklyn, NY
HOW MUCH: Free
WHAT: Diaspora Art Mart—Sound the drum! Local artists sell their Diasporan-inspired wares, art, collectibles and other products
WHEN: Saturday, February 8, 12:00pm — 7:00pm (every second Saturday of the month)
WHERE: The Skylight Gallery, Restoration Plaza, 3rd fl, 1368 Fulton Street
HOW MUCH: Free
WHAT: Brooklyn Revival Dance Party with Rich Medina-- Revival attracts an eclectic crowd with a penchant for dance moves. Each month features a different special guest DJ set, adding a slightly different music flavor to the mix. The guest DJs, who have included such venerable names as Tony Touch, Cosmo Baker, Stretch Armstrong, DJ Soul, Sake 1, and more, are given the reigns to take the crowd on the musical journey of their choice, with only one guiding principal: people should be dancing.
WHEN: Saturday, February 8, 10:00pm — 4:00am
WHERE: Free Candy, 905 Atlantic Avenue
HOW MUCH: $5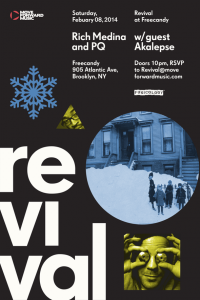 WHAT: BAMcafé Live Presents Russell Taylor-- Blessed with a soaring, soulful voice, and tinged with just a touch of gravel, Russell Taylor's emotionally charged ballads tackle love, heartbreak, and all the spaces in between. The first-ever winner of VH1's "You Oughta Know" contest for emerging artists, Taylor—a veteran performer who has shared the stage with Mary J. Blige, Isaac Hayes, and Jill Scott—comes into his own with the January release of his third album, War Of Hearts, a loving tribute to the golden age of classic soul.
WHEN: Saturday, February 8, 9:00pm
WHERE: BAM Café, Peter Jay Sharp Building, 30 Lafayette Avenue, Bklyn
HOW MUCH: Free

WHAT: I Love Vinyl on the B-Side I Love Vinyl was founded by NYC-based dj/producer Scribe in 2009, with a Dream Team of resident romantics. Together with Wax Poetics, Turntable Lab, Halcyon, and Fusicology, they present this all-vinyl oasis on 4th Saturdays at the Gallery at LPR (Le Poisson Rouge).
WHEN: Saturday, February 8, 10:00pm
WHERE: TBA Williamsburg
HOW MUCH: $5 entry before 11pm and $10 entry after. it's $15 without RSVP. RSVP here.
WHAT: The Gluten-Free Pop-Up Eatup—Enjoy an afternoon of gluten-free, delectably good times. Meet your local makers, have a gluten-free beer, find your new favorite foods, all under one roof!
WHEN: Sunday, February 9, 1:00pm — 6:00pm
WHERE: Freddy's, 627 Fifth Avenue, Bklyn, NY
HOW MUCH: Free. Food available for purchase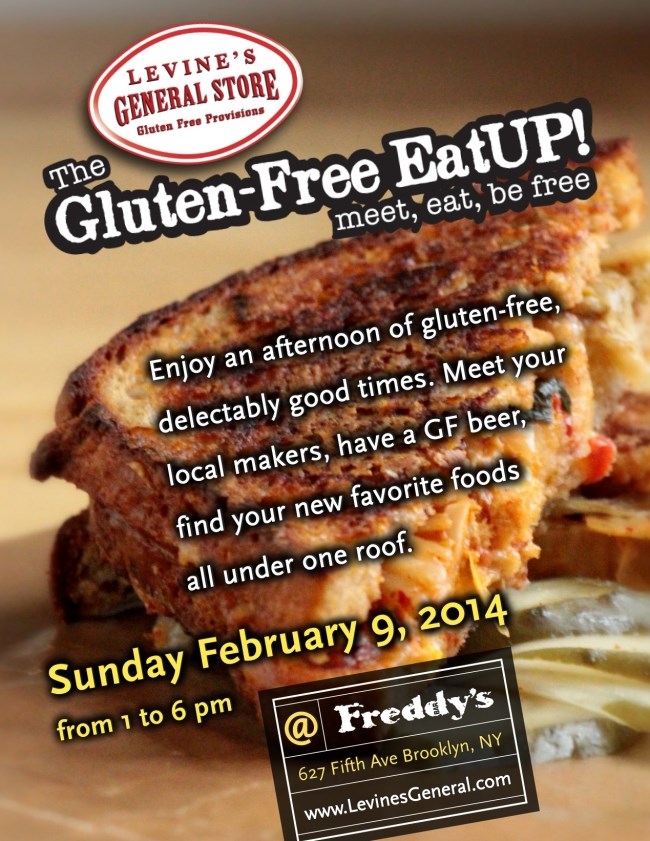 WHAT: Orchestra of St. Luke's: "Strauss & Strauss" They share a name and lived during the same period. Are there musical similarities between the waltz kings, Johann Strauss I and II, and Richard the ultra-Romantic? Listen to works by all three Strausses and discover the connections between these well-known namesakes.
WHEN: Sunday, February 9, 2:00pm
WHERE: Brooklyn Museum, 200 Eastern Parkway, Bklyn
HOW MUCH: $28 for Members; $38 for Non-Members; $10 for Students To purchase tickets, go here or call (212) 594-6100.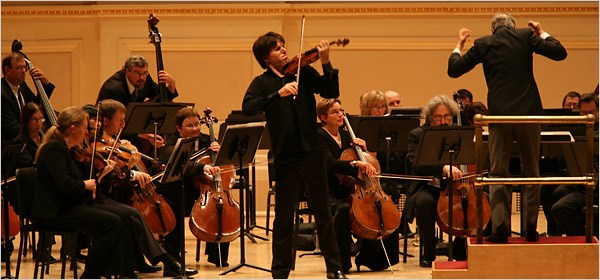 WHAT: Arty Facts-- Children ages four to seven and their parents or caregivers explore the galleries at the Brooklyn Museum, enjoy a team activity, and make art in each ninety-minute Arty Facts class. In February, children discover how art can be strong, smart, or clever. Participants meet in the Rubin Lobby at 11 a.m. and 1:30 p.m. Parents and caregivers are asked not to bring siblings older than seven or younger than four.
WHEN: Sunday, February 9, 11:00am — 1:30pm
WHERE: Brooklyn Museum, 200 Eastern Parkway, Bklyn
HOW MUCH: Materials fee (Museum admission not included): $10 per family (up to four participants); $5 for Gallery/Studio families and Members at the Family level; free to Members at the Friend level and above.