WHAT: New York Bike Style Book Release Party with special guest DJ James Mulry
WHEN: Friday, April 4, 7:00pm — 10:00pm
WHERE: Redbeard Bikes, 69 Jay Street, Bklyn
HOW MUCH: Free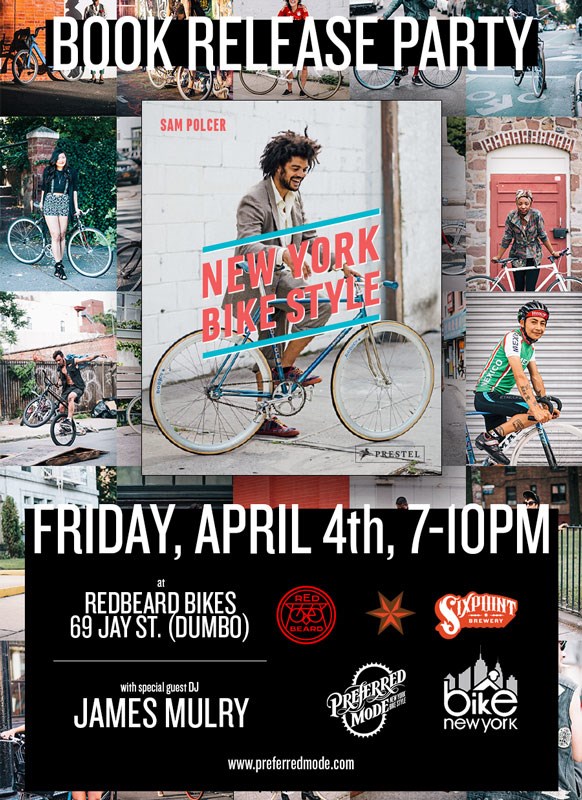 WHAT: Sip and Shop Come celebrate with Nippy Lavern Fashions for its 3rd Year Anniversary! Nippy Lavern is giving its current customers and new customers an opportunity to sip and shop while receiving up to 50% off select items. There will be light appetizers, wine, cupcakes, gift bags, and more!
WHEN: Friday, April 4, and Saturday, April 5, from 12:00pm to 8:00pm
WHERE: Nippy Lavern Fashions, 384 Tompkins Avenue, Bklyn
HOW MUCH: Free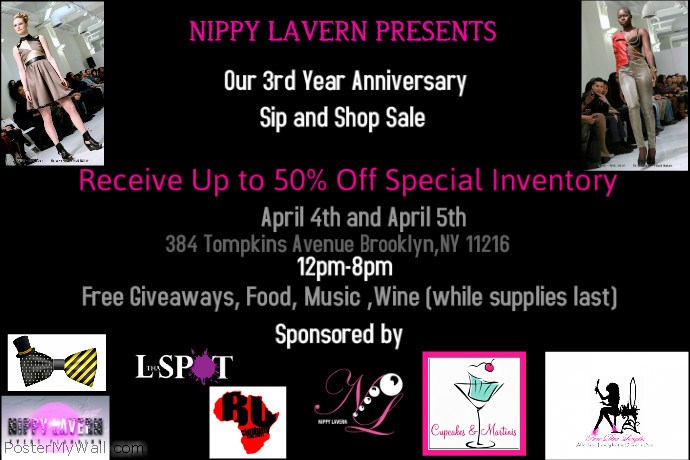 WHAT: Fake Accent Fridays with DJ TYGAPAW-- Fake Accent is a FREE weekly Friday night event that will take you on a transcendent musical journey across boroughs and time! Dj TYGAPAW will be spinning a diverse mix of sounds that differs from the average nyc club scene. If you are looking for something different, something fresh, something good, this is where you need to be! Come join the peace, love and unity dance; come and be whoever you want to be.
WHEN: Friday, April 4, 9:00pm — 12:00am
WHERE: Branded Saloon, 603 Vanderbilt Ave
HOW MUCH: NO COVER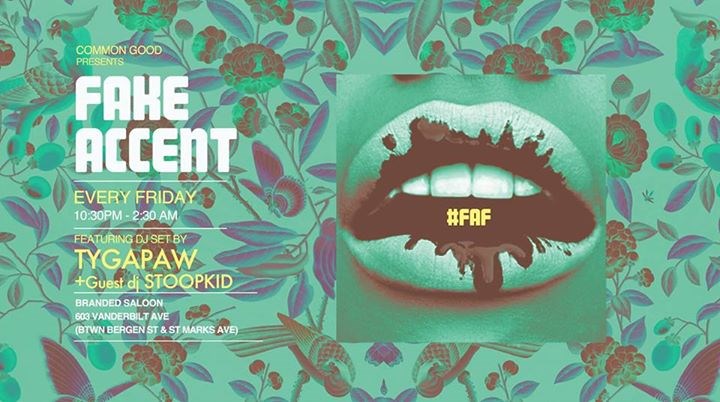 WHAT: Target First Saturdays: Join the Brooklyn Museum for Target First Saturdays and enjoy engaging and eclectic free art and entertainment programs every month, from 5 to 11pm. Music Showcases include Gedeon Luke & The People mixes rock 'n' roll and soul; 7:00pm Toshi Reagon and BIGLovely express political consciousness in a blend of blues, rock, and more; 8:30pm. CharlieRED shares messages of freedom with a fusion of soul, blues, and hip-hop.
Also, at 6:00pm, for the Curator Talk, Kellie Jones, associate professor of Art History and Archaeology at Columbia University, shares themes in and inspirations for the exhibition Witness: Art and Civil Rights in the Sixties. Free tickets (25) at the Visitor Center at 5:00pm.
WHEN: Saturday, April 5, 5:00pm — 11:00pm
WHERE: The Brooklyn Museum, 200 Eastern Parkway
HOW MUCH: Free
WHAT: The Noel Pointer Foundation Presents "Fiddlefest"-- An army of young NPF musicians from 26 different NYC schools (24 from Brooklyn) will come together, for ONE DAY ONLY, to play their string instruments for each other in FIDDLEFEST and You're Invited!
WHEN: Saturday, April 5, 2:00pm — 4:00pm
WHERE: Prospect Heights High School, 883 Classon Avenue, Bklyn,
HOW MUCH: $7 (General) / $3 (Children under 12)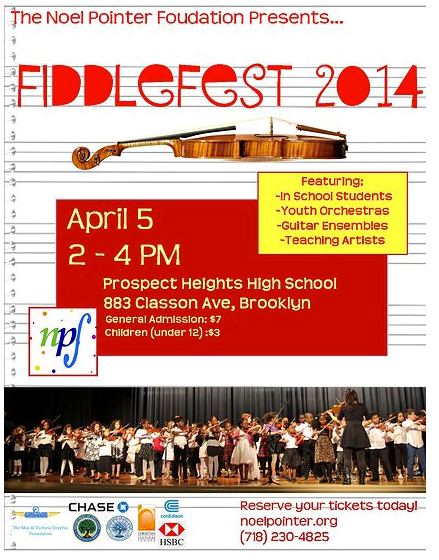 WHAT: Fort Greene Flea Reopens! The Flea's Fort Greene flagship location features 150 vendors every Saturday from April through November. The 40,000-square-foot schoolyard at Bishop Loughlin Memorial High School is part vintage bazaar, part hipster hang, part old-fashioned town square, and part food bonanza. Click here to apply to become a vendor.
WHEN: Saturday, April 5, 10:00am — 5:00pm
WHERE: 176 Lafayette Ave. (btw. Clermont + Vanderbilt Ave.)
HOW MUCH: Free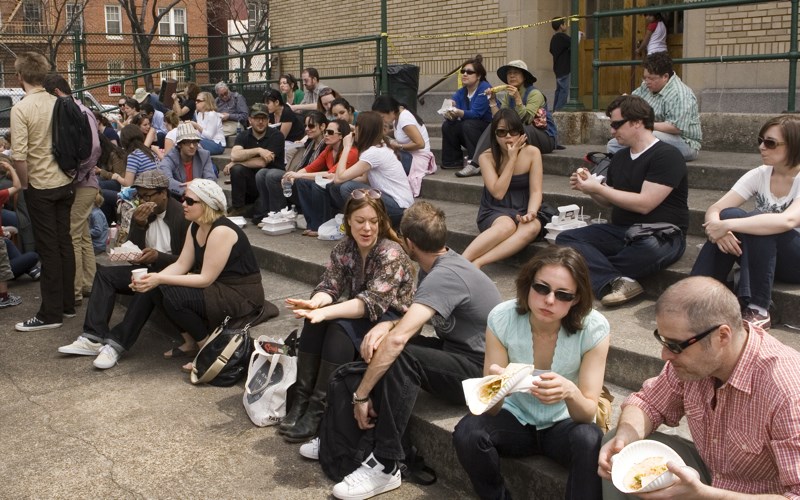 WHAT: Baby Disco Family Dance Party—Join this all-ages group for fun in the spring sun @ Art Café, where there will be Indoor & Outdoor space; Full bar for the adults; Snacks & drinks for the little ones; All are welcome - baby not required. Join in, every 1st Saturday beginning April 5. Stop by before or after 1st Saturdays at the Brooklyn Museum! Only a 10-minute walk from the museum.
WHEN: April 5, 3:00pm - Bedtime
WHERE: Art Cafe: 886 Pacific Street, Prospect Heights, Brooklyn (Corner of Underhill)
HOW MUCH: $20 per family; $15 RSVP to babydisconyc@gmail.com or $10 per single adult. T pay in advance on Pay Pal contact: djalicoleman@gmail.com

WHAT: Miley's BANGERZ Tour is coming to Brooklyn, NY with special guests Icona Pop! VIP & tickets are on sale now!!
WHEN: Saturday, April 5, 7:30pm
WHERE: Barclays Center, 6:20 Atlantic Avenue
HOW MUCH: $75 — $110; Buy tickets here.

WHAT: Laffs on Lafayette-- Is it WARM yet? It is here every other week as NYC's greatest tae the stage to make funny with YOU-Bk's hottest residents. Join the Bed-Stuy Jedi Dave Lester as he welcomes the comedic talents of Alexis Guerreros; Matt Richards; Brian Gray, Abbi Crutchfield, Lourdes LouLou Gonzalez
and Comedy Central Stand-Ups Aldo, Aldolaugh, Marachlian
WHEN: Sunday, April 6, 8:30pm
WHERE: Mo's, 80 Lafayette Avenue
HOW MUCH: Free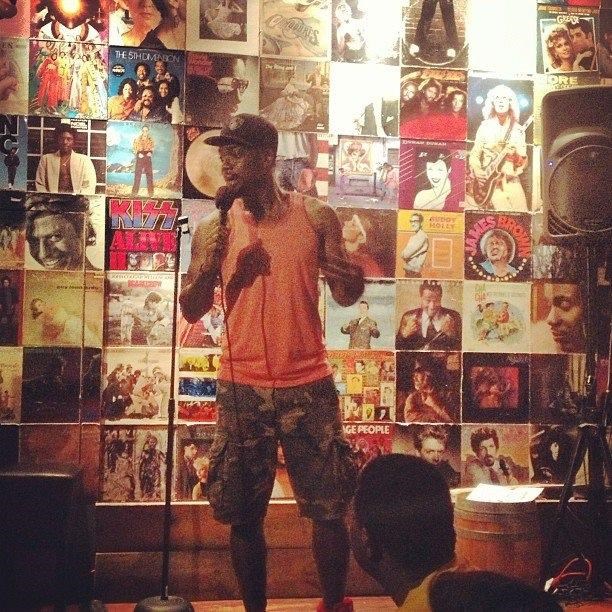 WHAT: Heels on Wheels Presents Opentoe Peepshow #15: Featuring artists Mars Dixon, Bryn Kelly, Ro Garrido, Lettie Laughter, Hannah Morrow & Afrodeezee. The Heels on Wheels is a NYC-based group that produces an annual tour, a monthly salon, and one-off events with queer communities across the U.S. and Canada.
WHEN: Sunday, April 6, 7:30pm- 10:00pm
WHERE: The Branded Saloon, 603 Vanderbilt Ave
HOW MUCH: $3-$10 sliding scale