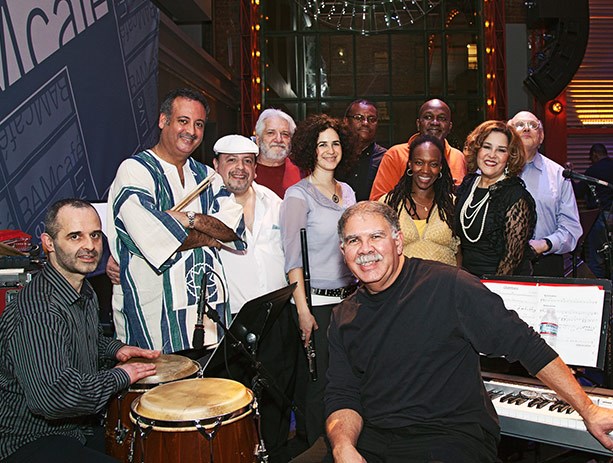 WHAT: BAMCafe Live: Charanga Soleil-- For the fifth year in a row this lively pan-Caribbean ensemble takes the stage at BAMcafé for its annual holiday dance party. Expect a globe-hopping jam session that encompasses Cuban salsa, Congolese rumba-soukous, Haitian compas, and Puerto Rican plena-bomba, performed on infectiously rhythmic bongos, sprightly flutes, and Cuban tres guitar.
WHEN: Friday, December 27, 9:00pm
WHERE: BAMCafe, 30 Lafayette Avenue Brooklyn, NY 11217
HOW MUCH: Free
WHAT: Appreciation Send-Off Party for Anu Rock & Metal jewelry, a day of great vibrations, music, joy and conviviality, featuring the wonderful, soulful, spiritual and healing vibes of Brooklyn's own DJ Fauzi NYC,The incomparable Kufunya Ife founder of Crystals for Every Day Living. She creates one of a kind Gemstones and Crystal Energy tools for everyday living, Special events, homes and Business. Last but certainly not least The feel good, mouth watering delicacies of Raw Reality by Marie! Come out, Shop, Dance, Vibe and Enjoy with us all day! It's worth it! Support & be a part of the Anu Rock & Metal movement!
WHEN: Saturday, December 28, 12:00 noon — 10:00pm
WHERE: Nicholas Brooklyn, 570 Fulton St, Bklyn, NY, b/t Hudson Ave & Rockwell Place
HOW MUCH: Free
WHAT: Ice Skating at the new Samuel J. and Ethel LeFrak Center at Lakeside, Prospect Park: Upsilon Ventures has planned some weekend winter fun with a robust schedule of family-friendly activities, hands-on entertainment and performances that are free and open to the public beginning Saturday, December 21, at 11:00am
WHEN: Mon-Thur, 11am-6pm | Fri-Sat, 9am-10pm | Sun, 9am-8pm
WHERE: Prospect Park, Lakeside
HOW MUCH: Entry to the LeFrak Center, café, and restrooms is free. Skating Rink Admission: $6/person weekdays, $8/person weekends and holidays; Free Admission (for children 12 and under): Mondays 3 — 6 p.m. (excluding holidays) Skate Rental: $5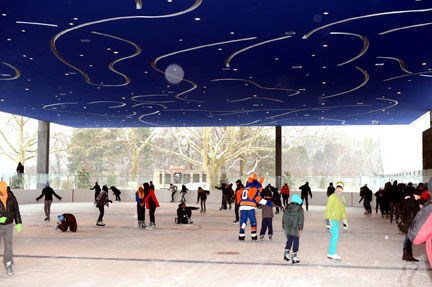 WHAT: COUNSELLORS QUARTERS is a quarterly Entertainment Extravaganza showcase event, Where Only The Best of the Best Arrive! Hosted by: Comedian Nick Alexander; Featured Entertainer: Chris Rob (Singer/Songwriter/Musician) w/ his LIVE BAND!!! Showcased Entertainers: Essence Revealed (Burlesque Dancer), Timothy Ruiz (Singer/Songwriter/Musician/Poet) AND MORE Showcased Entertainers TO BE ANNOUNCED!
WHEN: Sunday, December 29, 2013, Doors @ 5:00pm/Show @ 7:00pm
WHERE: Amarachi Lounge, 325 Franklin Avenue (@ Clifton Place), Bedford-Stuyvesant, Brooklyn, New York
HOW MUCH: $10 w/RSVP/Advance $15 @ Door $25/VIP=[Food+Drinks+Network w/VIPs]
WHAT: Kwanzaa Family Celebration with Iris Wilson. Join Iris Wilson on the fourth day of Kwanzaa for an interactive celebration in honor of our rich African heritage. Participants will learn the history and 7 principles of Kwanzaa through song, dance and a candle lighting ceremony. Open to families with children of all ages.
WHEN: Sunday, December 29, 11:30am—1:00pm
WHERE: Cumbe Center for African & Diaspora Dance, 558 Fulton St. 2nd Fl, Bklyn, NY
HOW MUCH: $10 for the whole family (up to 5 people, $2 for each additional family member)
WHAT: STING INTERNATIONAL returns center stage to press the reset button on the original reggae vibes! Only the best of the best will be heard this holiday season! Vintage Reggae - Classic Soul - Rockers - Rub-A-Dub - Rocksteady -70's, 80's, 90's. Come hear your favorite selections by the peoples #1 mixer & selekta, STING INTERNATIONAL!
WHEN: Sunday, December 29, 8:00pm — 4:00am
WHERE: Bamboo Lounge & Grill, 527 Myrtle Ave, Bklyn, NY
HOW MUCH: Free Admission - Good vibes! Dress code - Crazy Sexy, Classy Cool; 25 and over - I.D. is a must.
WHAT: Mo's Sunday Comics Weekly Revue Join us every Sunday for food,music and laughter as COMEDIAN DAVE LESTER & FRIENDS host a FREE comedy revue Seating is limited call (718)797-2849 for Reservations.
WHEN: Every Sunday, 9:00pm — 11:00pm
WHERE: Mo's, 80 Lafayette Avenue
HOW MUCH: Free