When Flatbush resident Sophia Dawson auditioned for The LaGuardia High School of Performing Arts, she had dreams of becoming an actress, a performing artist. As an avid roller skater, orator, dancer, musician and overall natural ham for the camera, she believed her calling was on a stage under bright lights.
She got accepted to LaGuardia. But it wasn't for performance art. They asked her instead to attend as a student of visual art. Although she was disappointed-- because she only applied to the art program as a backup-- she was not entirely surprised. Only a year or so earlier, she had discovered that painting was pretty much the only thing she did well without trying.
"The first time I ever picked up a paintbrush was to do a painting of my dad for a homework assignment, and really, it was the only effortless thing I had ever done in life," said Dawson. "It just came out. And it looked just like him. My father's a Rasta, so he has a very prominent face and hair; and I really enjoyed my parents' reaction to my work. So what followed were portraits of my sister, my brother, basically any photo I could get my hands on. And every time, people's reactions just encouraged me to keep painting."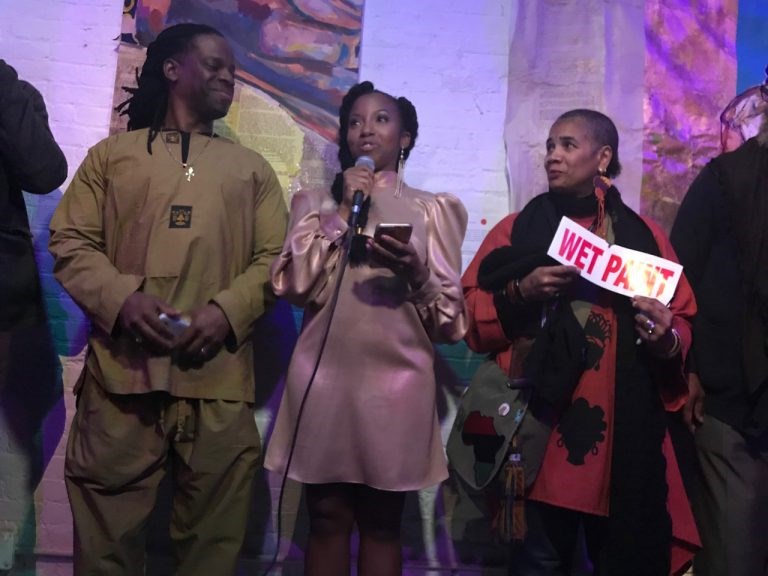 Today, Dawson, 30, who now refers to herself as "Wet Paint," has debuted the most successful, personal exhibit of her art career so far: "Correspondence," which opened on February 3 at OkaySpace Gallery in Williamsburg, features an array of large-scale paintings of various U.S. political prisoners, transposed over the letters exchanged between Dawson and the prisoners over seven years. The letters have become individual narratives around America's cruel and unusual history with black people, protest, resistance and prisons and the continued denial of freedom to those who are locked up, despite winning amnesty. The letters also detail the untold impact incarceration has had on their families-- particularly the women and children left behind.
Dawson, now a mother of an 8-year-old son, Pharoah, says that, just like painting, activism was not at all part of her plan. It fell into her lap following an African-American history class her last semester as a sophomore at the School of Visual Arts. The class was taught by Dr. Rosalind Jeffries who, with her husband Dr. Leonard Jeffries, helped to found African-American studies in the U.S.
"I was pregnant the entire time I was in her class, and I used to sleep a lot in her class because of the pregnancy, but I couldn't help it," recounted Dawson, laughing. Then one day, Dr. Jeffries showed a documentary on the history of the Black Panthers, followed by a class discussion. Dawson said that particularly class really sparked her interest, so she forced herself to stay awake.
"When I left the class that day, I was shaking. I was never taught about the Panthers and had never even heard the term political prisoner before. So it all just blew my mind," Dawson said. "Learning about my history changed the course of my life. One of the greatest lessons I learned was that there are people that came before me who risked everything so that I could live my best life," said Dawson.
After that class, Dawson began reading as many materials around the Black Resistance Movement she could get her hands on-- The Autobiography of Malcolm X, Assata Shakur's autobiography...
[perfectpullquote align="left" bordertop="false" cite="" link="" color="" class="" size=""]"One of the greatest lessons I learned was that there are people that came before me who risked everything so that I could live my best life"[/perfectpullquote]
She then started painting and exhibiting portraits of various founders of The Movement, faces most people would recognize. Soon, she ended up on a panel with Dequi Kioni Sadiki, wife of former Black Panther Sekou Odinga, who later became Dawson's mentor. On the panel that day, Sadiki pointed out, How can we start this conversation without talking about people who were still locked up for the past 35, 40 years?
"That was a reality check for me," said Dawson. "That's when I had to switch from just making romantic paintings to thinking about, Okay, how can I use my art in service of these people who are still incarcerated?"
Dawson began attending political prisoner letter-writing gathering where people meet to commiserate, break bread and sign birthday cards for people still incarcerated as a political prisoners. Eventually, she started writing her own personal birthday cards, which turned to longer, handwritten letters to individual prisoners. Seven years and more than 100 letters later, she knew it was time to act.
"So I did a snail mail blast to everyone and said, This is my name. This is what I'm hoping to do through my art. Do I have your support? How would you like for me to tell your story?"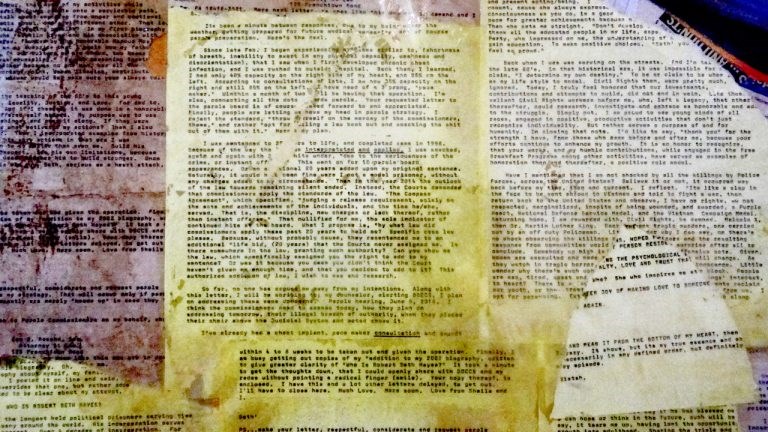 Out of that correspondence, the exhibit was born. The exhibition features around 20 portraits of different political prisoners painted onto a black canvas and imbued with the letters sent to Dawson over the years. Between Dawson's breathtaking artistry, her use of mixed media, the personal letters and the detailed artist notes, the viewer unwittingly disappears-- as unexpectedly as the subject himself-- into a very small, silencing and suffocating space. Still, despite the gravity of that existence, the exhibit manages to free each viewer in the end with an energy and gratitude of a long awaited moment of recognition.
Correspondence is a collaboration between Dawson and TunnelVision Artists, a multidisciplinary collective of artists that aim to re-engage mainstream media around U.S. political imprisonment. Additionally, 10% of all art sales from "Correspondence" are donated to The Jericho Movement, a non-profit organization whose goal is to raise awareness around U.S. political imprisonment while also provide support for those prisoners re-entering society.
"This work is heavy, but one thing that has brought me through all of this and has given me a good balance is prayer," Dawson said. "In the beginning I made the art out of anger, and it didn't go well. But if you tap into the Creator for balance, then everything can be done out of love. Operating that way has brought many blessings."
"I can't say that I know for sure how this art creatively or spiritually will contribute to someone being liberated, but it's an assignment I have from the Most High. And I have to fulfill it, so that I can move on to the other things I'm supposed to do in life," said Dawson.
"I just feel like, I can't move forward until I'm done with this work."
Correspondence, the exhibit, closes on Friday, March 2. Go here to view her work. To purchase her work, go here. You can follow Sophia Dawson on Facebook or Instagram or Twitter.