"The Love Yourself Project is a counterbalance to negative images that tell you that you are not enough. It reminds you that you are enough, and it's okay to love who you are."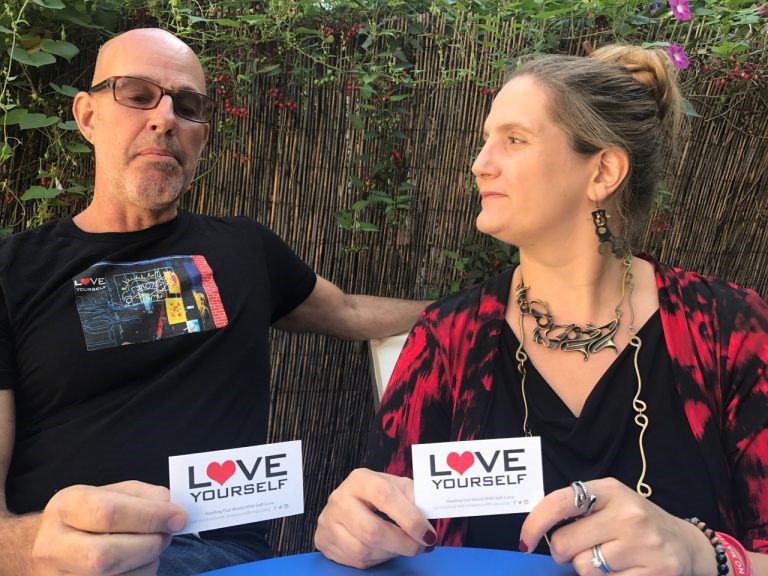 Beginning in November 2010, an army of happy people took to the streets and subways of New York City greeting passersby with messages of kindness, handing out "Love Yourself" stickers and encouraging perfect strangers to engage in conversations about self-love.
The reactions ranged from surprise, to confusion, to gratitude... some where so overwhelmed by the idea of turning their own love inward, they were brought to tears.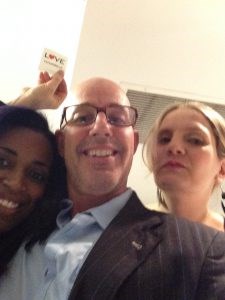 So, who were these do-gooders out to inspire self-love? They were the all-volunteer members of The Love Yourself Project, a non-profit arts and education organization based in Brooklyn Heights that provides for individuals, groups and organizations programs that promote self-awareness, self-acceptance, self-esteem building and, yes, self-love!
"About 10 years ago, I was struggling with my own self love," said Michael Mut, founder of the Love Yourself Project. "I'm an artist, and so I started working through art to overcome my own self-hate. So I decided that I wanted to do something bigger for other people, and that's kind of how it really began."
The organization's claim to fame are their pop-up events featuring art projects and group exercises that teach people how to both identify and flex their love muscles (kinda like your very own personal trainer of love!) They hold workshops such as the 10,000 Hearts Origami Campaign that shows participants how to fold paper into hearts and personalize them with messages of self acceptance.
[perfectpullquote align="full" cite="" link="" color="" class="" size=""]"The Love Yourself Project is a grassroots organization. We are 100 percent volunteer-based. No one is getting paid, it is literally a labor of love."[/perfectpullquote]
In the past seven years since the project's launch, they've been to Pakistan, Paris, Luxembourg, West Africa, Florida, Netherlands, Massachusetts, Australia, Iceland, England, Stockholm and all across America distributing over 750,000 stickers and holding workshops and programs.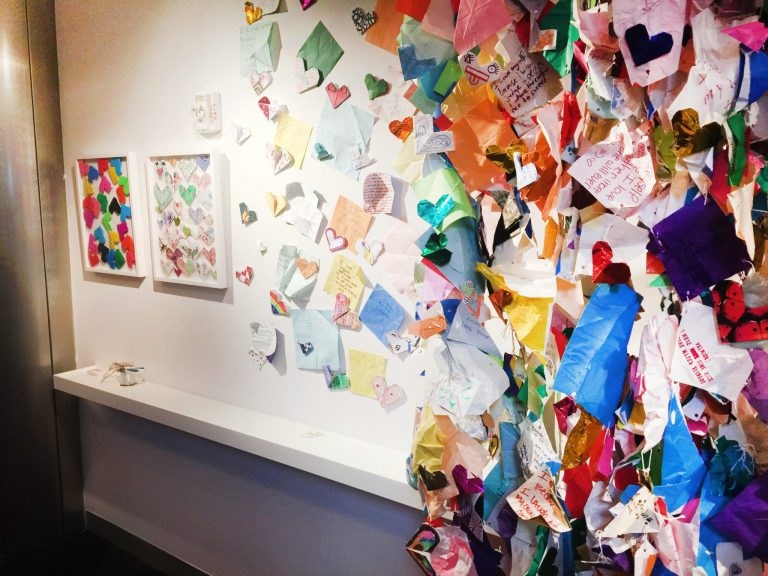 "There are messages of self-hate that are everywhere telling you that you're not good enough. Look at social media, advertisements and commercials," said Charlotte Moquin, the Love Yourself Project Director. "The purpose of the Love Yourself Project is to counterbalance all of the signs to know that you are enough, and it's okay to love who you are."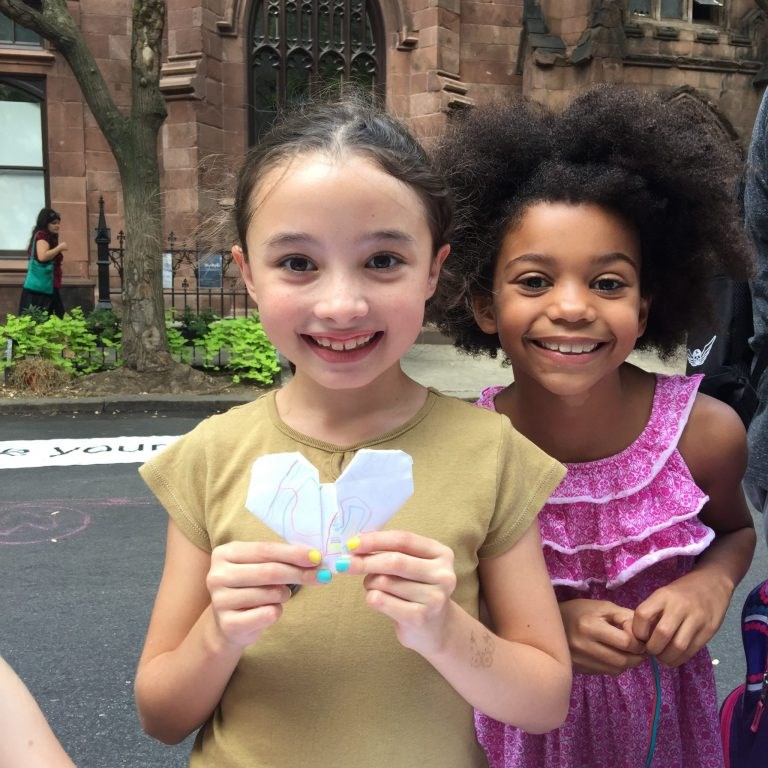 The Love Yourself Project also has hosted dozens and dozens of its Hearts Campaign art installations across New York City, including at the Festival of New Ideas with The New Museum; the Children's Workshop School; the Heath Gallery in Harlem; The NY LGBT Center; the Phoenix House in Brooklyn; Jubilee Senior Center of Brooklyn Heights; Brownsville Recreation Center and many, many more.
Next stop? Bed-Stuy!
From Friday, September 22 through Sunday, September 24, Vibrations II will hold a fundraising event for The Love Yourself Project at The Living Gallery, located at 1094 Broadway (on the Bed-Stuy border of Broadway), during the Bushwick Open Studios art crawl event.
The event will bring together an eclectic mix of artists and performers to celebrate self-love through an exhibition curated by Mouquin and Richie Richardson. The exhibition will host an opening reception on Friday, September 22, from 6:00pm-9:00pm. On Saturday, September 23, the exhibit will hold a party/fundraiser with live performances, beginning with an intimate VIP hour, followed by DJ Dick at Nite with intermittent live art performances by Mario Galeano, Nyssa Frank (owner and founder of The Living Gallery) and many more exciting surprises. On Sunday, the exhibit will feature a BBQ.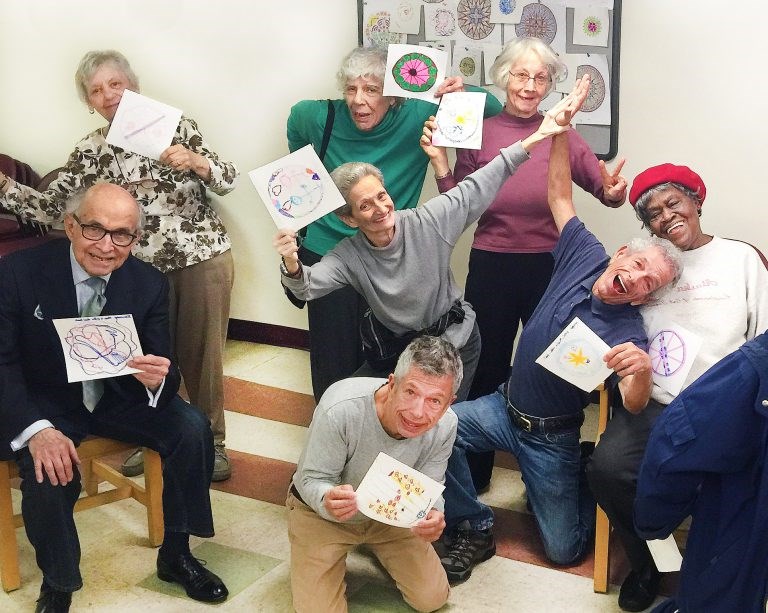 "The Love Yourself Project is a grassroots organization. We are 100 percent volunteer-based. No one is getting paid, it is literally a labor of love," said Moquin. "The reason we're doing the fundraiser is so that we will be able to give out proper teaching stipends and to cover supplies for education and to mail our kits. We're doing the fundraiser because we need the money, and we want to be able to continue."
General Admission tickets are $25. VIP Tickets include a special preview of the exhibition, raffle tickets, and early 7pm access for $40. All proceeds are tax-deductible donations to directly support The Love Yourself Project. To purchase tickets, go here.
For more information on The Love Yourself Project or to create a Love Yourself event in your own country, city or school, email info@loveyourselfproject.org