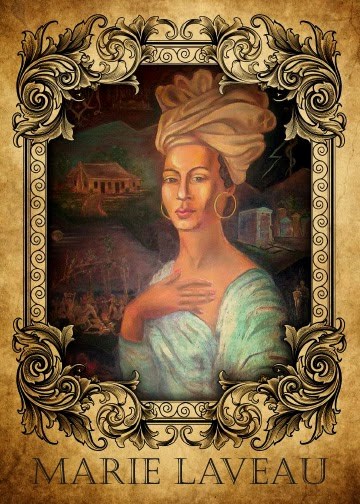 On Saturday, July 18, the entire community is invited out to experience a special, one-day-only "workshop reading" of Daughters of the Bayou at the Weeksville Heritage Center.
Written by Chelsea D. Harrison and directed by Candis C. Jones, Daughters of the Bayou, is a play that looks deeply into the life of Marie Laveau, one of the few free black people of high status in New Orleans during the nineteenth century when slavery was still legal. In fact, Laveau's status remains strong in today's society for being the Voodoo Queen of New Orleans and also for the contributions she made to society, especially to those people of color who were enslaved.
In Weeksville's workshop reading, the setting is Marie's family estate in New Orleans. However, participants are transported to what was another community of free people of color in the nineteenth century, Weeksville Heritage Center, which was established just eleven years after emancipation.
Join a cast of emerging young actors as they revisit the imagined world of Marie Laveau on the grounds of historic Weeksville. Before the show, visit the historic Hunterfly Road houses, learn of the efforts of free people of color during the nineteenth century, and move among the characters of Daughters of the Bayou who have temporarily taken up residence in the historic houses.
Try your hand at wrapping a "tignon" (a required head-covering during the slave era that evolved into a fashionable headdress often worn by Creole women from Louisiana) with costume designer Noel Corbin. And after the play, join in for the smooth and sultry sounds of The Amours, a sneak peak at Weeksville's soon-to-open exhibition "Brooklyn's Lost Jazz Shrines: The Weeksville Collection."
WHAT: Daughters of the Bayou, A WORKSHOP READING
WHEN: Saturday, July 18
3-4pm Immerse yourself in the historical environment!
4-6pm Staged Workshop of Daughters of the Bayou
6-7pm Music and Mingling!
WHERE: Weeksville Heritage Center, 158 Buffalo Avenue, Crown Heights, Brooklyn
HOW MUCH: $5 Admission @ Ticketleap.com or Door
WHAT ELSE: This workshop is presented by That Uppity Girl Productions and Theater Yin Yin and through the generous support and guidance of Richie Jackson and the Richie Jackson Artist Fellowship (New York University, Tisch School of the Arts).