The holiday season is officially upon us, which means that it's only a few weekends left in 2015. So buckle in and enjoy the ride!
December's most memorable moments don't always look like a Lexus commercial, as the office holiday party is a never ending source of weird feelings and awkward interactions that haunt people for months on end. Whether your office holiday party is at a gucci spot, with high-end trappings or a dive bar with questionable toilets and urinals, the goal of December is to wrap up your year on a high note. And not saying you need to be high, but I'm just saying...
If you're reading this, it means that you did not get trampled to death at a Walmart back home, on Black Friday. That could also mean that you didn't pick up any Patti Pies, which would have been a smash at your office holiday party and may very well have curried favor with management. So yeah, you might not get a raise, because you don't know how to play work-place politics, which means that you definitely deserve a fun month to drown your sorrows and give you false feelings of comfort.
Just keep love in your heart, a bourbon filled flask on your person and tell your landlord to stop chintzing on the heat.
To that end, this weekend update will give a few extra event picks than usual. It's only the first weekend of the month, so you have a few good weeks to make sketchy decisions with chardonnay and mistletoe, but why not get the month off on a good note? Here's some event suggestions:
ALL WEEKEND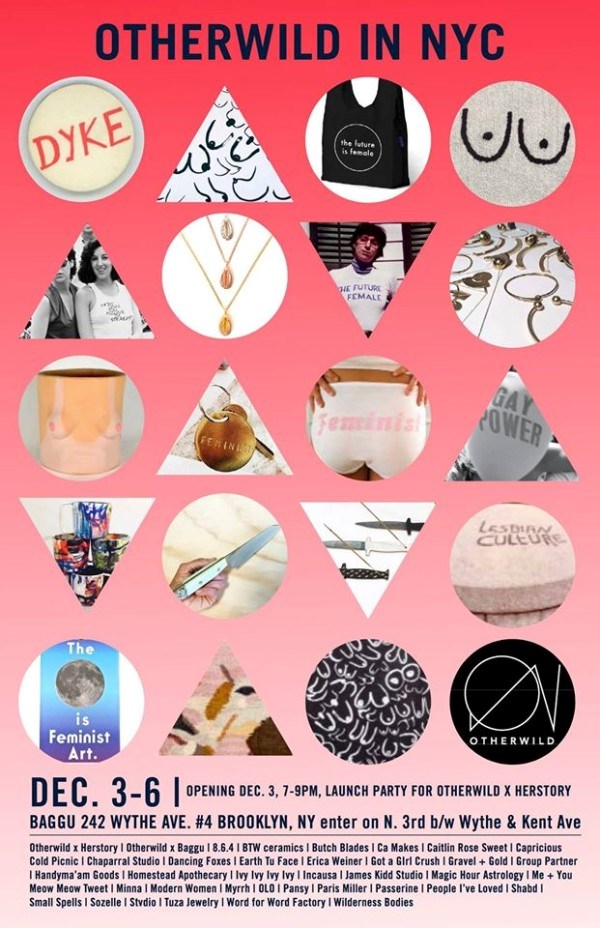 OtherWild, Baggu Store, 242 Wythe Ave #4, Dec 3rd-7th, Free (Williamsburg)
OtherWild has started a seasonal pilgrimage to Brooklyn and brings the stylish understanding of what you want and what you need, from a retail shopping experience, direct from their homebase in LA. but featuring many designers from Brooklyn The Borough. It's a chance to get your holiday shopping done, while minimizing the chances that your gifts might get duplicated under loved ones' Christmas Trees.
You should check out their FB event page by clicking here. The retail pop-up opens on Thursday night, with a launch of Otherwild's collaboration with @h_e_r_s_t_o_r_y ! Hit that event page and get more info.
FRIDAY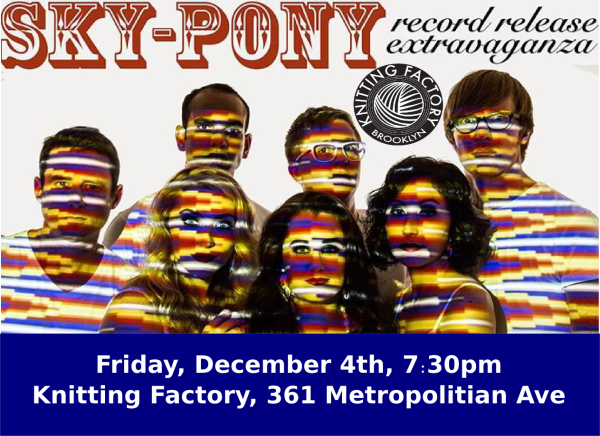 Sky Pony Record Release, Knitting Factory, 361 Metropolitan Avenue, 7:30pm, $10 (Williamsburgh)
Sky-Pony sound fun. They sound like they had fun recording Beautiful Monster, their debut album, on Knitting Factory Records. The record has a pop-theatrical feel to it, with strong melodies and harmonies, as well as tight songwriting. Being on Knitting Factory records gives the show a meta feel, though it won't just be their performance during the release event, as they've promised hula-hoopers, stilt walkers, contortionists and other things to make the night feel like an experience and not just a record release. They're also doing an acoustic set earlier in the night, which is only for VIP ticket holders. You can stream their new album here and get more information on the party by clicking here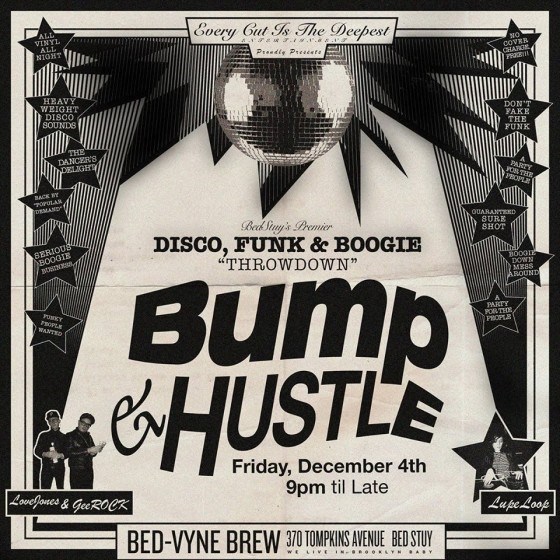 Bump & Hustle, Bed Vyne Brew, 370 Tompkins Avenue (Bed Stuy)
A real winner at Bed-Stuy staple, Bed Vyne Brew. It's an all-wax, all boogie affair and one that you should not miss. Bed Vyne Brew has a cozy feel, like the place a rich uncle has on a winter estate. It's all wood everything, so the chalet vibe bursts through, especially on nights when this monthly party is in the house and people are determined to get down. It's actually being called a "Throw Down" for December, with the flyer a homage to old skool flyers from the 70's & 80's. DJ's Love Jones and Gee Rock promise to keep you in the groove and get your weekend off to a dancing start.
SATURDAY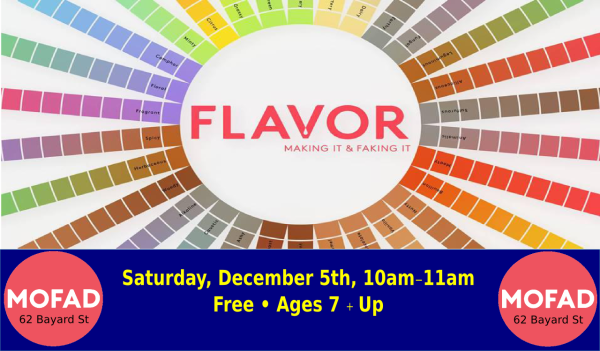 Flavor, Museum Of Food And Drink, 62 Bayard St., 10am-11am, Free (Williamsburg)
If you don't know about the Museum Of Food & Drink, then go get a late pass. With a an advisory board that includes Mario Batelli and Questlove, and a culinary board that includes Marcus Samuelsson and David Chang, MOFAD is a unique as it is tasty.
From the about section of their website: "The Museum of Food and Drink (MOFAD) is New York City's first food museum with exhibits you can eat. Our goal is to show how exciting it is to learn about the culture, history, science, production, and commerce of food and drink. We recently opened MOFAD Lab, a design studio in Brooklyn where we create and showcase our exhibition concepts. Flavor: Making It and Faking It is currently on show until February 28, 2016." So yeah, telling you to go and check out the exhibition this Saturday.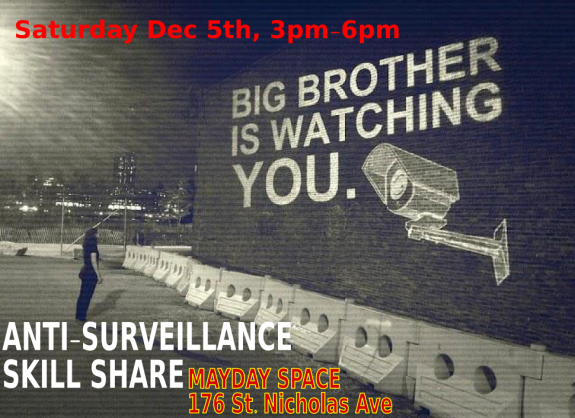 Anti-Surveillance Skill Share, MayDay Space, 176 St. Nicholas Ave, 3pm-6pm, Free (Bushwick)
It's easy to feel vulnerable when you're online, and not only when you pick French films for a Netflix & Chill sesh. It's the holiday season, when many people are shopping online, which can put you at the mercy of cyber-thieves or even the government if you order items on a list of "flaggable" items. For your protection, Mayday Space is having a skill share session, where you'll join Mayday's longtime supporter, Jonathan S. Uss, Esq., for an afternoon of getting your online house in order. Jonathon is the director of Constitutional Communications. He has trained over 150 attorneys on cyber-security, privacy rights, and attorney client communications.
Don't get got this holiday season, hit up their Facebook Event page by clicking here for more information and to rsvp to the skill share.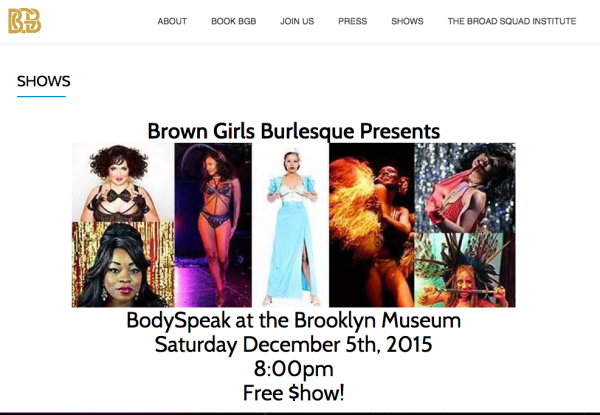 Brown Girl Burlesque Presents BodySpeak, Brooklyn Museum's First Saturday, Dec 5th, Free, 8pm (Crown Heights)
Brown Girl Burlesque has been enchanting and tantalizing audiences since 2007, with the mission to entertain, educate and liberate. As part of the Brooklyn Museum's First Saturday, they have a grand stage to present their delicious selection of amazing burlesque dancers of color. It's an interesting history of Brown girls in burlesque and BRB tells that story.
Their website puts it this way: "BodySpeak is an evening of theatrical burlesque that tackles topical, historical, political and societal issues, with a side of glamour. Taking the art of burlesque striptease back to its theatrical roots, social commentary and satire, BodySpeak will tackle white privilege, an exposition of rage via the history of The Black Panther Movement, the civil rights movement now, the Creole Ball and historic matchmaking practices and the fetish of the posterior". Get more information by clicking here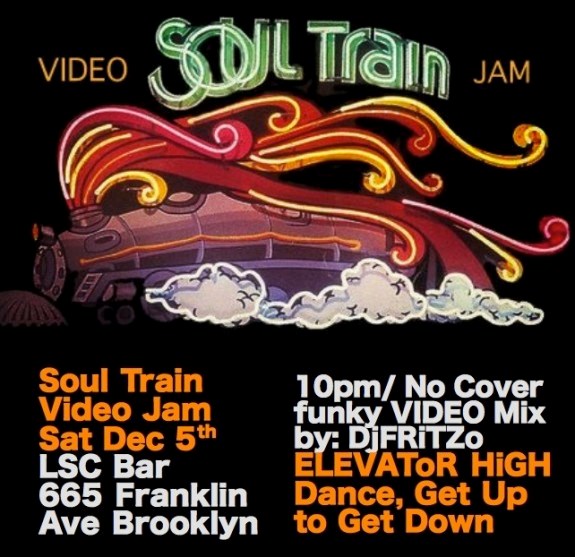 Soul Train Video Jam, LSC Bar, 665 Franklin Avenue, 10pm $Free (Crown Heights)
The Soul Train Awards were several days ago and it showed the enduring quality of Soul Train. The TV show is an iconic reminder that Love, Peace & Soul, the timeless words of founder Don Cornelius, mean as much today as it did in the shows heydey. Although Soul Train kept the caboose moving well into the new millennium, it was during the 70's & 80's when iconic figures like Rosie Perez solidified the Soul Train dancers as a cultural institution.
You'll definitely get up to get down, as DJ Fritzo and Elevator High spin the best Soul Train videos to keep your feet, neck, head, arms and booty moving.
SUNDAY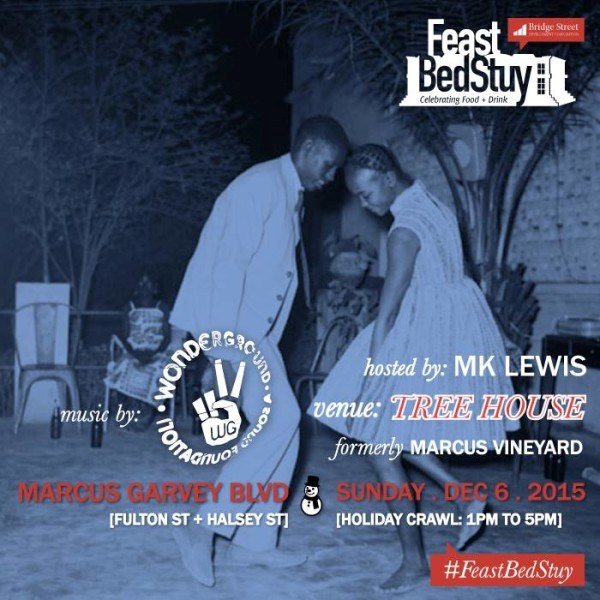 WonderGround for Feast BedStuy, Tree House, 417 Marcus Garvey Boulevard, 1pm-5pm, Free (Bed Stuy)
You should know about Feast BedStuy. It's an initiative put on by the Bridge Street Development Corporation, that highlights the diverse food and drink options in Bedford Stuyvesant. The holiday edition is on Sunday, December 6th and focuses on Marcus Garvey Boulevard, btwn Fulton Avenue and Halsey St. It will feature a select, handful of venues, but I'm recommending you stop by Tree House, which will host the WonderGround Party. If you've never been to a WonderGround Party, this is an excellent opportunity to get down to the sounds of DJ Silence and Internal Affairs as they spin the best in everything that makes uou dance, while you enjoy the ambiance and menu of the recently opened Tree House, in the space that formerly housed Marcus Vineyards.
You can then bounce around on Marcus Garvey to the other establishments participating on Feast Brooklyn. It's a fun way to spend a Sunday afternoon.
Barclay Center, 6pm, Various Prices (Fort Greene)
The Brooklyn Nets stink. The Golden State Warriors are amazing. Get yourself a ticket and check out the undefeated Warriors and see history in the making. The Brooklyn Nets stink and if it wasn't for the bare knuckle fighter Jalil Okafor and the Philadelphia 76ers, we would be the worst along I-95. Steph Curry alone is worth price of admission!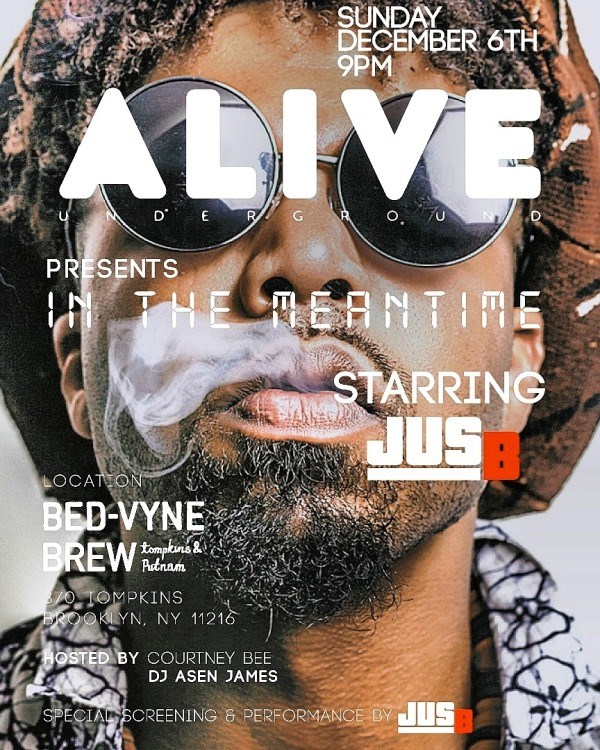 In the Meantime Starring Jus B, Bed Vyne Brew, 370 Tompkins Avenue (Bed Stuy)
JusB is a performer that rocks stages. Brandyon is a friend. They inhabit the same body and will perform songs from the most recent JusB EP, entitled "In The Meantime". I DJ-ed a show that Jus B performed at, which was my first experience of JusB live, and it was real. It was a shorter set, on a talented bill with a few other artists (a few from Detroit), but even in that short window, he was impressive with his passion and delivery. He's performing live this Sunday, at Bed Vyne Brew in Bed Stuy and I'm thinking you should go check it out. He's a sincere dude, who's driven to bring his sounds to a wider audience. Not trapped in a trap, his songs speak to the same drive to succeed, but without the stereoptypical black man trope. This is what he said from his FB page:
Me and my team have been working hard to keep the vibes coming! In celebration of my most Recent EP 'In The Meantime', I'll be doing something special with Alive Underground on December 6th!
Hosted byCourtney Bledsoe, DJAsen James; Location- Bed-Vyne Brew Bar, 9pm. Also featuring Justo Kelly!!!
Come out and support if you're In Brooklyn! There will also be a special screening of my documentary "In The Meantime" produced by Hajji Hassan at Forthelovers Studios Studios! Be a part of this journey with me! See you there!"
It's a Funday and a good way to spend your Sunday. So get out there and enjoy your weekend Brooklyn!