DICK & DAVE, on BK Live, where David Colon and I, talk about many of the same events that I recommend here on BK Reader. CHECK IT OUT!
So Snowstorm Jonas came through like a wild and angry Kanye twitter rant and just mashed up the East Coast.
Part blizzard/part snowstorm/part emergency, it dropped more than two feet of snow up and down the Eastern seaboard, and Brooklyn still hasn't dug out. Typically, this time of year is a bit sleepy on the event front. The weather is cold, people are just getting those credit card bills from Christmas gift splurging, so Netflix and Chill can seem like a better option than hitting the streets to party hard... But that's where you're wrong.
You actually don't need to choose one over the other. Choose which day you want to go out and also, if you want to do some night time events or if you really want to get social while the sun is still up, enjoy this next weekend-- two days where you don't have to see your boss!
FRIDAY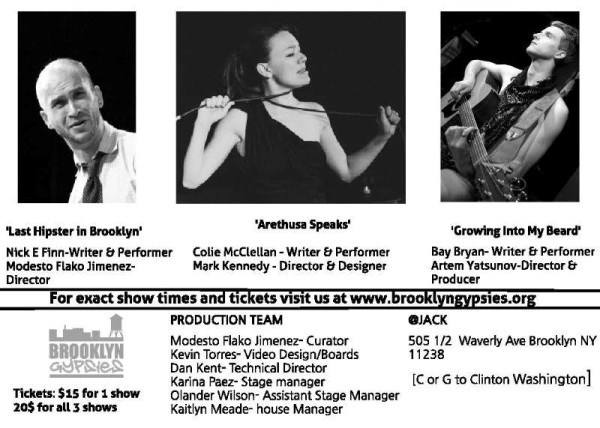 One Catches Light Festival, Jack, 505 Waverly Avenue, $15-$20, Friday & Saturday (Clinton Hill)
The only thing that's more interesting than seeing a really good performance piece is seeing a really good performance piece on the cheap! That's what One Catches Light Festival is all about. It's superb pieces of One person performance pieces, from shining stars in the theater, music and performance art worlds, bringing their brilliance to Jack, 505 Waverly Avenue, in Clinton Hill, Brooklyn. Whether you are struggling to pay for your weekly allotment of Kale Chips or you're high on the horse and hiring Uber Black on the regs, this is something that as a smart Brooklynite, you should take advantage of! Visit there Facebook event page by clicking here and get it.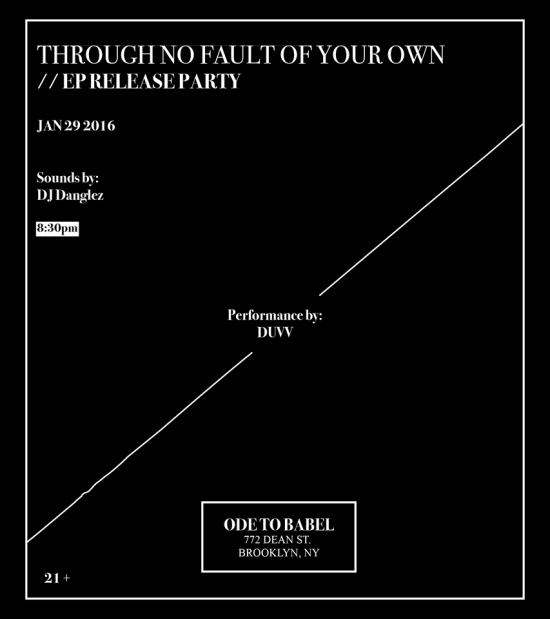 DUW Album Release Party, TNFOYO, Ode To Babel, 772 Dean Street, Free (Prospect Heights)
If you want to hit up a recently opened, smartly appointed and generally handsome venue, then Ode To Babel, in Prospect Heights is your place. If you want that type of venue, and also enjoy an EP release party, of the talented recording artist DUW, then Saturday, January 30th, you should definitely get over to 772 Dean Street. It's a family affair over there, and to be clear, the twin owners are worth the trip alone. Different, yet similar, they infuse their energy into the venue. If you want more information on either the artist or Ode To Babelm why not hit the Facebook event page by clicking here
SATURDAY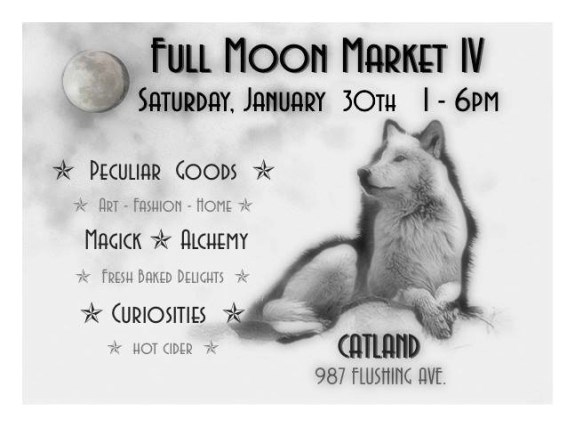 Full Moon Market, Catland, 987 Flushing Avenue, Free, 1pm-6pm (Bushwick)
This is a market of curiosities, which almost sounds like a really cool TV show. In fact, a visit to this market could be like a stroll through the most interesting part of your mind, if your mind had a TV show. I'm sure you can find everything here. If you want to cast a spell on Donald Trump, to remove him from your daily newscycle, maybe you can find the ingredients to cast it properly. Perhaps you need a original piece to use in your Tinder picture, so that people swipe you yes (instead of nah) and want it to convey your individualism. Maybe you'll be hung over from Friday night and you and your friends need a great place to regain your senses, before or after, some afternoon hair of the dog? Just hit up their Facebook event page for more information and to see a list of the vendors at the market.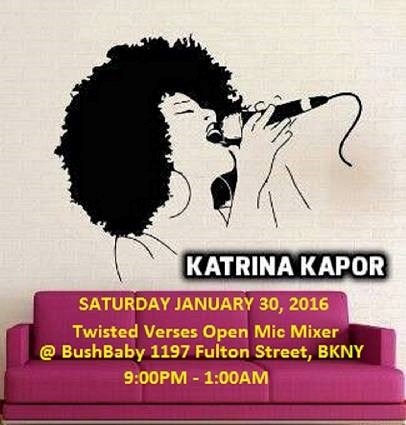 Twisted Verses with Katrina Kapoor, Bush Baby, 1197 Fulton Street, $5, 9pm-1am,
If you like Karaoke and like doing it in BedStuy, with a big personality host, who's also a talented performer, then you should hit up Bush Baby this weekend, for Twisted Verses. It's drink specials as well, to get your courage thoroughly wet, but they're on the early side, so get there before 8:55pm to take advantage of the discounts. In fact, hit up the Facebook event page by clicking here, for more information, maybe to inquire about the setting and quality of singers...'cause we all hate those Karaoke parties that's filled with nothing but professional type singers.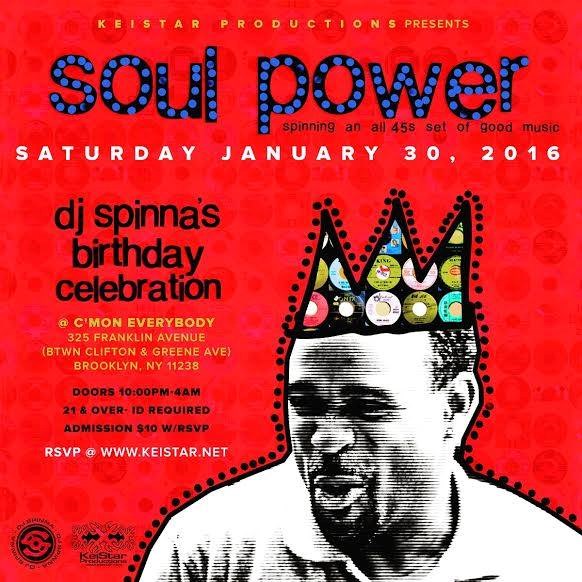 Soul Power, C'mon Everybody, 325 Franklin Avenue, 10pm, $10 (BedStuy)
Do you know of DJ Spinna? He of the Michael Jackson vs Prince parties. He of the Wonderful (Stevie Wonder) Parties. He that produced a slew of classic Hip-Hop joints and remixed an even wider variety of dance floor gems. Well, he's having a birthday party on Saturday and to top it off, it's going to be an all 45 set. Keistar and Spinna keep it Ten Thousand, while keeping you and your boogie shoes, very busy. Their brand of boogie business has extended all across the country, but their hometown is Brooklyn, so what better place than C'mon Everybody to celebrate a born day of a DJ Don! Click here to visit the Facebook event page and get more information, or maybe ask a question...but please, no requests!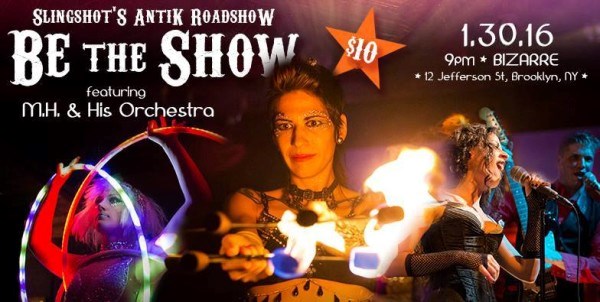 Slingshot's Antik Road Show, Bushwick Bizarre, 12 Jefferson St, 9pm, $10 (Bushwick)
You ever feel like it's a real circus when you go out on the weekend? Well, if you hit up Be The Show this Saturday, at Bushwick Bizarre, you will be correcta mundo, because the theme of this party brings together everything. As quoted from their event page: "Join us for an immersive night of music, revelry, fire & circus arts in "Slingshot's Antik Roadshow": A cabaret event that blends the worlds of circus, theater and underground music into a unique evening that will have you wondering if the passed out guy at the bar is next to walk a tightrope, or if perhaps that musical cue is actually your signal to begin the next burlesque act.)
Hit up that event page by clicking here, get more information and find out if they'll have a spider monkey or maybe a mummy on hand (and by mummy, I don't mean yo waspy momma).
SUNDAY

Stand Up For 826NYC, Bell House, 149 7th Avenue, Doors 7pm/Show 7:30pm, $15 (Gowanus)
Do you like laughing? (That's actually a question to see if you're a pinko Commie!). Do you like kids getting instruction in expository writing....so maybe they can be the future showrunners or script writers or just awesome in general? Then don't be a dumb dumb and get over to Bell House this Sunday and watch as stellar lineup of comics deliver punchlines and puns, so kids can use language instead of guns. Ok, forgive my poetic license, but go to the 826NYC Facebook page to find out more about the organization and about the event. You can't go wrong with this one, especially with names like Maeve Higgins, Chris Gethard and Seaton Smith!
There you have it. Now get out there and get your weekend, since it's the few days each week that you don't have to see co-workers or your boss!