If you haven't really rocked your summer so far, this could be a great weekend to get it poppin'. The weather will be your basic mix of sunshine and thunderstorms, but don't expect a torrential downpour or earth scorching heat. It being the summer, in Brooklyn, it's some fantastic outdoor situations happening all across the borough, so you should take advantage of it before it's suddenly Thanksgiving and your Seasonal Affective Disorder starts acting up.
While you're out there, please avoid the hordes of Pokemon Go players. It's a fad that clearly, is not about fade anytime soon, so ya might as well get used to it. Though I won't recommend any Pokema Go events, I may very well start playing it this weekend...just to see what all the craze is all about.
So here's some things that will be cool this weekend. Get in where you fit in. Or even get in where you can't fit in, like the A Train at rush hour!
FRIDAY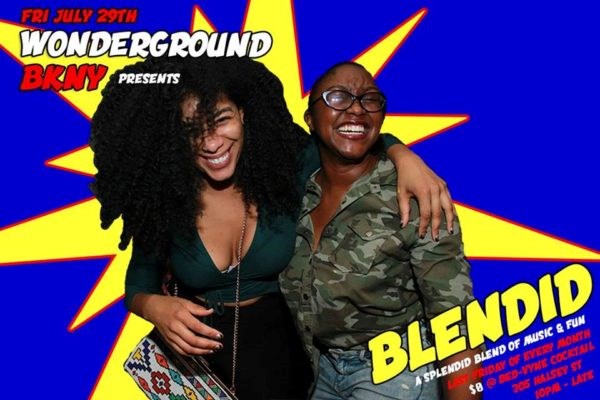 Blendid, Bed Vyne Cocktail, 305 Halsey St, 9pm-3am, Free (BedStuy)
This is a party thrown by the Wonderground guys, and is a really fun dance party. The emphasis is always on dancing with Wonderground, as they select from all genres, to play tunes that will get you up on the dancefloor. It's a great backyard as well, so you can have your cocktails al fresco, if you desire. The cocktail list is stellar at Bed Vyne Cocktail, so you're drinks are in good hands!

How To Build A Fire:Detour, Open Source Gallery, 306 17th Street, 8pm-10pm (South Slope)
This is an interesting series, as it's not a reader's series, but instead it's people reading real stories, but from their memories. My friend Karen Walker is a co-host of this 3rd season of the series. Personally, I like being regaled by awesome, real stories. Here's some quoted information from the Facebook Event Page
"FEATURING:
David Brensilver
Amber Drea
xtian w.
Adam Walsh
How to Build a Fire enters its third season of storytelling at Open Source Gallery in South Slope, Brooklyn. With its focus on diverse and engaging voices, its intimate venue, and its welcoming of first-time and amateur storytellers, How to Build a Fire sets itself apart from other storytelling series. Here, we seek connection, not craft— stories are told not from scripts but from memories. Karen Stevenson and Matt Barbehenn, the hosts for the third season, are looking for voices of all ages and origins to share their true, unscripted, unmemorized stories for the How to Build a Fire audience."
SATURDAY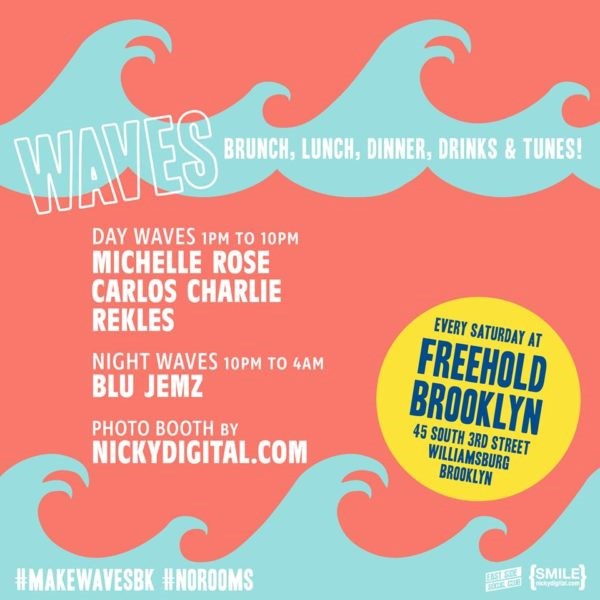 Waves, Freehold, 45 South 3rd St., 1pm-10pm, 10pm-4am, Free (Williamsburg)
It's an day party people and it's at Freehold, which has a variety of different areas. It almost feels like a compound, but a compound of fun. It was actually designed to resemble a hotel lobby, just without the rooms to sleep in. They have an outside area with astroturf, a coffee bar, restaurant and two places to party, if playing bubble hockey, corn hole or ping pong ain't your cup of tea. They have a photobooth, but Nicky Digital will be taking flicks as well, as you boogie to fun DJs. Maybe get him to take a picture of you while you're in the photobooth. If you can't get there for the day party, no problemo, because they also have Night Waves at 10pm, DJ-ed by Blu Gemz.
Block & Brew, Bed Vyne, 370 Tompkins Avenue, 12pm-6pm, Free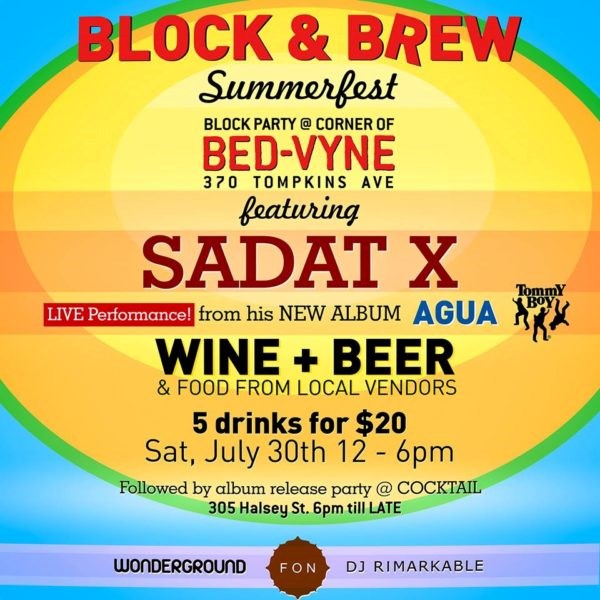 Bed Vyne takes over the corner of Tompkins & Putnam, as part of the 7th annual TAMA Summerfest, which is produced by Tompkins Avenue Merchant Association and Bridge Street Development Corporation. So on Saturday, Tompkins between Hancock and Monroe will be blocked off to automobile traffic, as a series of live paintings, musical performances and DJ's get busy, and it will also be children's book readings, along with special sales, a bunch of food and a real sense of community; but the real action happens on the Bed Vyne corner.
With a special performance from Sadat X, of Brand Nubians and DJs from FON and Wonderground sound systems, and hosted by DJ Rimarkable, it's sure to be jumping! Food, wine and beer from local vendors will be on hand. It's also a record release party later in the night, at Bed Vyne Cocktail, for Sadat X's new album.
Kickstarter Summer Festival, Fort Greene Park-Prison Ship Martyr's Monument, 5pm-10pm, Free

Kickstarter has helped raise money for some awesome projects like the Ocular Rift, which I tried while at a Northside Festival event, and it was pretty amazing! Once a summer, they get some of the successfully funded projects together to celebrate the Kickstarter community. This is taken right from their Facebook Event Page
"The Kickstarter Summer Festival is a celebration of art, food, games, and more from the Kickstarter community. Join us for a night of one-of-a-kind installations, performances, and workshops with creators and innovators.
GET READY FOR:
A life-sized game of Exploding Kittens
Guided VR meditation on Oculus Rift
Royal Palms Shuffleboard fun
Keap Candles workshop
Performances by House of Yes
And so much more!
This event is free and open to the public, so you don't need to RSVP or get tickets. See you there! The event will take place near the Prison Ship Martyrs' Monument in Fort Greene Park. Note that if it rains, this event will take place on July 31st."
Sounds like fun and you won't even have to pledge any money, though I'm sure somebody will be there pitching a campaign.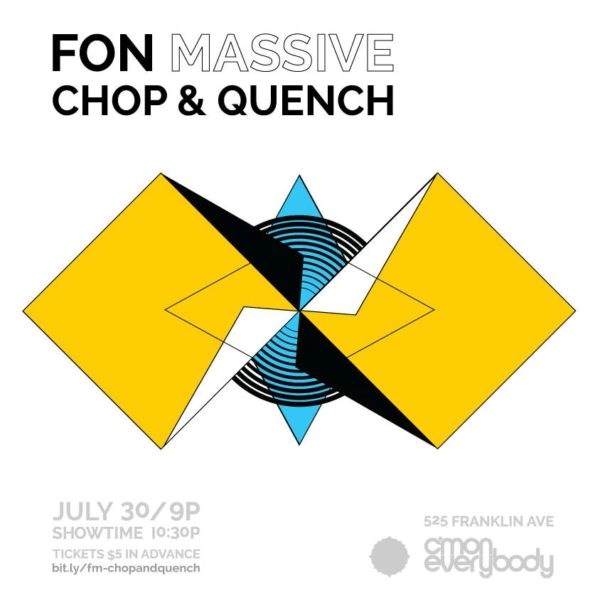 FON Massive, featuring Chop & Quench, C'mon Everybody, 325 Franklin Avenue, 9pm, showtime 10:30pm, $5 in advance
Chop & Quench are the band and lead singer from the Fela play on Broadway and after a run on the great white way, traveling around the world and NYC club dates, it's needless to say that those guys are tight! My man Sahr fronts the band, just as he was the lead in the Fela play, and he brings tons of energy to the show. FON Massive is a good sound system, that also does Tunnelvision down in D.U.M.B.O, so if you've ever been to that, or their numerous DJ nights in Brooklyn, then you've heard them rock before.
And you can't beat five bucks in advance, so click this link for more information.
SUNDAY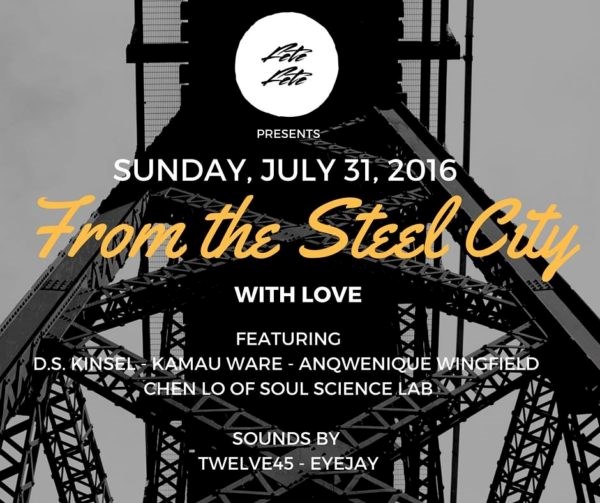 Fete-Fete, Ode To Babel, 772 Dean Street, 12pm-5pm, Free (Crown Heights)
This is a day party over in Crown Heights, that is featuring a range of artists from Pittsburgh. Why Pittsburgh you say? Because one of the event organizers, Jackie Walker, is from Pittsburgh and she wanted to showcase some of the visual and musical talent from her home town. I know the Steel City doesn't scream out "art", but I've seen and heard some of the work from the featured artists, and it's def worth a visit. It's at Ode To Babel, which is a cute little spot on Dean Street, owned and operated by twins, so if you see a pretty lady behind the bar and the next second she's wearing completely different clothes, it isn't the effects of your wacky tabacky.
Visit the event page by clicking here, to get more info
So there ya go; now go and enjoy. And here's the latest Dick & Dave for further weekend event picks