ATTENTION WEEKEND SHOPPERS
Well, another weekend has arrived and this one is gonna be long. July 4th is on Monday, so all bets are off and fun should be had. If you go hard enough, you may need a church visit on Sunday, to ask for a bit of forgiveness for getting so turnt. We all know a friend who will be grilling on their roof or in their backyard. Hell, some folks are gonna grill right out in front of the building, keeping it gully one hundred, but I'm sure you can still use some extra event guidance, so here it is:
FRIDAY
International African Arts Festival, Commodore Barry Park, July 1st-4th, Free (Fort Greene)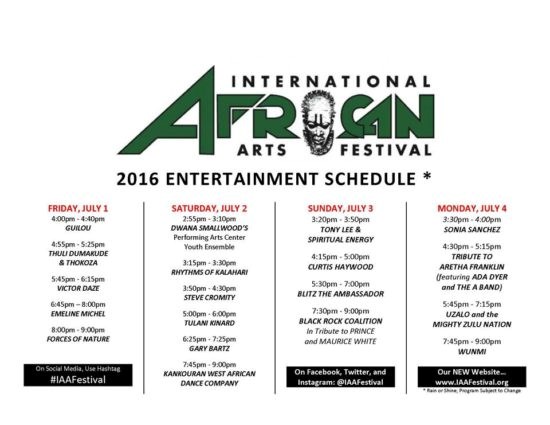 This has such a chunky lineup of activities and art, that it's probably best that you visit their website to see the full range of programming. It's the 45th annual festival, going strong and maintaining their status as a staple of the Brooklyn cultural experience each summer. Tons of DJs and live performances, and of course, art. It's Friday to Monday, so it's ample opportunity to support and enjoy.
Ink & Oink, Body Art & Soul, 95 Morgan Ave, All Month, various prices (Bushwick)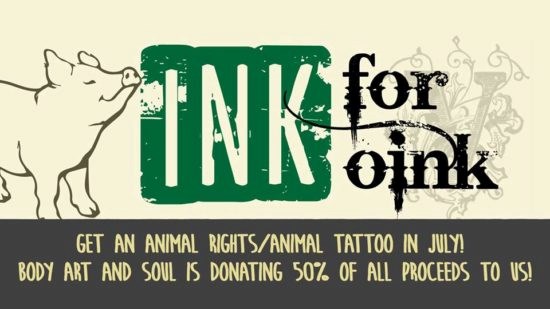 Ink & Oink sounds like a real hoe down especially if you are into tattoos and animal sanctuaries. It's all vegan, which means even that one particular friend, who we won't mention, can get some ink without making a stink. The event is the kick off of a monthlong fundraiser for the Catskill Animal Sanctuary, so not only does the artist discount his work, but a significant portion of the proceeds, for the month, gets donated to sanctuary rescue and sustainability. It's in Bushwick, so it's various opportunities to show it off at a bar, or a pool, or some cookout you stumble upon. Keep it classy Brooklyn. Peep their Facebook Event Page for more info
SATURDAY
Everyday People, Von King Park, 7pm-9pm, Free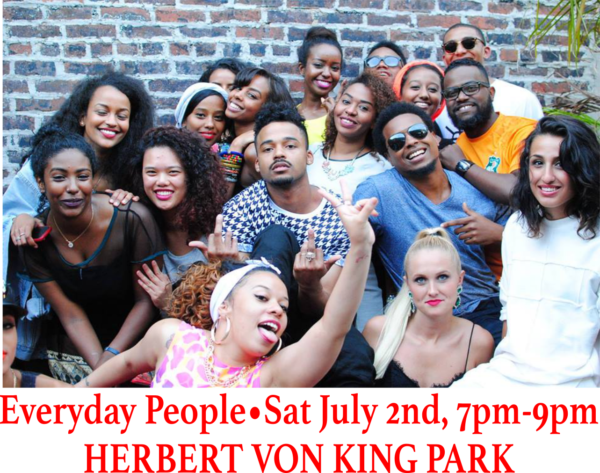 Everyday people is almost indescribable in its full delectability, yet I've never been to the EP party in the open air of a park. It's such a delight for the eyes and the ears, when combined with the sunshine, will probably get somebody pregnant. On the bright side, you will have went half on a baby with a real looker. It's in Herbert Von King Park, in Bed-Stuy and pops off earlier than normal, but those two hours might upgrade your entire, extended holiday weekend. DJ Moma and Rich Knight puts it down for the get down, and Chef Roble will probably be there if he's not being Chef Roble somewhere else.
BUFU Closing Celebration, 283 Greene Avenue, July 2nd-3rd, various times, free (Clinton Hills)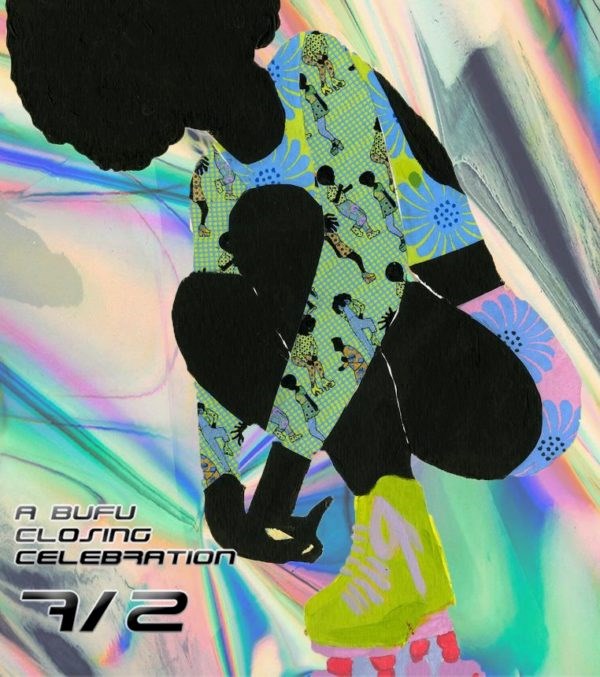 It stands for By Us For Us, which sounds FUBU-ish, but unlike that throwback clothing brand, this is the closing weekend, of a month long celebration of Black & Asian futurity. I am not exactly sure what that means, but it's a slate of really good talks and workshops and DJs and live music and capoeira and just all kinds of goodies. It's also food, because you gotta eat. It's the future bro, you can't stop it. Check out their Website for more details and head over there for the unconditional love you no longer get from bae...or maybe find a new one.
Hip-Hop Fusion Festival, various places, July 2nd-3rd, July 8th-9th$15-$40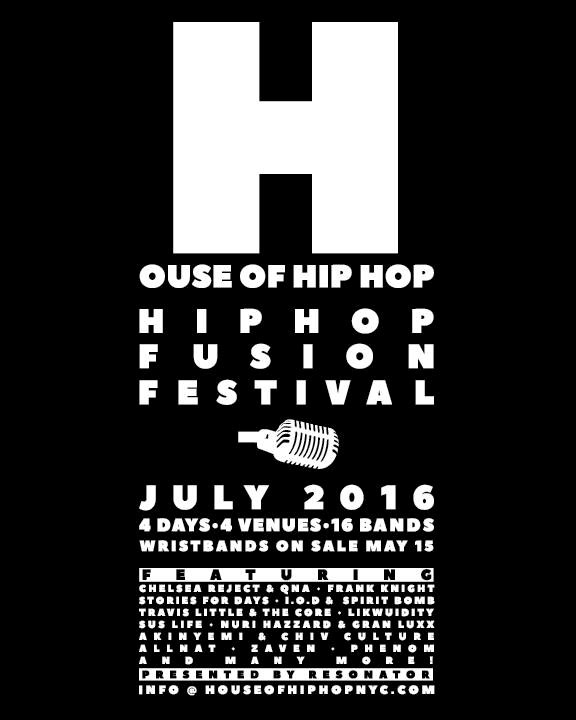 Hip-Hop fusion is actually a label filled with redundancy, because by nature, Hip-Hop is fusion. Perhaps the contemporary iteration leaves you on the outside looking in, and you need a new music marriage, where lyricists are paired with Jazz cats to eff your head up. It's spread over several venues, over a few days and the lineups feature talent like Frank Knight, Likquidity and QNA. House Of Hip Hop puts it on and makes a full go of it, selecting talent and creating a festival full of dopeness in Brooklyn. It's just another reason why Brooklyn's always taking it!
Freesome Block Party, Secret Location, 2pm, $15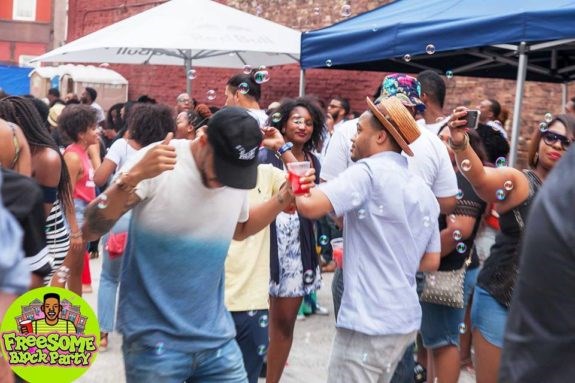 Many of us have been to a secret location event, especially in Brooklyn. Someone will invite you to a secret location event, while you're at the secret location. If you just completely dumb out and do eight tequila shots, it might actually be a new location, since you wouldn't remember that night anyway. But this is a secret block party. The whole block is a secret, and since Freesome is a party that's known to rage against the machine, you'll literally turn the corner and walk into a movie set that's masquerading as a block party. Get down in the streets like an 80's music video, but don't forget to rsvp, or you might not find it. (note-Sold Out, hit the internet to find ppl selling tix)
Rum Flight Pre Game, Hellphone, 247 Varet Street, All Weekend, various prices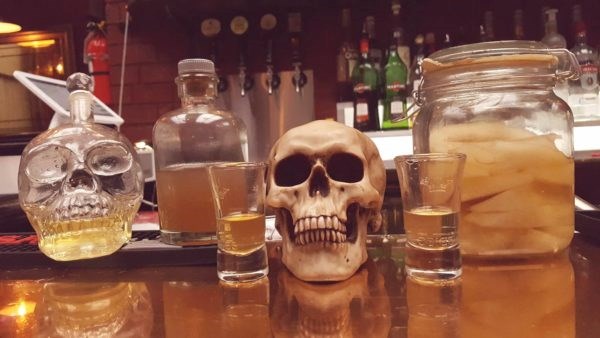 If you love a flight and you're into flights while you're boozing, then you should go over to Hellphone on Varet Street, and get a infused Rum flight and a cheese plate. You could actually pre-game with a purpose this holiday weekend, and talk someone into binge watching that horrible TV show that you love. It's six infusions, including ginger, cantaloupe, and for the healthy living folks, it's also Blueberry, which is known to be a great antioxidant. It's like booking cheap travel to a tropical island, without having to leave Brooklyn. Check their Facebook, because it's probably a fun show happening any day during this holiday weekend.
FYI
This weekend at Lot 45, you'll have a choice of things to do, one of which, is hearing me DJ. A DJ Dick At Nite in the day situation is all about creating adult magic on Troutman Street, and literally cause the world to implode. Ping Pong or Fuse-ball, Lamb burgers or oysters? Shots or carafe? Should I play early igloo trap or mashed up tropical grime? More importantly, have you had a cocktail from Rael Petit's menu? Do you even drink yo? They're also grilling burgers, dogs and sausages on Monday, in addition to the Djenna turning out their usual delicious fare. You'll be in an open air museum anyway, with Bushwick Collective, so charge your device batteries to max. Check their Facebook Page for more info, including day and times for DJ sets by Tetsu, Nigel CDJ and DJ Celcius
Oh, shout out to Montana's Trailhouse, who came on Dick & Dave yesterday, to make a delicious, Mezcal based cocktail.