OK, you're not a dummy, but you could probably use some social direction to get your weekend litty! As per usual, the weather in Brooklyn is mirroring our presidential situation - unpredictable and dismal - but this weekend will have a sunshine sighting for sure.
We should maintain our composure while partying this weekend. Keep your wits about you so as not to get too "Tiger Woods" in them streets. If you see something, say something. If you smell something, pass something. But uh, pass the dutchie 'pon the left hand side, in case you're unaware.
Here's some activities to upgrade your Brooklyn weekend, check 'em out!
1st Saturdays at Corners Bar, 395 Nostrand Ave, Saturday, 9:00 p.m.-2:00 a.m., free (Bed-Stuy)
If you haven't checked out The Corners yet, you are sleeping and need to get a late pass. It's a really cool place that's just oozing with local flavor. The backroom is dope, the bartenders are super chill - in fact, it was opened up by two former bartenders. And on top of that, I'm DJing. Come thruski!!

State Of Young Black New York Conference 2017, Saturday 9:00 a.m.-6:00p.m., Medgar Evers College, 1650 Bedford Avenue, $15-$100 (Crown Heights)
Fresh off the Urban League's televised "State Of Black America 2017", which aired on TV One, comes the State Of Young Black New York Conference.
From the FB event page: "Join The New York Urban League Young Professionals (NYULYP) for the State of Young Black New York Conference! This year's theme is the Art of Justice.
SOYBNY is a signature event of the NYULYP which brings together hundreds of professionals, leaders and think-tanks across various disciplines to assess the current condition of young Black New York and to develop solutions to the issues affecting our communities. Dynamic panel sessions aim to present unique perspectives on headline issues such as criminal justice reform, cultural organizing, economic empowerment and more. Yet participants will be challenged to address less discussed issues including the lack of community cohesion, and the burdens of trauma and mental health in our communities.
Through plenaries, a keynote address, panel discussions as well as an exhibition hall, SOYBNY 2017 intends to contribute to the pressing issues in our community today through the prism of the significant political change which will be taking place in our country in the coming year."
This is important, so if you're an educator, involved in the community or care for black youth, you might want to check this out. Click here for tickets.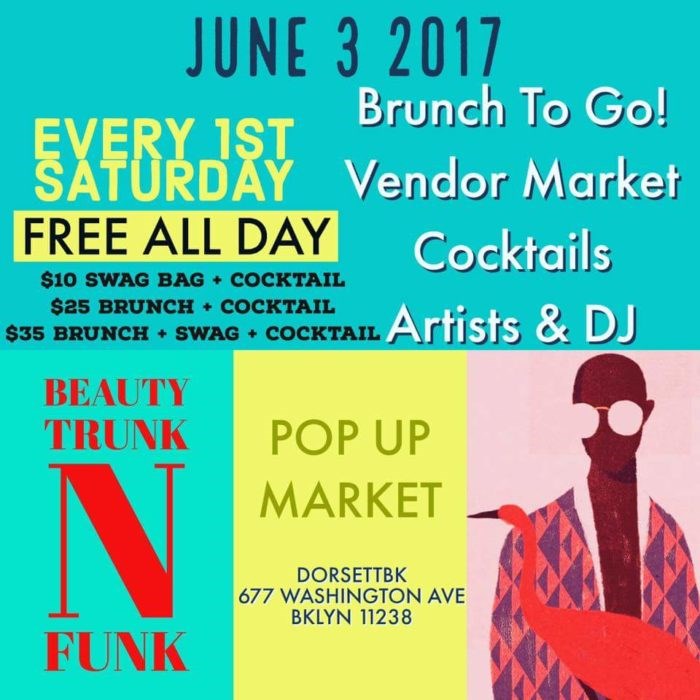 Beauty Trunk N Funk, DorsettBK, 677 Washington Avenue, Saturday, 11:00 a.m. -5:00 p.m., free (Prospect Heights)
Shopping dope vendors, indulging in cocktails and brunch while bopping to beats spun by DJs and doing all that with your friends on a Saturday afternoon - that's just perfect. They do it every first Saturday at DorsettBK. Since First Saturdays at Brooklyn Museum is right up the road, you can hit the museum first - or hit Beauty Trunk N Funk first. Either way...you officially got options! They also got swag bags on deck, though if you want to simply drop by to shop and mingle, it's no charge for that.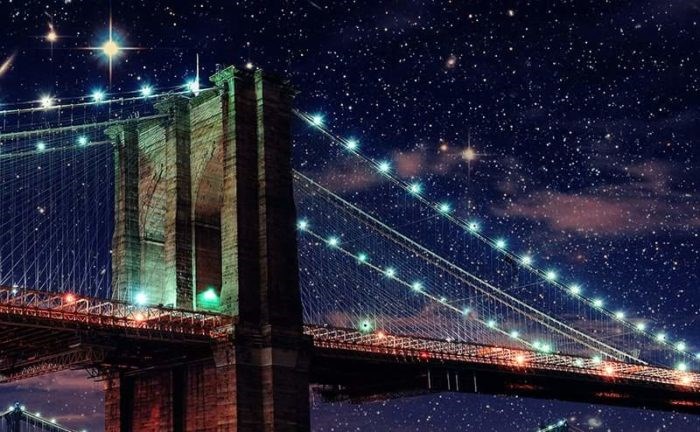 Saturday Night Lights: Stargazing in Brooklyn Bridge Park, Brooklyn Bridge Park, Saturday, 7:00 p.m.-11:00 p.m., free (Brooklyn Heights)
THIS is something to hit up whether for dolo, with your kids, your boyfriend, if your parents are in town, whatever. It's something everyone can appreciate. Check this from their FB event page:
"Brooklyn Bridge Park lights up the night's sky with high-tech interactive and stargazing activities. Step up to a telescope for an up-close look at the moon, Jupiter and beyond. Then, take part in UP! Umbrella Project, a participatory experience created by Pilobolus in collaboration with MIT Distributed Robotics. Armed with a LED-lighted umbrella, create your own exploding stars and constellations along with physicists and astronomers in a larger-than-life celebration of our universe. Astronaut Yvonne Cagle will be on hand to sign autographs.
STARGAZING IN BROOKLYN BRIDGE PARK is FREE and open to the public. RSVP not required, but highly encouraged."
You can get more information by clicking here, and look for me under the stars!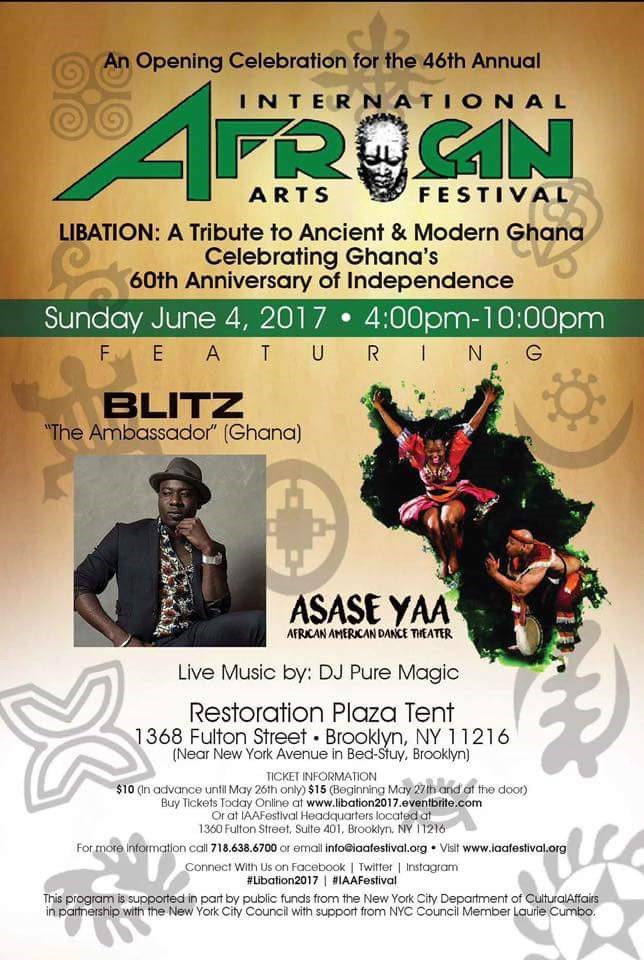 Libation Opening Celebration for International African Arts Festival, Restoration Plaza, 1368 Fulton Street, Sunday, 4:00 p.m.-10:00 p.m., $15 (Bed-Stuy)
The actual festival is in July, but this is the opening celebration, an opportunity to celebrate its 46th year and to get a taste of what's to come. It's live performances from rappers, bands and DJs and there'll be a lot of love in the air. Follow up your good times at last week's Dance Africa by setting it off with another event of an African cultural institution in Brooklyn. This is from their FB event page:
"Asase Yaa African American Dance Theater (#AsaseYaa) and Blitz the Ambassador are the headliners for #Libation 2017, the opening celebration for the 46th Annual International African Arts Festival!! Also featuring Milagro: the Santana Tribute Band and Heart of Steele! Bring the entire family! Click here to get tickets.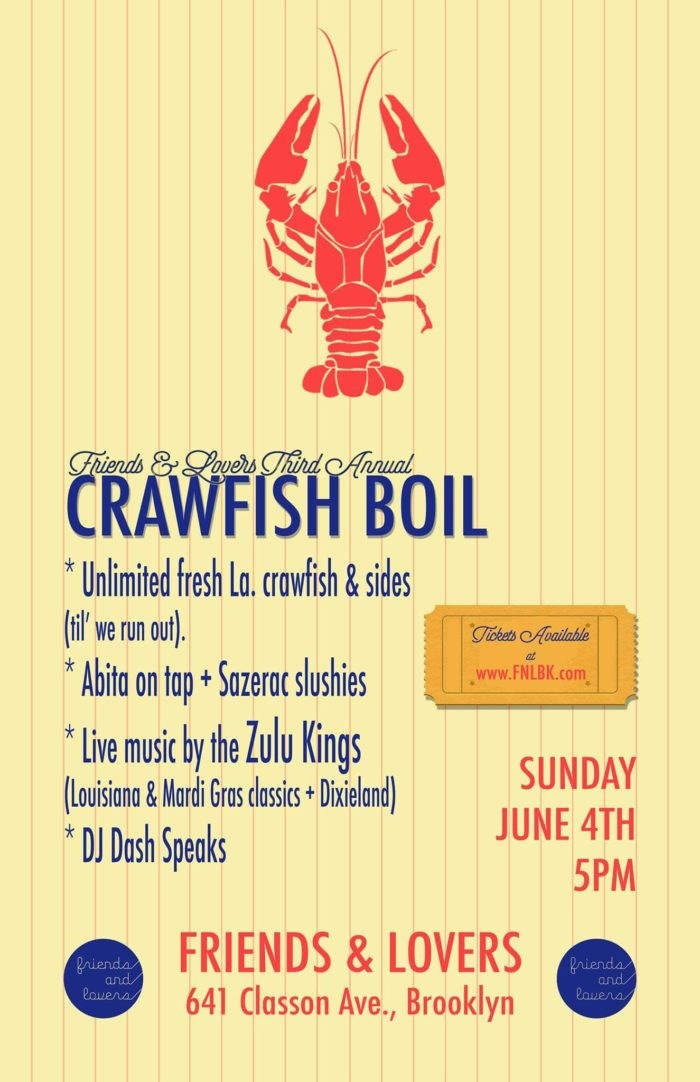 FNL Crawfish Boil, Friends and Lovers, 641 Classon Avenue, Sunday, 5:00 p.m. - 9:00 p.m., $25-$35 (Prospect Heights)
This is a delicious no brainer if you love good food, Nawlin's culture, music and fun people. Sounds like a perfect way to wind down the weekend! This is from their FB event page:
"Come one and come all to FnL's Third Annual Crawfish Boil.
We've got crawfish flying in fresh from the bayou's of Louisiana along with corn, potatoes, andouille sausage + sides.
We've got Abita Summer Ale on tap and Sazerac Slushies!
We've got the Zulu Kings Trio playing NOLA classics, Mardi Gras ballads and Dixieland, + DJ Dash Speaks serving up Southern funk, soul and brass band jams.
Click here for tickets. Limited tickets are available, so get' em while they're hot. This thing will sell out!"
So don't be a dumb dummie or stay couped up like an Egyptian mummy! Get out there and enjoy your weekend!